We receive free products and receive commissions through our links. See
disclosures page
.
Marmac Athletics Brazilian jiu jitsu instructor Scott Nauss has been training for over six years in both BJJ and MMA. During that time he has tried a lot of different brands of grappling shorts. Sometimes he'll grab a pair when they come up on sale on BJJHQ or MMAHQ, but generally when he shops for new shorts his key requirements are a drawstring and a grip panel at the inseam. When we looked at the construction, durability, and performance of all his shorts, a few stood out on top.
These are Scott's top five picks for the best MMA shorts for men:
Sprawl Fusion II 10th Anniversary Edition – 61.99
Scott purchased his Sprawl Fusion shorts about three years ago and they quickly became his favorite. He wears them to every tournament. What he loves about them is the grip fabric remains effective when the shorts get wet, they have a drawstring, elastic waist, and non-slip inner waist band, and the fabric is thick and durable. They definitely don't look brand new after three years but they don't have any loose threads, pilling, or rips. Sprawl shorts are certainly built to last. The least attractive feature of Scott's Bad Boy shorts listed at number five is the leg width. They feel as though they have excessive fabric.
When we measured all five pairs of shorts, though, Sprawl was actually wider by half an inch but because of the fabric and design, the feeling of excessive fabric is not an issue.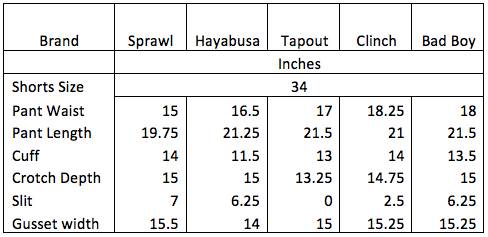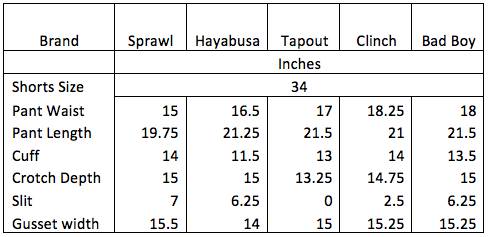 Hayabusa Mizuchi Fight Shorts – $69.99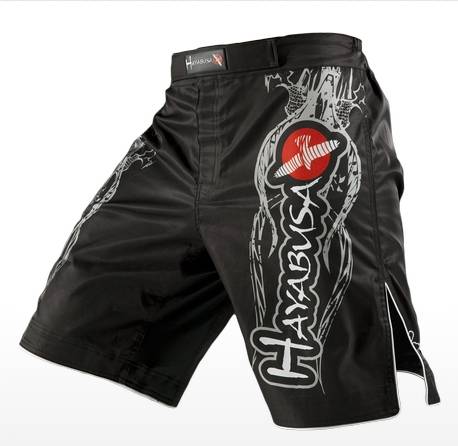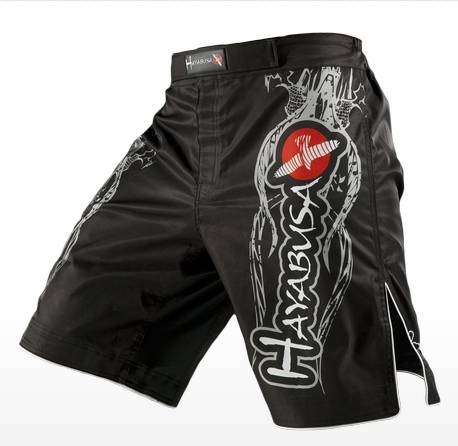 I've always been a fan of Hayabusa gear but they don't sell anything that fits me. When Christmas came around this year I bought Scott a pair of the Hayabusa Mizuchi Fight Shorts thinking that I could live vicariously through his enjoyment of wearing them. The material is thick and durable, yet still slightly stretchy, at the legs and has a ProPerformance stretch panel at the inseam. Scott's favorite feature is the Guardlock inner grip waistband and the slim cut of the legs. Although they are slimmer than his other MMA shorts, they don't restrict movement. When I measured all of the shorts, I noticed that the Velcro closure system and drawstring were extremely worn-looking and although the fabric hadn't ripped, the shorts looked much more distressed than shorts he had worn for years. I was disappointed that I had bought a gift that had deteriorated so much in just over six months. Fortunately, I got them on sale for half price (score!).
Tapout Grapple Grip Men's Fight Shorts – $64.95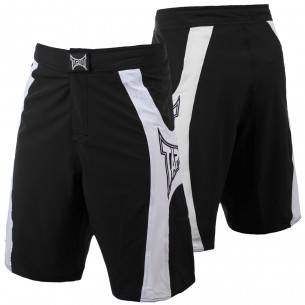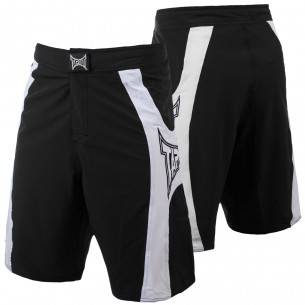 Scott's Tapout shorts are about five years old but they remain in his regular rotation. They are comfortable and lightweight, the leg width and side slit allow for unrestricted hip and leg movement, and the drawstring and Velcro hook and loop closure keeps them in place during training. They have held up very well over the years and I did not notice any major wear issues. The Velcro closure on the Tapout shorts looked better after five years than the Hayabusa did after six months. Although the shorts Scott bought are no longer available, their features most resemble the Tapout Grapple Grip Men's Fight Shorts.
Clinch Gear Pro Series Fight Shorts – $39.99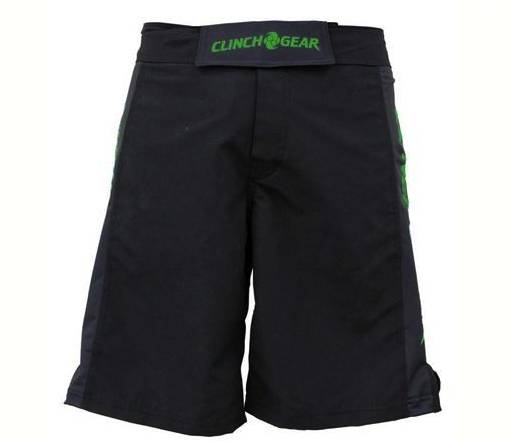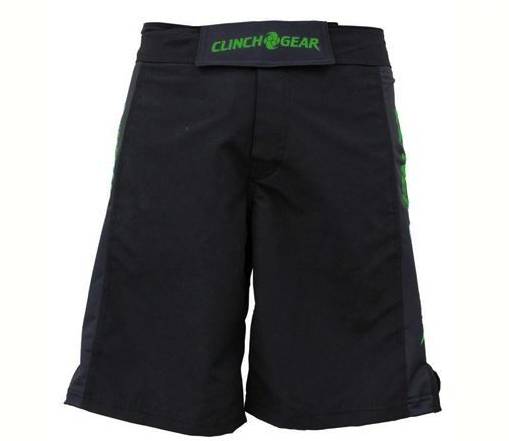 When I made my MMA Holiday Wish List for Breaking Muscle in 2012, the fight shorts most recommended by my teammates at Titans were the Clinch Gear shorts. When I saw them come up on BJJHQ, I immediately bought a pair to give to Scott for Christmas. He has two pairs of Clinch Gear shorts and finds them both to be light and comfortable. When I was measuring them, I noticed that they have an inside pocket, which I like, and they also have stretch panels on the inner and outer leg. Although the short material is very lightweight, they have held up better than the much stronger-looking Hayabusa shorts. They are silky to the touch and feel very soft against the skin yet there is a bit of pilling from wear and I noticed some loose stitches at some of the seams. Clinch Gear shorts do not have a drawstring, which has become a deal breaker for Scott when shopping for new shorts.
Bad Boy World Class Pro II MMA Shorts – $64.99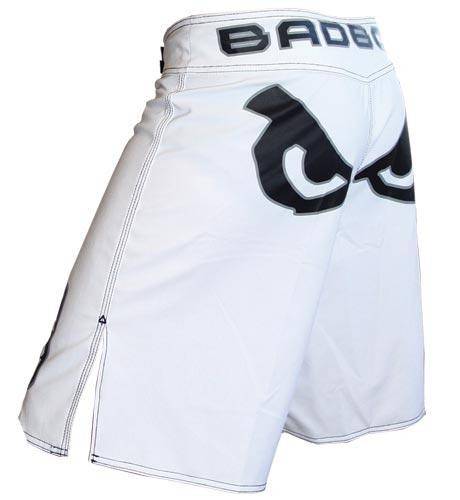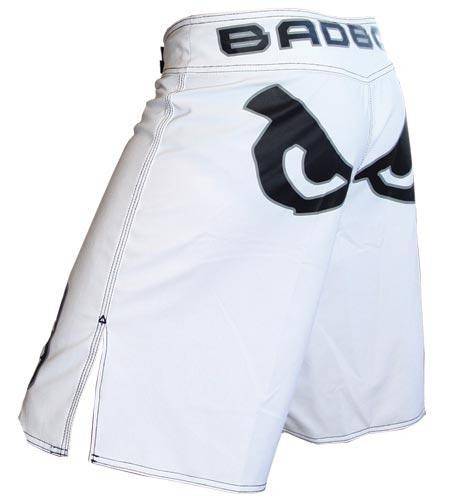 Scott's final pick is the Bad Boy World Class Pro II MMA Shorts. He bought them from BJJHQ when they came up on sale and was pleased with the fit in the waist and hips but found the legs to be too wide and the side slit too long. The material is light and stretchy but for taller, leaner guys like Scott, it feels as though there is just too much of it in the leg area. The shorts have a clean design on the front with the trademark Bad Boy eyes are featured on the back. Unfortunately, the material used to create the "eyes" sticks to the mat at times and the fabric does not retain its gripping qualities when it gets wet. Still, these shorts have held up well over time and I did not notice any signs of wear.
Although this is a guide for men's MMA shorts, I couldn't help but slip in one option for the ladies. I've only recently began wearing women's board shorts and my number one favorite is the Fighter Girls Black Pick Pocket Women's Board Short Style 305. The fit is very flattering and the quality is excellent. I will have a review available soon on Breaking Muscle so be sure to check back with us!