We receive free products and receive commissions through our links. See
disclosures page
.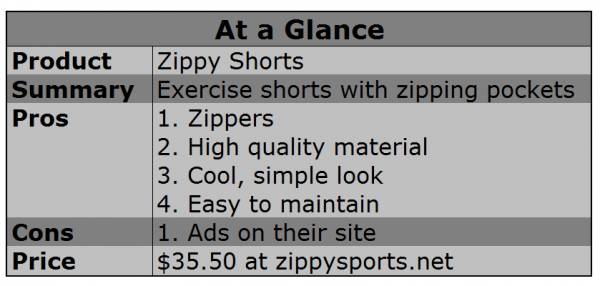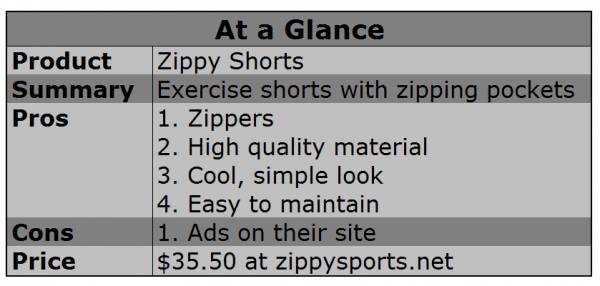 As a professional in the fitness industry, I wear my exercise gear every day. Finding clothes that are durable, multi-purpose, and look good can be tough.
I usually end up prioritizing looking good and have to replace my gear on a regular basis because it wears out. I recently received a pair of Zippy Shorts that I've been wearing, and they fulfill all of my gear needs. 
About the Product
The company was founded by people who were frustrated with the existing clothing options and saw a need for something else. I've encountered affordable athletic clothes, durable athletic clothes, and some clothes that feature wicking synthetic fibers and even zipping pockets, but not many options that boast all of the above like these Zippy shorts do.
Like most athletic gear, the fabric is synthetic (100% polyester). The fabric is designed to wick moisture away from the body to keep you dry and cool. As such, it may be best to wash Zippy shorts with other synthetic garments.
My Experience
I also found these shorts to be quite durable. Over the years, I've lost quite a few athletic garments to normal wear and tear, but my Zippy shorts still look like they came out of the package brand new. 
ZippySports.net Premium blend zippered shorts engineered for comfort. Zippy Sports
Zippy Shorts in Action
The zippers are small, but still easy to use. They lock down, so they don't bounce around, make noise, or catch on anything. The zippers have a quick action and I find them to be superior in quality, durability, and use to thet typical ones you find on athletic shorts or pants. And, it goes without saying, they keep my stuff in my pocket where it belongs. I feel more comfortable on a run with my house key in my pocket than I ever have before.
Another interesting note relates to pet hair. I have two yellow animals, a dog and a cat. Black clothing is therefore not the best choice for me. Whenever I train clients or attend fitness industry meetings in workout gear, I either have to avoid dark colors or lint roll the heck out of my outfit. Zippy shorts are only available in dark colors, but it turned out not to be a problem for me. Whether it's the synthetic fibers or something else, I don't know, but my Zippy shorts do not hold on to pet hair. It makes them much more convenient than normal dark clothing.
"In short, you can just wash and wear as normal and not worry about how you look because you'll look great."
Also, I'll admit I spend as little time and effort cleaning my clothes as physically possible. There aren't any special instructions for the Zippy shorts, but I found they don't respond well to a lot of heat, probably because they are synthetic. But they are wrinkle resistant and don't require any ironing, anyway. In short, you can just wash and wear as normal and not worry about how you look because you'll look great. 
There doesn't seem to be any downsides to these shorts. The only thing I didn't like was that the Zippy website has ads on it. An odd choice for a company with something to sell. You'll probably even see ads for sites that sell other shorts. It's distracting, ugly, and potentially confusing to customers. But, if you make it to the shopping cart section without going to another site, you'll be happy with the Zippy shorts you're buying.
My Recommendation
When it comes to exercise clothes, having something that is attractive, durable, easy to care for, and functional sounds like a home run to me. And Zippy shorts don't cost more than comparable gear with less functionality.
In short, these are a great pair of shorts and worth checking out for any exercise enthusiast.
Zippy Shorts are available for $35.50 at zippysports.net.