EDITOR'S NOTE: Ellen Tomek and Meghan O'Leary train and compete as members of the United States National Rowing Team in the women's double sculls event. They began rowing together in 2013 with an eye on the 2016 Olympic Games. Ellen and Meghan won the U.S. National Selection Regattas in 2013 and 2014, a bronze medal at the 2013 World Cup, and a silver medal at the 2014 World Cup. Recently, they finished sixth at the 2014 World Championships. Meghan writes for several websites including espnW and her own blog.
Who and What This Rowing Program Is For
This six day a week training program is for the beginner to intermediate rower with an athletic background who is in moderate to advanced physical condition. Most of the workouts are sixty minutes or longer with varied intensities.
Rowing is a demanding full-body workout. The goal of this particular training plan is to build a solid fitness base, increase strength and stamina, and to improve your overall 500m to 2,000m rowing ergometer scores.
How to Maximize Your Progress
The training plan is coded by varying degrees of intensity. Don't skip around or pick and choose workouts. The order of the workouts is important for recovery and to achieve your maximum potential on the "testing" workouts.
Monitor your heart rate and/or perceived effort daily to properly follow the training plan. If you become sick, too run down, or need to take a day off, then do it. Listen to your body. Once you feel better, re-enter the training cycle with at least one easier day before jumping into a higher intensity workout.
How to Set up the Rowing Ergometer
Setting the drag factor (sometimes referred to as the damper setting) is the most important step in making sure the erg is properly set up. The damper controls how much air flows into the cage. On most ergs, the damper can be set to a value of 1-10 (1 = lowest drag factor and 10 = highest drag factor).
Think of the damper setting or drag factor as similar to a bicycle gearing. The damper affects how rowing feels, but does not directly affect the resistance. Many people believe that a higher damper setting will equate to a higher intensity level or resistance, but the intensity of your workout is controlled only by how hard you work.
If you are healthy and in good condition, we recommend setting a drag factor in the range of 110-120. Every erg is a little different (differences in temperature, elevation, and dust on the flywheel can all effect drag factor), but on most machines 110-120 drag factor will fall somewhere along level 4-6 on the damper setting.
Setting the Drag Factor (Adjust the Damper Setting)
Go to Menu
Select "More Options"
Select "Drag Factor"
Start rowing and a number will appear on the screen; adjust the lever up or down until desired drag factor is achieved. Typically, you'll want a drag factor of 110-120.
Now you are ready to set up the workout. It will be tough, you will get tired, but you'll also get fit and fast. Just keep rowing.
Here is a sample workout week (week one in this case). Be sure to download the full program for the complete notes and explanations of abbreviations.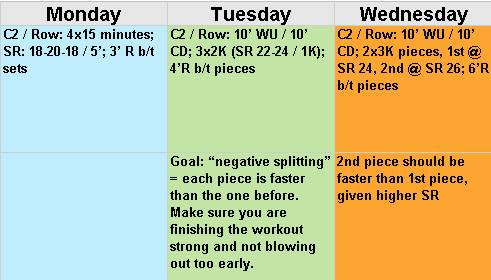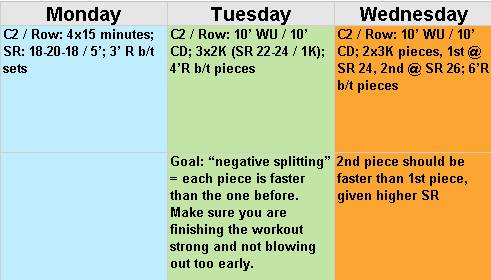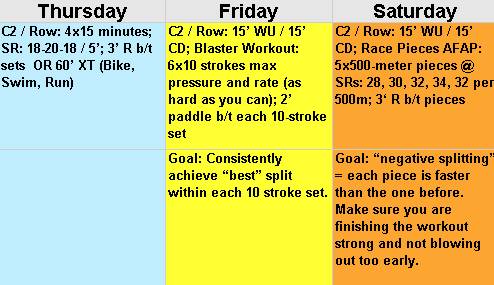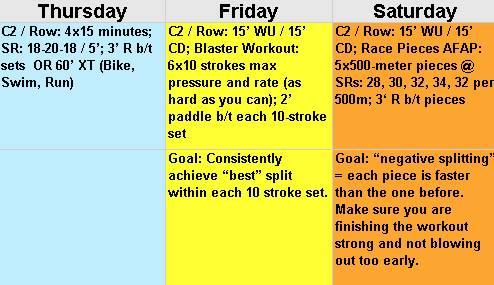 For more information on these workouts, read the full introduction here.