Open water swimming has recently been getting a lot more attention as one of the fastest growing sports in the United States. Open water races have been increasing in popularity and, with over seventy percent of the globe covered by water, we can virtually find them in every state throughout the year.
There is, however, a very unique race that may likely be the longest open water race in the world. The 8 Bridges Hudson River Swim is a 120-mile, seven-day stage swim in the Hudson River, New York. The swim starts at the Rip Van Winkle Bridge near Catskill, New York and finishes at the Verrazano Narrows Bridge in New York City. At the start of the ebb tide each day, swimmers enter the water at one of the eight bridges on the course. They then swim down river to the next bridge. The following day, swimmers resume swimming at the bridge where they finished on the previous day. The bridges are spaced between thirteen to twenty miles apart, and the water temperatures hover between 60 to 70 degrees F.
To date only two brave souls have attempted the full distance of 8 Bridges, but both failed to complete a couple of the stages. In its second year, one more person prepares to attempt the full 120 miles beginning June 25- Grace van der Byl.
I met Grace van der Byl, or Gracie, in 2010 as she out touched me in the 50m breaststroke at USMS Nationals in Atlanta to take the national title in the event. Over the past two years I got to know this amazing woman, athlete, and benefactor (for her increasing involvement in causes like the Challenged Athletes Foundation, the NBC-sponsored Iron Man program for Cancer survivors, and the Mates-Helping-Mates event for victims of the Australian wild fires). A resident of Solana Beach in the San Diego area, Gracie has the ocean in her backyard and swimming has come naturally to her from a very early age.
Gracie's involvement in open water swimming started in 2007, inspired by one of her mentors, Anne Cleveland, and since then she has completed many notable swims. She has not placed below top two in any of the swims she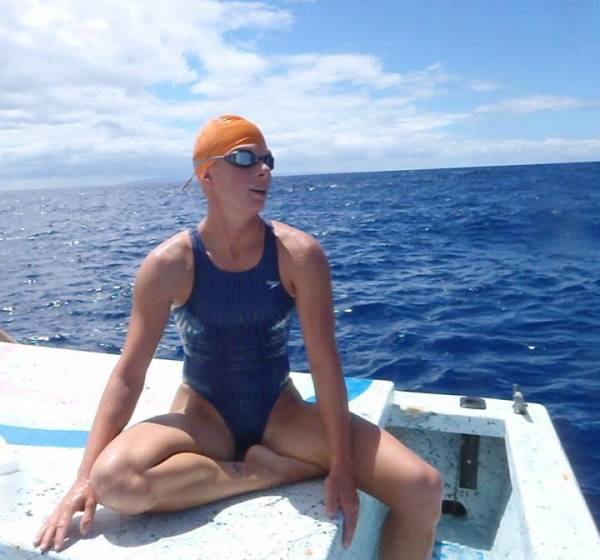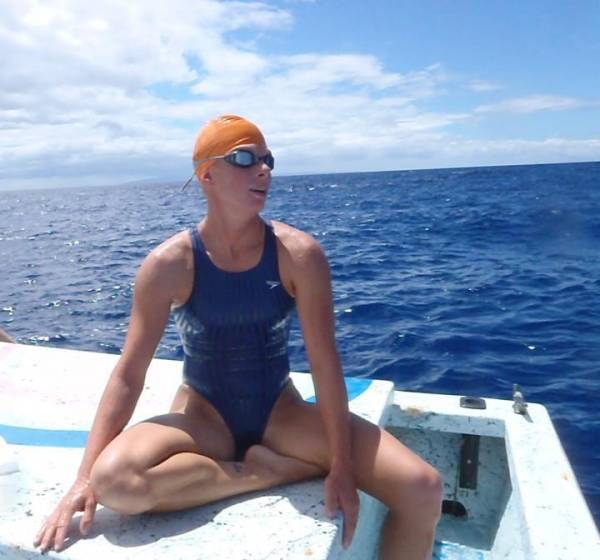 participated in since 2008, with distances varying from one to twelve miles. Possibly Gracie's biggest claim to fame to date is her 2010 Alcatraz Challenge swim. Competing in 55-degree water, under very rough conditions, and not wearing a wetsuit, she placed first overall woman (besting everyone, not only in the non-wetsuit division, but also in the wetsuit division) as well as second overall (both male and female combined).
Gracie committed to swim 8 Bridges four weeks before the start of the race. Although anxious and excited about it, she knows it will amount to a grueling 43 hours of swimming over a period of seven days. The longest race she has done so far was just over twelve miles.
How does one train for a 120 mile swim? For this race Gracie says, "There is no standard training plan, since nobody has really completed it yet." Gracie trains under coach Joe Benjamin, who, together with Tina Neil and Carol Sing from the Catalina Chanel Swimming Federation as advisors, drafted a plan to prepare for this undertaking. In preparation Gracie has been cycling her training with one week build, one week high miles, one week ascend, and one week recovery. Leading up to the race she will add an extra ten days of recovery. In this plan her peak week of mileage is just over 65 miles, roughly half of the distance she will cover in 8 Bridges.
A major component in her preparation for this race is nutrition. Gracie states, "I don't really subscribe to 'one' diet philosophy or another. I try to eat as clean as possible and still feel good about it. I consult with professional chef Leslie Myers and GR Krishna of CarboPro on how to tailor my diet to fit my nutritional needs." Gracie's diet includes mostly grilled fish, some grilled chicken, lean beef, and pork, and vegetables like spinach, squash, tomatoes and peppers. Her snacks consist of raw almonds, sweet nori, Greek yogurt, and fruit (dates, figs, bananas, grapes). A staple in her diet are chia seeds, which are added to everything she eats from salads to peanut butter.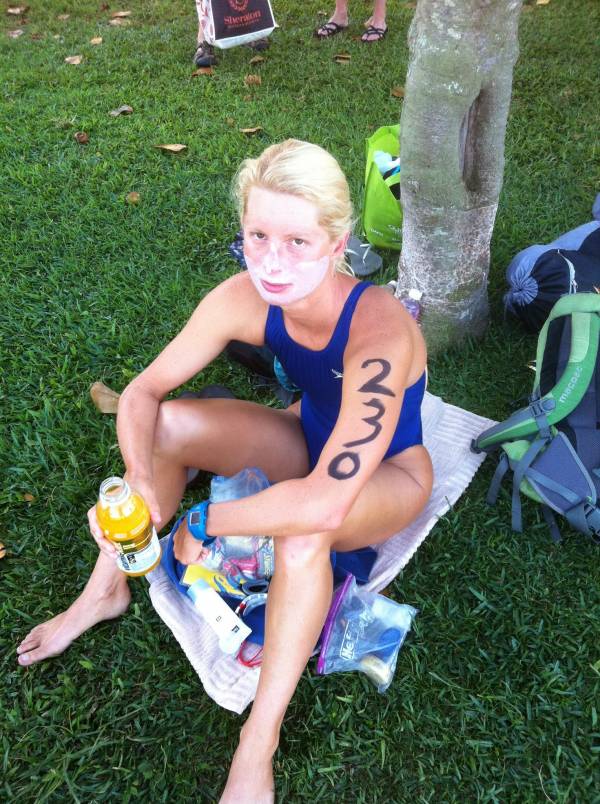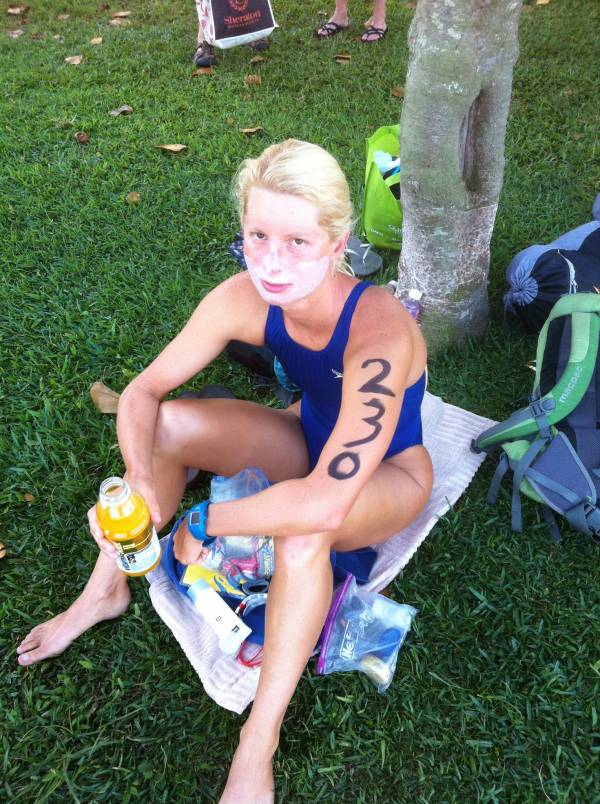 But possibly the most important component of her diet is feeding before, after and during long swims. Within thirty minutes of every workout Gracie fuels with Interphase by CarboPro, prepared with coconut water. During long swims she feeds on C5 by CarboPro at 200-250 calories per hour and in colder water at 250-270 cal per hour. Feeding during swimming is key in ensuring success for the swim as it prevents cramping and hypothermia, and provides appropriate nutrition to the body as it undergoes extreme physical exertion.
Gracie plans to feed every twenty to thirty minutes during 8 Bridges, depending on the temperature of the water (colder water will require more frequent feeding). Gracie's support boat will drop her feed bottle at the necessary time intervals stocked with the appropriate amount of C5. It is common for open water swimmers to resort to their recovery stroke (usually backstroke) during their feeds, before resuming their normal pacing stroke.
Gracie hit the water on Monday, June 25 for the first leg of her swim. She is making the trip to New York alone, as her husband and biggest supporter, Neil van der Byl, cannot accompany her, and her coach will be in Omaha at Olympic trials, but left her with words of wisdom. He said, "Remember, do not race! Just pace! Focus of each swim should be injury prevention, flowing consistency, comfort, distance per stroke, proper feeding, and drinking." Participating in 8 Bridges has been a huge undertaking, which Gracie credits her sponsors from CarboPro (nutrition), 2xGU (recovery) and Hobbie Kayaks (training) for making it possible.
When asked about how she feels about the race Gracie explained, "It is so overwhelming to comprehend the amount of swimming I will be doing that I almost feel as though I am in denial…like, it's just going to be this long swim in New York. Not that it is a 120 mile swim down one of the most prolific rivers in America and that I have a chance at a record. Maybe it is better that way. I am just going to take it one stroke at a time till I can't go anymore."