You know what part of the gym is the most utilized—and the most underappreciated? The floor!
Most gymgoers never think twice about the gym floor. They simply walk around comfortably, glad that the floor offers them a stable surface with good traction for their resistance training, HIIT training, and other workouts.
You know what part of the gym is the most utilized—and the most underappreciated? The floor!
Most gymgoers never think twice about the gym floor. They simply walk around comfortably, glad that the floor offers them a stable surface with good traction for their resistance training, HIIT training, and other workouts.
But as the owner of the gym—be it a home garage gym or a commercial gym—you have to think about the floor before you can consider anything else. You can't start installing machines, weight racks, or benches if your floor isn't installed.
Below, you can learn everything there is to know about gym flooring. We'll look at the flooring used for home and commercial gyms, the many flooring options available, the importance of a lifting platform, and what type of floor works best for which type of gyms. By the end of this guide, you'll be ready to choose and install the perfect floor for your gym.
Top Gym Floor Picks
If you're looking for a quick answer, below are a few of our favorite off-the-shelf options! Read on below for more thorough analysis based on your wants and needs.
Home Gym Versus Commercial Gym
Let's get one thing clear: the type of flooring you'd use in your garage will be very different from the floor you'd use in a commercial gym. Why is that?
Traffic – In your home gym, you have one or two people walking over the same patch of floor every day. But in a commercial gym, you have dozens or even hundreds of gymgoers walking on the floor. The higher volume of traffic means more wear and tear on the floor, more shoes scuffing the surface. Commercial gym flooring needs to have a much longer lifespan and more durability than a home gym floor.
Moisture – How much can one person sweat? Not a whole lot. But think about the amount of moisture produced by 50+ heavy sweaters. All of a sudden, you have to consider the water-resistance of the floor. If you install a sauna, shower, or pool in your gym, there is a higher risk of water damage as well.
Weights – In your home gym, you may have a few hundred pounds of weight sitting on weight racks. In a commercial gym, you have thousands of pounds between the dumbbells and weight discs. That weight will increase the amount of wear and tear placed on the flooring. After all, the weight racks are sitting atop the gym flooring, meaning the weight will speed up the damage to the floor.
Machines – How many machines are there in the average commercial gym? We're not just talking all the resistance training machines—Smith press, squat rack, bench press, cable machine, pull-down machine, rowing machine, and so many more—but also the cardio machines: stationary bicycles, treadmills, elliptical machines, and the list goes on. These machines all press down on the flooring, increasing the wear and tear. You may have one or two machines in your home garage, but you only use them a few times a week. In the gym, there are dozens of people using the machines every day.
Space – In a home gym, you really only need to cover a few square yards (or meters) of floor. In a commercial gym, you need to cover a few hundred square yards. More seams in the flooring increases the risk of damage (moisture seeping between the cracks, the flooring being pulled apart, etc.).
All of these things set commercial gyms apart from home gyms. The type of flooring you choose will depend on the type of gym you are setting up.
Types of Gym Flooring
Whether you're installing a gym in your garage or setting up a fitness club, there are only a few flooring options to choose from, each with their own unique benefits and drawbacks. Let's take a look at the types of gym flooring to find out what makes each the right/wrong choice for your situation.
Concrete
Most "ground floors" are going to be made out of concrete, the most durable of the gym flooring options. Concrete is the cheapest and simplest option, one that is least likely to wear out or be damaged by regular use.
The problem with concrete is that it doesn't offer the sort of traction you want. You'll have to apply a coat of anti-slip paint or a non-skid coating to keep your gymgoers from slipping while they train. The risk of injury is also much higher if someone falls, and concrete gyms tend to be noisy and echo, creating a lot of extra noise. The concrete also lets off a lot of dust.
Pros:
Durable
Inexpensive (it's already installed)
Easy to improve (with a coat of paint)
Cons:
Dropping weights can chip the floor
No impact-reduction
Not the most beautiful flooring option
Generates a lot of dust
Not sound-absorbing
Verdict: A cheap flooring option, but not ideal for a proper workout setup either at home or a commercial gym.
Carpet
Carpet is one of the less common gym flooring options, due to the fact that it isn't as durable as wood, rubber or concrete.
Carpet does offer good traction and stability, and with the right underlay can help to reduce impact. However, it's prone to water and sweat damage, absorbs bad smells, and will wear out far more quickly than other flooring options.
Pros:
Cheap
Available in many styles and colors
Comfortable for all types of workouts
Cons:
Lacks durability
Not water-resistant; prone to mold and mildew
Will smell after a few months of use
Verdict: For a home gym, it's a decent option, especially if you do a lot of floor-based workouts. But if you're setting up a commercial gym where durability is one of the most important factors, carpet shouldn't be your go-to.
Cork
Cork is an eco-friendly, renewable material that is fully biodegradable, meaning it will help to make your gym more "green." It also absorbs impact and is comfortable, but it won't impair stability. If you do a lot of high-impact, high-intensity workouts (such as in a CrossFit box or HIIT gym), it's a decent choice.
The trouble is that cork is very easily damaged. Something as simple as dragging a weight bench across the floor can tear up the cork. It's not a durable material, meaning you're ultimately going to spend a good deal of money replacing damaged flooring.
Pros:
Inexpensive
"Green"
Comfortable
Cons:
Not durable
Not the best impact-reduction
More easily damaged when wet
Verdict: For a home gym, a cork-based floor can help to reduce your home's carbon footprint. For a commercial gym, it just isn't durable enough and will cause your gym to look worn and "ratty" far too quickly.
Wood
Nothing is quite as elegant as a hardwood floor. Utility-grade lumber flooring isn't suitable for residential use, but it's great for setting up a commercial gym floor for ballroom dancing, kickboxing, or resistance training. Utility-grade lumber is much more durable than plywood, and it can handle the weight of your machines and weight racks.
Remember that wood splinters easily, and it will be damaged if you drop heavy weights on it. Wood also has very little traction, especially when wet. It's a good-looking flooring option, but it lacks the durability required for weights and cardio machines. Plus, it's one of the priciest flooring options around.
Pros:
Beautiful
Durable for most uses
Great for dancing or kickboxing
Cons:
Easily damaged by falling/dropped weights
Poor traction
Damaged by water
Verdict: If you're setting up a dance studio, yoga studio, barre/ballet classroom, or a kickboxing/Muay Thai/Capoeira studio, wood can be a good option. For a weight room or for high-intensity training, you need more grip and less vulnerability than wood provides.
Rubber Rolls
Rubber rolls are one of the most common gym flooring options due to the fact that they provide everything you need for a proper gym: durability, impact-absorption, resistance to damage from falling/dropped weights, and good traction.
Open-cell rubber rolls absorb water without growing slippery—in fact, the traction increases with moisture. Or, you can opt for closed-cell rubber that is moisture-resistant and easy to clean. Rubber offers impact-absorption, stability, and comfort. Whether you're setting up a CrossFit box, a parkour training course, or a weight room, rubber flooring is one of the best options to consider.
The long rolls have few seams, meaning less risk of damage. But the rolls can be expensive—you'll spend up to $15 per square foot. Durability comes at a price.
Pros:
Durable
Water and odor-resistant
Good impact absorption
Versatile; suitable for any type of exercise/training protocol
Resistant to damage
Fewer seams for dirt and moisture to seep into
Cons:
Expensive
Not the easiest flooring to lay
Not easily adapted to odd-shaped rooms
Verdict: If you're thinking of a hardcore commercial gym (complete with weight and cardio machines), rubber rolls are worth the high cost investment. For home gyms, you're better off with rubber mats or tiles.
Rubber Mats
Rubber mats are made of the same material as rubber rolls, but they come in a smaller size: usually 4′ to 6′ feet long and 2′ to 3′ wide. They are more adaptable to rooms with a unique layout or design, and they are very easy to lay.
They offer the same durability, water and odor-resistance, and impact-reduction as rubber rolls, and they're a great option for any gym type. They're also ideal for smaller spaces, such as a home gym.
Note, horse stall mats are heavy-duty rubber mats sold in farming stores rather than from gym equipment wholesalers. They make an excellent alternative for gym flooring. On the downside, they're priced the same (per square foot) as rubber rolls. They also have more seams than rubber rolls, so there's a higher risk of damage.
Pros:
Durable and resistance to wear and tear
Water and odor-resistant
Good impact reduction
Versatile; suitable for any type of exercise/training protocol
Easy to lay and adaptable to most floor plans
Cons:
Expensive
More seams = greater risk of damage
Verdict: If you have less floor space to cover, rubber mats are a great flooring option due to their durability and versatility. They're great for both commercial and home gyms.
Rubber Tiles
Think flooring tiles, but made out of rubber instead of ceramic. Rubber tiles range in size from 18″ to 36″ long/wide. They come with interlocking edges that are easy to assemble (like a puzzle), and they are made from the same durable rubber as mats and rolls. They're ideal for small spaces that require a good deal of versatility.
On the downside, the interlocking edges aren't the most durable. The tiles are prone to separation if not glued or taped down, and there is a risk of water and dirt seeping through the cracks. Rubber tiles can also be a fairly pricey flooring option.
Pros:
Durable and resistance to wear and tear
Water and odor-resistant
Good impact reduction
Versatile; suitable for any type of exercise/training protocol
Easy to lay and adaptable to most floor plans
Cons:
Expensive
More seams = greater risk of damage
Too easily separated, must be taped/glued down
Verdict: Rubber tiles are great option for smaller flooring spaces and for cushioning beneath weight benches, machines, racks, and lifting platforms (see below). They're highly versatile, if somewhat expensive and not the most durable.
Foam Tiles
If you're looking for cheap and easy, it doesn't get better than foam tiles. Made from EVA foam, these tiles have the interlocking edges that make them quick to assemble. They're not too heavy-duty, but they are ideal for a simple gym floor. The foam provides good cushioning and impact-reduction, and they're well-priced.
On the downside, they're not very durable. They're prone to damage from heavy weight racks, benches, and machines, and they will compress under heavy weight. They're also slippery when wet and must be glued/taped down to keep them in place.
Pros:
Inexpensive
User-friendly; easy to set up
Good cushioning, comfortable
Water and odor-resistant
Cons:
Lacking durability
Prone to compression under heavy weight
Loses traction when wet
Verdict: For a home gym, these are an excellent inexpensive option. They are a decent choice for commercial gym flooring, but they will wear out within a year or two.
Guidance on Flooring Brands
There are many types and brands of flooring on the market, but finding the right fit can be a challenge. Here are eight different brands we researched and reviewed to help guide you.
Regupol Aktiv Flooring
If you're looking for a hardy flooring option for your gym, CrossFit box, or home workout area, you'd do well to consider Regupol Aktiv. Not only is it incredibly durable, but it offers you a fully customizable set-up that can be adapted to any room size or shape.
Regupol Aktiv is an interlocking rubber-based flooring tile made entirely from post-consumer tire and post-industrial EPDM rubber. It's incredibly resilient, beautifully dense, and resistant to wear.
The flooring is engineered in Germany but manufactured in the US, and it's intended for a broad selection of uses: Crossfit, resistance training, plyometrics training, locker rooms, functional training, health clubs, and more.
The flooring is designed with a high-traction surface that offers excellent grip for more active training (CrossFit, plyometrics, etc.). It's also non-reflective, slip-resistant, intended for both wet and dry use, sound-absorbent, and resistant to wear. It's an excellent solution for covering up those plain concrete floors to give trainees a firm grip on the gym or box floor.

Notable Features:
Interlocking tiles
Wear-resistant, highly durable rubber
Made from post-consumer rubber
Adaptable to most gym needs
Comes in thicknesses between 5/32″ and 3/4″
Includes a 5-year warranty
Interlocking (ActivLock) for easy installation
GreenCircle Certified
Pros:
High performance – The durable rubber used for the tiles offer top-quality durability and wear resistance. The wet/dry surface means it will retain its excellent traction and grip no matter how much your trainees sweat.
Can be used for shower or sauna – Not only is it intended for gym floor use, but it can be installed in the rest of the gym or fitness club: sauna, swimming pool, shower, locker rooms, bathrooms, etc. It's odor-resistant as well as slip-resistant.
Versatile – The flooring comes in 20+ colors. Though the standard size is 50′ by 4′, it can be cut according to your specifications.
Cons:
Not too thick – If you're building a gym that you expect to receive heavy traffic and a lot of impact from weights, you may find this flooring isn't quite up to it due to its lack of thickness. Regupol offers thicker mats, but at a much higher price.
Low cushioning – This flooring is intended to offer traction and stability, but it doesn't provide the impact resistance and cushioning you'd need for high-intensity, high-impact training protocols.
Verdict: Regupol Activ offers durability, versatility, and superior traction at a reasonable cost. It's not the perfect solution for everything—it lacks the cushioning for hardcore weight training and jump training—but it's definitely the most versatile gym flooring around.
Tractor Supply Horse Stall Mats
For gyms that will receive a lot of heavy use—such as Olympic weightlifting, powerlifting, or CrossFit gyms—it's imperative to find flooring that can handle the impact of dropped barbells. Instead of building lifting platforms specifically for heavy lifters, you can simply use horse stall mats that protect the floors and the weight discs from the shock.
Tractor Supply offers a horse stall mat that can be adapted to this very purpose. Tractor Supply mats are one of the most recognized names in home improvement, agriculture, livestock, and lawn and garden products. As the name suggests, the mats are intended for use in a horse stall. The fact that they're built with horses in mind (horses can weigh anywhere from 600 to over 2,000 pounds) means they're a highly durable, resilient option.
The mats come in varying thickness, though the most common option is 3/4″ thick. The surface is anti-skid and slip-resistant, made from 100% recycled heavy duty rubber. They not only offer impact-reduction and cushioning for the floor, but they can absorb noise and vibrations and provide insulation.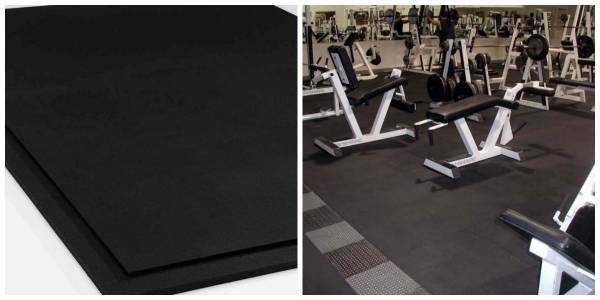 Notable Features:
4′ x 6′ x 3/4″
100% recycled rubber
Made in the USA
5-year limited warranty
Adaptable to all commercial and sporting uses
Interlocking design
Can be cut to ideal sizes
Pros:
Durable – They're built to support the weight of a horse, so they're definitely capable of handling the weight of your gymgoers. The mats are durable, wear-resistant, and designed to absorb the impact of loaded barbells. They also provide stability and support for your lifts.
Versatile – Not only can they be interlocked, glued, or taped in place, but they can be cut to your desired measurements for easy installation. Best of all, they can be used for both the lifting platform and the flooring of a health club, cardio training room, or weights area.
Affordable – While it's not the cheapest solution on the market, it's definitely a good option in terms of price, value, and availability. These mats can be found at any Tractor Supply Co store or website, and their price tag ($35 for a 4′ x 6′ mat) is reasonable.
Cons:
Quality control issues – The mats aren't all cut with precisely the same edge, so you may have a bit of trouble interlocking them perfectly. There may be gaps in the mats due to manufacturer errors.
Only for indoor use – The mats tend to expand in the sun, so they are only suitable for use indoors.
Verdict: Tractor Supply Horse Stall Mats are a good option if you're looking for versatile, durable, and affordable gym flooring. While they're not designed with the gym in mind, they can be adapted to gym use easily.
CAP Barbell Interlocking Mats
If you're looking for an additional flooring option—such as to protect your existing floors from weight racks or machines—you probably don't want to invest top dollar into full-quality flooring. Instead, you may find interlocking foam, rubber, plastic, or vinyl mats make a low-budget option that will help to extend the lifespan of your pricier flooring materials.
CAP Barbell is a name anyone in the fitness community would recognize. The brand manufacturers weight equipment and machines of excellent quality. Their flooring options, however, don't quite match up to the rest of their equipment. Instead of utilizing heavy-duty materials (like rubber), they opt for low-budget materials like plastic, vinyl, or foam. This makes the flooring more lightweight and versatile, but not the most durable.

Notable Features:
Made from plastic or vinyl
Interlocking patterns
50″ x 74″ x 3/4″
Antimicrobial and odor-resistant surface
Can be wiped or mopped clean
Excellent cushioning
Pros:
Reliable – While the mats are not intended for a weight platform or overall gym flooring, they serve the purpose of providing cushioning for both weight machines and weightlifters. They offer good impact-reduction and shock-absorption without compromising stability.
Easy to clean – Thanks to their vinyl/plastic surface, the mats can be wiped or mopped clean. The anti-microbial and odor-resistant material will help to avoid bad smells in the gym.
Versatile – The interlocking design and light weight of the tiles make them useful anywhere in the gym. You can move them around or install them beneath weight machines, and they come in handy to provide your trainees with a cushioned landing zone for jump/plyometrics training.
Cons:
Lack Durability – The fact that the mats are made from high-density plastic or vinyl foam means they're going to wear out, bend, break, crack, and get damaged over time. They won't last as long as high-quality rubber flooring or horse stall mats.
Pricey – You'd think a lower-quality material like plastic or vinyl would be cheaper, but these mats will still run you $60+ for a six pack (of 24" x 24" mats).
Verdict: CAP Barbell Interlocking Mats offer a "backup plan" for your gym flooring. They can be used in addition to your hardcore flooring as a way to prevent damage from heavy weights or weight machines. The fact that they look nice and are easy to clean is definitely a benefit—if only they were cheaper.
XMark Fitness: XMat Ultra Thick Equipment Mat
If you're setting up a commercial gym, CrossFit box, or fitness club, you need flooring that can take the wear and tear of daily gymgoers plus the weight of the machines, racks, and loaded barbells. Rubber flooring is usually the go-to for gyms, as it's the most durable material and offers good stability and impact-reduction.
XMark Fitness produces a broad range of fitness equipment: weight discs, machines, benches, racks, and more. The XMat Ultra Thick Equipment Mat is their flooring option for your gym, be it in your home or a commercial location.
Each mat is made from heavy duty recycled rubber, measuring 1/2″ thick and 4′ by 6′. The mats weigh 75 pounds, meaning they are high quality rubber. The surfaces are textured and offer good traction, and have a special non-slip coating to keep you solidly on your feet as you run, jump, and lift.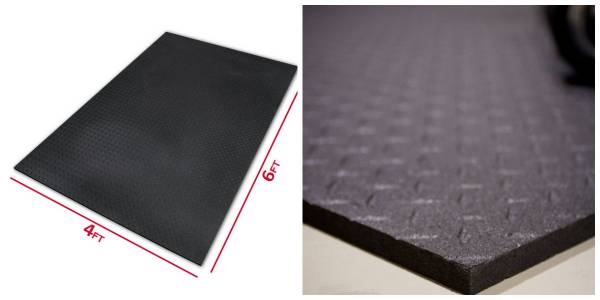 Notable Features:
Made in the US
Heavy-duty recycled rubber
4′ x 6′ x 1/2″
Slip-resistant surface
Tough quality
Impact-reducing design
Pros:
Durability – The word "heavy duty" comes to mind when touching and looking at these mats. They weigh a lot, and though they lack the thickness of other mats, the rubber is solid and able to take a beating.
Low maintenance – The mats are easy to clean: simply spray them with detergent and wipe or mop them down. Cleaning won't damage the slip-resistant surface, but will ensure there are no microbes or bacteria to create an unpleasant odor in your gym.
Versatile – The mats are intended for gym use (both commercial and residential), but they can be adapted to any yoga, dance, cardio, or spinning studio flooring.
Cons:
Imperfections – Due to the fact that the mats are recycled, the manufacturer warns that they "may have minor imperfections"—blemishes, discolorations, even minor damage. This may indicate quality control issues with the recycling or manufacturing process.
Moves around – Unless the flooring is secured in place with glue or tape (there's no interlocking design), it's going to shift around.
Verdict: The XMark Fitness XMat Ultra Thick Equipment Mat is a good option to consider if you want heavy duty rubber flooring at a reasonable cost. However, be prepared for a few imperfections in the material. They're not a deal-breaker—as many users agree, the mats are still great—but they may cause the mats to wear out more quickly.
Rogue Multipurpose Rubber Tile
Finding good flooring for your gym or CrossFit box can be a challenge. You need something that offers good traction, impact reduction, cushioning, and support for your trainees—and all of this at a price you can afford.
Rogue Fitness is one of the most recognized brands in the fitness world. Not only do they make CrossFit equipment, weight equipment, and shoes and apparel, but they also offer a flooring solution for your gym or CrossFit box.
The Rogue multi-purpose tiles are made out of durable rubber, and they're a full 1 1/2″ thick. This makes them ideal not only for the floor of your weight training and CrossFit room, but they can actually be incorporated into a lifting platform. Their extra thickness provides the cushioning that will protect your floor when lifters drop heavy weights. The black matting and diamond plate pattern not only look good, but they offer good traction under most conditions. Thanks to their simple tile design, you can set up the flooring however you want it with minimal effort.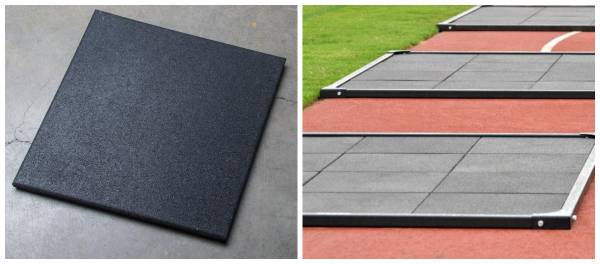 Notable Features:
Tiles are 24″ x 24″ x 1.5″
Raised diamond pattern for traction
Slip-resistant
Cushioned to reduce impact
Shock-absorbing
Pros:
Durable – Not only can these mats take a beating from the weights, but they're wear-resistant and scuff-resistant. You can hit the training hard without worrying about wearing away at the durable rubber.
Versatile – Set the tiles out in whatever pattern you want, or according to the dimensions and layout of your gym. The fact that the tiles are small (2 feet wide and long) mean you have excellent versatility for your flooring setup.
Thick – The tiles are intended to be used for both gym flooring and lifting platforms. They're not so thick they affect stability but still provide good impact-reduction when dropping loaded barbells.
Cons:
Pricey – You'll pay close to $35 for a single 2-foot square tile, or $200 for a six-pack. Compare that to other professional flooring options and you'll find Rogue's tiles are way pricier than you'd expect.
Heavy – Each tile weighs almost 30 pounds. This indicates that they're very durable, but they're certainly not easy to move around.
Verdict: Rogue Multi-purpose Rubber Tiles offer excellent durability and cushioning, making them ideal for use in gym areas where there will be heavy weightlifting (your lifting platform). However, be prepared to pay a high price for these tiles.
Rubber Cal Elephant Bark Floor Mat
The floor of an Olympic or powerlifting gym is very different from the floor of a yoga, dance, cardio class studio, or martial arts studio. While you want heavy, thick flooring for a gym that's going to see a lot of heavy use (weights, machines, benches, racks, etc.), for your studio you want something a bit thinner, more lightweight, and comfortable.
Rubber-Cal is a brand known for making flooring solutions—everything from interlocking tiles to treadmill mats to rubber floor mats. The name "Elephant Bark" refers to the specific texture used for the mat. Instead of the diamond pattern popular among other gym flooring and rubber mats, this mat uses a less visible, high-traction pattern to provide solid grip on the floor.
The mats are ideal for a DIY home gym, yoga studio, dojo, or dance/cardio studio. They're easy to install and require no adhesives. They're both UV and water-resistant, so they can be used outdoors as well as indoors. The flooring is "green," using recycled materials that can help to reduce impact and vibrations.

Notable Features:
3/16″ thick
Eco-friendly and "green" product
Can be used for weight and machine rooms
Rubber runners offer good traction and grip
Recycled from vehicle tires (commercial and passenger)
Made in the USA
Protection against UV rays and ozone
Pros:
Price – The mats are relatively inexpensive compared to many competing products, but they don't sacrifice quality. They're equally durable (if not as thick) and are made from high quality, wear-resistant rubber.
Reliable – Durable and easy to install, this flooring option is ideal for anyone who wants to set up a gym or studio quickly. It's versatile enough for a home gym as well as a commercial gym. The impact and vibration-reduction makes it ideal for use anywhere. You can install it with minimal effort and trust it will last for years to come.
Wear Resistant – The material is resistant to wear, and you'll find it can bear up under heavy weight. It's also able to be used outdoors (unlike many other gym flooring options) due to its UV, water, and ozone-resistance.
Cons:
Not fully secure – The easy DIY installation of this mat means it's likely to shift when you move (drag) the heavy weight racks or machines sitting on the mat.
Slippery when wet – The mats tend to be a bit slippery when they get wet, and you lose traction under rainy or sweaty conditions.
Verdict: Rubber Cal Elephant Bark Floor Mats offer you an affordable, reliable flooring option for your CrossFit box, gym, or studio. While it's not the most "hardcore" flooring around (it lacks the thickness to be a lifting platform), it's a good choice overall.
We Sell Mats Interlocking Foam Floor Mats
If you're looking for affordable flooring options for your gym, CrossFit Box, or yoga studio, you'll want to go with foam mats instead of rubber tiles. The mats may not be able to handle the same wear and tear as rubber flooring, but they are an inexpensive option to start off with. They can also make excellent "extra padding" to protect the floor beneath weight machines, racks, and benches.
True to its name, the company We Sell Mats produces a broad range of mats and tiles, mostly made from foam. The interlocking mats come in a broad range of colors: charcoal grey, all colors of the rainbow, and black.
The EVA foam tiles are designed for easy installation, with a simple interlocking pattern that can be assembled in any layout. With 12 tiles (each sized 2′ x 2′ x 3.8″) per pack, you get 48 square feet of coverage—all for less than $50.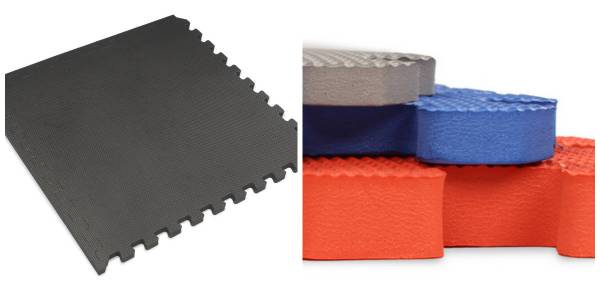 Notable Features:
Made from durable EVA foam
Good foam density
Designed for low-impact exercise
Easy to install; no tape or glue needed
Each package includes two detachable borders
Tiles measure 24″ x 24″ x 3/4″ (3/8″ and 1/2″ thickness also available)
Pros:
Affordable – At just under $50 for a 12-pack of foam tiles, you're getting a good product at a great price. You can cover your entire gym floor for well under $1,000—something you'd never do with horse stall mats or high-wear rubber tile.
Comfortable – The foam mats are soft on your bare feet (perfect for Yoga or dance studios) but offer enough density and cushioning for any low impact workout (such as weight training). The middleweight density will provide some impact-absorption without affecting stability.
User-friendly – Not only are these tiles easy to install (you don't need to glue or tape them in place), but they're also beautifully easy to keep clean. The odor-resistant lining will keep them from smelling even with regular use.
Cons:
Durability issues – For foam mats, they offer good durability. However, if you're installing flooring for a CrossFit Box or a gym that will receive a lot of use, the foam may not be able to handle the wear and tear. They're not commercial-grade workout mats.
May pull apart at the seams – If the mats aren't glued or taped down, you may find that they pull apart at the seams when you stretch, lunge, or jump side to side. The interlocking design is meant for easy installation, but it's not the most secure assembly.
Verdict: If you don't need premium flooring, you'd do well to consider these We Sell Mats floor mats. They're comfortable, padded, and offer good stability as you dance, practice yoga, or train. They may not stand up to regular high intensity, high-impact use, but they're a reliable, affordable option for a simple home gym or studio.
ProSource Puzzle Exercise Mat
Foam exercise mats are an excellent option for extra padding for a gym floor, or to use in a studio where you will be practicing yoga, dancing, or training in martial arts barefoot. They're not as durable for supporting the weight of machines, racks, and benches, but they can be a great choice if you need affordable flooring.
ProSource manufactures a broad range of fitness gear: from yoga mats to stability balls to weights to gym equipment. Their puzzle exercise mats are one of the best-rated in their category, thanks to their durable design and slip-resistant texture.
The "puzzle piece" design makes it easy for you to interlock each mat, making setup a breeze. The mats are water-resistant, noise-reducing, and help to reduce impact. The high-density EVA foam can take a beating without losing their non-skid texture. Best of all, the price tag is fairly reasonable compared to competing products.

Notable Features:
High density EVA foam
Mat sizes: 24" x 24" x 1/2"
6 tiles per pack; covers 24 square feet
Lightweight and easy to assemble
Non-skid textured surface
Water-resistant and slip-resistant
Pros:
Good surface – Not only is the surface of the mats textured to reduce slipping or sliding (even when wet), but the texture actually enhances the durability of the mats. With the high-density foam, they're one of the longest-lasting foam mats you'll find anywhere.
Affordable – Priced at $25 for 24 square feet, you'll find this is one of the most affordable flooring solutions. But this brand doesn't sacrifice quality for cost—the mats have a long lifespan.
Versatile – Thanks to the high-density EVA foam, these mats can handle the wear and tear of a gym or CrossFit Box as well as a dance or Yoga studio. You'll need to tape or glue them down to keep them from sliding around, but they're able to handle a good deal of daily use without wearing down.
Cons:
Too thin – The 1/2″ thickness of the mats means there is very little impact-reduction. If you're looking for flooring that provides cushioning for high-impact workouts, this isn't your top pick.
Manufacturing errors – Some users report that the mats don't lie fully flat as a result of manufacturing errors, and the surface isn't perfectly uniform.
Verdict: ProSource Puzzle Exercise Mats are possibly the best foam mats to consider if you want affordable, comfortable flooring. Their durability and non-slip surface make them a great choice for all gym, CrossFit box, and studio floors.