The sport of cycling has developed in many directions and it could be said that almost any means of self-propelled locomotion on two or more wheels has been tried by somebody at some time or other.
The sport of cycling has developed in many directions and it could be said that almost any means of self-propelled locomotion on two or more wheels has been tried by somebody at some time or other.
If you followed last year's Olympics, you had the opportunity to observe several different cycling-related sports, such as road racing, time trialling, track racing, and BMX. Some cycling events are popular sports that are recognized and regulated by an official body. Some are less popular in participation, but nevertheless would still be good fun to try.
Here is my short guide to cycling-related sports you may like to try, maybe as a challenge or just a bit of a change.
Road Events: Time Trial
A race against the clock that may be solo or in small teams.
Each team or person sets off at intervals and is required to complete a measured distance as fast as possible. The events usually take place on public roads.
Time trialists have to reduce air resistance as much as possible and generate sustained power for the duration of their event. Hence, the streamlined hats, cycles, and position on the cycle. Events are usually 10-mile, 25-mile, 50-mile, 100-mile, 12-hour and 24-hour.
Road Events: Hill Climb
A type of time trial up a hill.
The hill is usually quite steep, but a short distance such as one to two miles. Each competitor takes approximately five minutes to reach the finish at this distance, requiring an all-out effort. Sometimes a hill sprint is included within another type of competition.
Road Events: Road Race
A mass start race on private or public roads.
Race distances vary from a few kilometers to more than 200km. Courses may run from place to place or comprise one or more laps of a circuit.
Some courses combine both, i.e. taking the riders from a starting place and then finishing with several laps of a circuit (usually to ensure a good spectacle for the audience at the finish). Races over short circuits, often in town or city centers, are known as criteriums or crits.
Some road races, known as handicaps, are designed to match riders of different abilities or ages. Groups of slower riders start first, with the fastest riders starting last and so having to race harder and faster to catch other competitors.
Road Events: Road Stage Race
Consists of several races, or stages, ridden consecutively.
The competitor with the lowest cumulative time to complete all stages is declared the overall, or general classification (GC), winner.
Stage races may also have other classifications and awards, such as individual stage winners, sprint points classification, and the "King of the Mountains" (or mountains classification) winner. Stages may also include individual or team time trials. Races can be held over several days.
Road Events: Road Criterium
Several laps on a short course, often on closed city streets.
A criterium, or crit, is a race of several laps of usually less than 1km, often run on closed-off city streets. Race length can be determined by a number of laps or total time, in which case the number of remaining laps is calculated as the race progresses.
The event's duration is typically an hour and is shorter than that of a traditional road race. The winner is the first rider to cross the finish line without having been lapped. There are sometimes awards for winning individual laps or age group categories.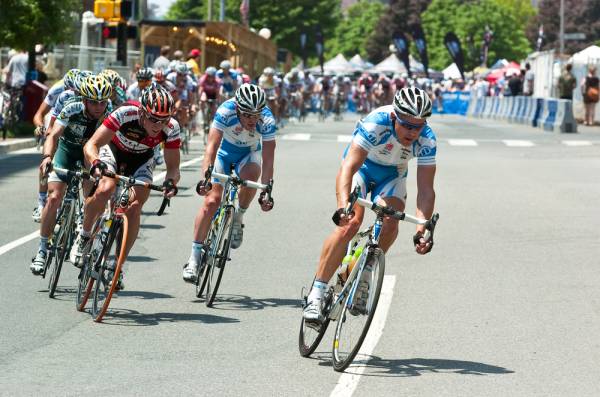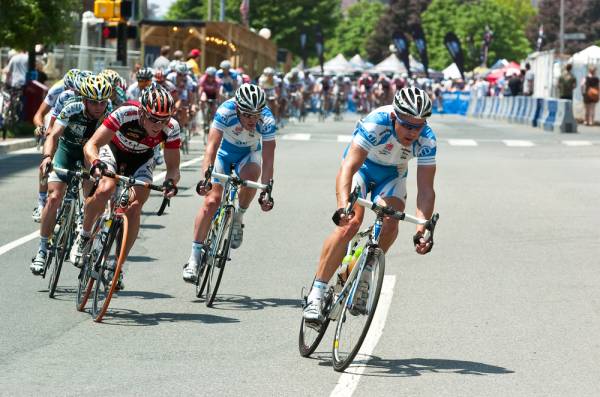 Road Events: Sportive
A longer duration event over typically 40-100 miles.
Cyclists can choose whether to pace themselves against the clock or enjoy these as a pleasure ride. These are not formal races, although often timing is provided and riders can be grouped into different speed bands such a bronze, silver, or gold.
These are rarely closed road events and often take smaller and quieter lanes. For the larger and longer events there is sometimes a time limit so that riders have to complete within a certain time – or be picked up by the sweeper wagon.
Off-Road Events: Mountain Bike – Downhill
One at a time on a downhill off-road course.
The courses often include technical challenges such as jumps and tight corners. Rough sections and gaps have to be negotiated at high speed, using gravity to assist. Riders race one at a time and the winner is the one with the fastest time.
Off-Road Events: Mountain Bike – XC
Cross-country race.
This is a mass start event. Sometimes riders are arranged into age groups or categories and set off at different times. The course is a mixture of technical sections, climbs, descents, grass, trails, and rock gardens.
Courses are usually arranged around a circuit and the winners are based upon the fastest time to complete the total distance required.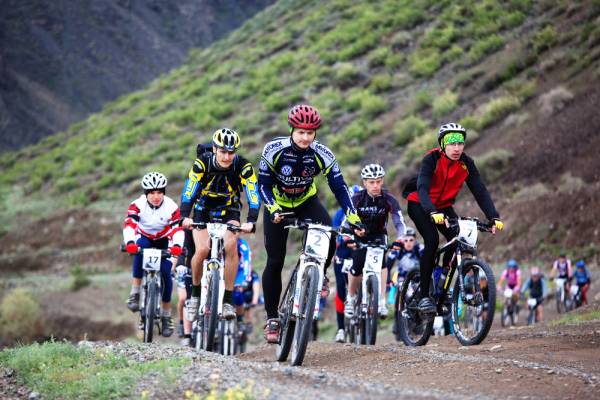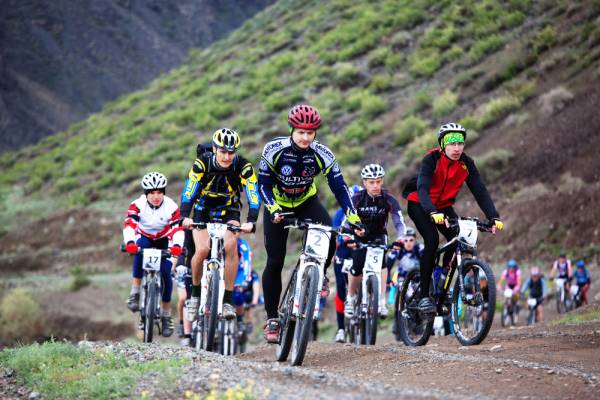 Off-Road Events: Mountain Bike – 4X
Four cross riders compete at the same time.
In this race, riders start in a group of four on a specially designed highly challenging downhill course. The races are short and can last between 25 seconds and one minute.
Obstacles include a series of bumps, table tops, steps up, steps down (drop offs), moguls, cambered (bermed) or off-camber corners, and gap jumps.
Off-Road Events: BMX
Sprint races on purpose-built off-road single-lap racetracks.
The track usually has a small starting gate for up to eight riders, a serpentine dirt racecourse made of various jumps and rollers, and a finish line.
The course is usually flat, about fifteen-foot wide (4.6m) and has large banked corners that help the riders maintain speed and includes various jumps. BMX racing rewards strength, quickness, and bike handling.
Off-Road Events: Cyclo-Cross
Many short laps on a variety of challenging surfaces.
Races usually take place in the autumn and winter (the international or World Cup season is September to January) and consist of many laps of a short (2.5-3.5km or 1.5-2 mile) course.
The course can feature pavement, wooded trails, grass, sand, mud, steep hills, and obstacles. The riders are required to quickly dismount, carry the bike over obstructions, run while carrying the cycle, and then remount and continue.
Races are usually thirty to sixty minutes long, with the distance varying depending on the ground conditions. The emphasis is on the rider's endurance and bike-handling skills.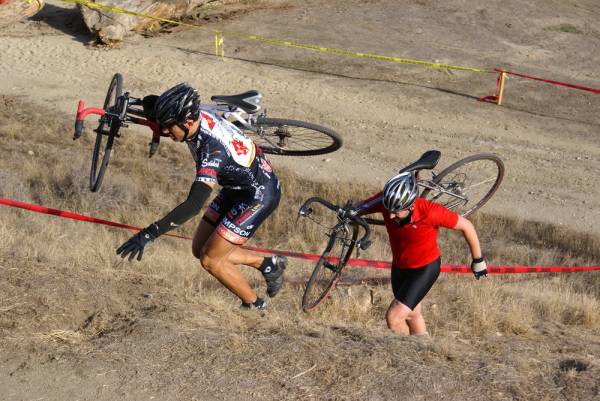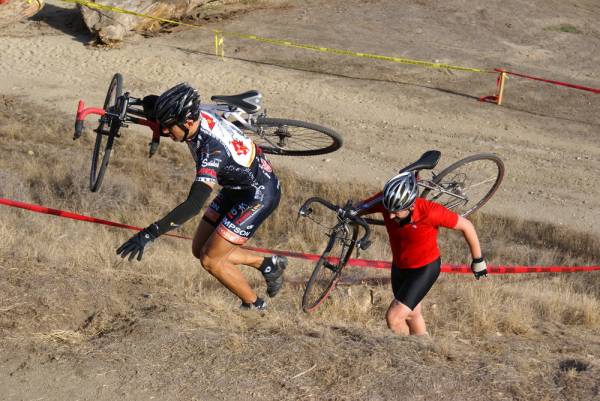 Track Racing
Track racing has many forms. The track is usually a banked oval on an indoor wooden surface or outdoor on tarmac. Cycles are fixed wheel and have no brakes.
Track Racing: Sprint
The race is usually in pairs starting at the same time with the winner the first to cross the line at a fixed distance in the best of three attempts. The sprint is usually from a rolling start with the riders often playing a game of cat and mouse at the start to see who is going to sprint first.
Sprinting first has the element of surprise but can give the opponent the opportunity be benefit from the draft and overtake them at the end when the first rider begins to fatigue.
Track Racing: Time Trial
This race is a timed challenge to complete a given distance as fast as possible. This is usually from a standing start, although a rolling start version is also possible for a shorter distance (flying lap).
The race can be a solo or group event. The distance is often one kilometer and this race is also called the Kilo.
Track Racing: Pursuit
A form of time-trial. Riders or teams usually compete in pairs starting on opposite sides of the track and the competition is run on a knock-out basis.
Track Racing: Scratch Race
This is a race over several laps in which all contestants start on equal terms and places are awarded based on the final order across the finish line (scratch).
There are no intermediate points or sprints. If one or more riders gains an entire lap on the rest of the group and keeps this to the finish, this advantage places them ahead of the other riders with fewer laps completed. A typical race distance would be fifteen kilometers.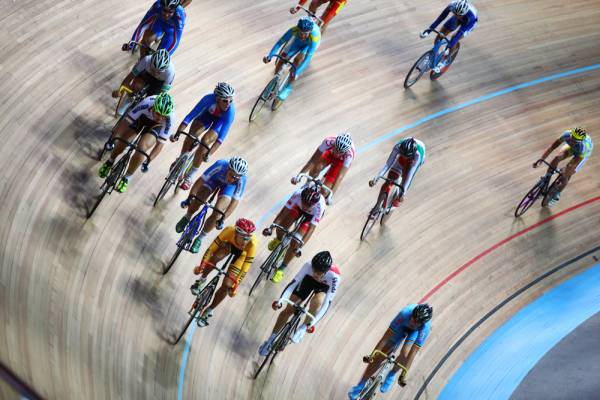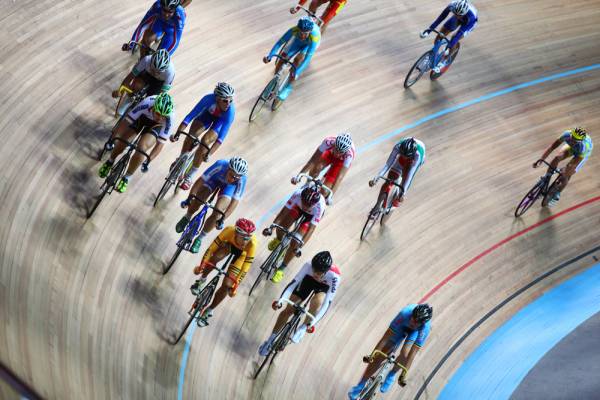 Track Racing: Keirin
The Keirin race is a mass-start race with six to nine riders and a paced start. Riders draw lots to determine starting positions and start as the pacer (usually a derny motorcycle) approaches.
The riders are required to remain behind the pacer, which starts at a slow speed of about 25kph and gradually increases speed. The pacer leaves the track approximately 600-700 meters before the finish distance at approximately 50kph.
The cyclists race to the finish and the first cyclist to complete the race is the winner. Keirin races are usually 2km in length, which would be eight laps on a 250m track.
Track Racing: Omnium
This is a track event comprised of six types of races: a flying lap race against the clock, a longer distance points race, an elimination race, an individual pursuit, a scratch race, and a time trial.
The finishers from each race are awarded points in reverse order and the overall winner has the lowest point total.
Track Racing: Elimination Race
The elimination race is a longer race of several track laps. At the end of each lap, the last competitor to complete the lap is eliminated from the race and has to leave the track.
The number of laps may vary depending upon the number of competitors. Towards the end of the race the final few sprint to the finish to decide the winner.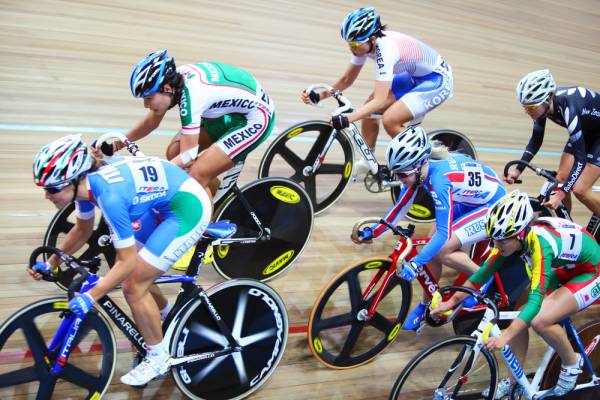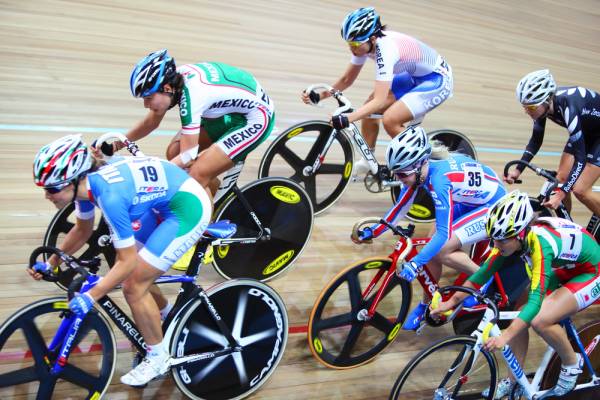 Track Racing: Madison
This race of 50-60km is a mass start event. It was first held in Madison Square Garden.
Each team enters two riders who take turns in the race. Every twenty laps a sprint takes place to gain points. The winning team has the highest point score.
Conclusion
This turned out to be a much longer list than I intended when I started.
A testament to people's ingenuity at devising cycling challenges. If you're looking for a challenge or just a change, I would recommend trying something different, and as you can see there are many options from which to choose.
Photos courtesy of Shutterstock.