You may have seen her on MTV's True Life or you may have heard of her brother, New York Jet Nick Mangold, but Holley Mangold is a woman unto herself. As an athlete, Holley has been carving her own path for a long time, and starting this week you'll be able to follow her Athlete Journal here on Breaking Muscle.
Growing up, Holley played football. She was a lineman for twelve years, making the news as a girl playing a traditionally male high school sport. During that time she also trained in powerlifting. After high school Holley transitioned to Olympic weightlifting. It's a sport she only took up a few years ago, at the age of eighteen, but that she has fallen completely in love with. She currently trains with her coach, Mark Cannella, at Columbus Weightlifting in Ohio, and he has turned his laundry room into a make-shift bedroom for her.
Just a couple months ago in her home state, at the Olympic Trials held at the Arnold Sports Festival, Holley qualified for the 2012 team headed for London this summer. She competes in the 75-kilo-plus, super heavyweight division. She finished second at the Trials behind fellow super heavyweight (and Olympic teammate) Sarah Robles.
Holley's qualifying lifts were a 110kg snatch and a 145kg clean and jerk – that's 242.5 pounds and 319.67 pounds respectively.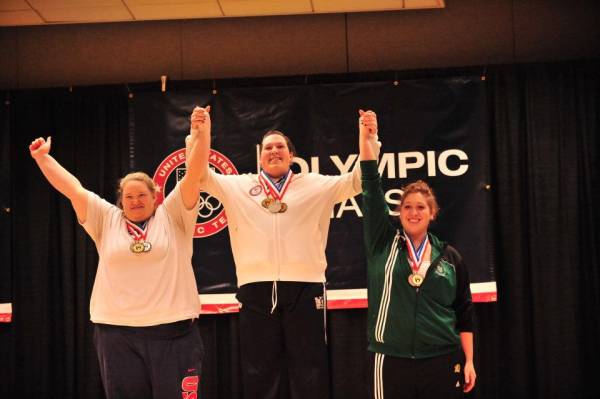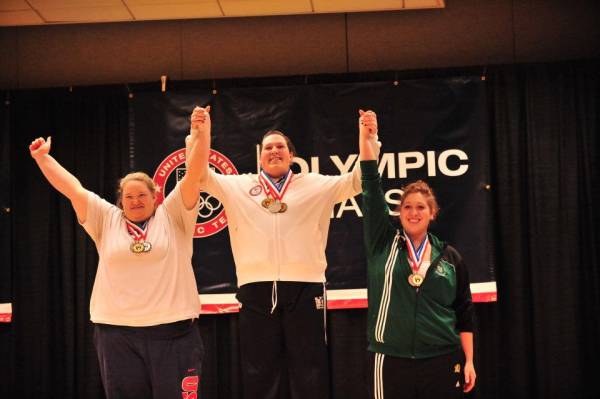 Originally Holley planned to qualify for the Olympics in 2016, so she is happily ahead of schedule and plans for this just to be the first of multiple Olympic Games for her. As Holley trains her way to London, she will be keeping a weekly Athlete Journal here on Breaking Muscle, detailing her thoughts, training, and preparation.
Check in every Friday to see the latest from Holley Mangold. You can catch up on all here entries here!