EDITOR'S NOTE: Welcome to the athlete journal of Jess Papi. Jess is a blue belt at Scranton MMA and also pursuing her degree in exercise science. Read her entries every week for insights on competing, training, and juggling BJJ and life.
I'm going to come right out and say it. This week sucked.
It started off with last Friday when I injured my knee. I couldn't really bend it all, which made everything difficult. I could barely walk, let alone do jiu jitsu. I saw a doctor and was told to stay off of it for a few days and rest. That means I didn't really get to train at all this week.
Last week I told you about that endurance program I was trying to do. It sucks that I couldn't work on endurance at all this week. I'm actually kind of worried that my endurance made some negative progress. I was told not to move too much and to keep my leg elevated whenever I can. I did a lot of sitting. That's probably not the best way to improve cardiovascular endurance. I did, though, have a lot of time to watch movies. So, at least now I'll understand a few more movie references that have gone over my head in the past.
Because I wasn't focused on performing at my peak abilities, I didn't care too much about what I ate. My goal of cutting out junk food is still on my brain, but I didn't quite achieve it this week. Having a bum knee gave me one of those "feel bad for me" complexes, which entitled me to eat some potato chips (they're my biggest weakness). It probably wasn't my best decision considering I didn't do anything this week to burn all those empty calories off. Then again, I just got up in the middle of writing and checked my weight. It's actually down today. And I honestly don't feel too sluggish or anything like that. That's so weird. I did keep up on drinking more water, though. So I guess I achieved one goal this week!
While I wasn't training this week, I had a lot of time to do some thinking. I thought about future tournaments, seminars, and business ventures. I originally planned to compete at NAGA Philly on February 1st, but now I'm not sure because of my knee. There is a Goodfight in New York the weekend after that, so if I can't make the NAGA I'll do that tournament with some of my other teammates. There's another Goodfight in March that I'm thinking about doing as well. But the big one for me coming up is the IBJJF New York Open in April. All of the other tournaments are just warm-ups for that.
In terms of seminars, I'm thinking about a few that I want to attend, but I also want to hold a free one of my own. It will most likely be at the end of February and it will be beginner-friendly. I plan on doing a lot of self-defense and basic jiu jitsu moves. It will also be a women's only seminar. I want the women in my area to know that there's a place they can go to learn how to protect themselves using easy-to-learn moves. I'll give you more details about that once I get it all straightened out.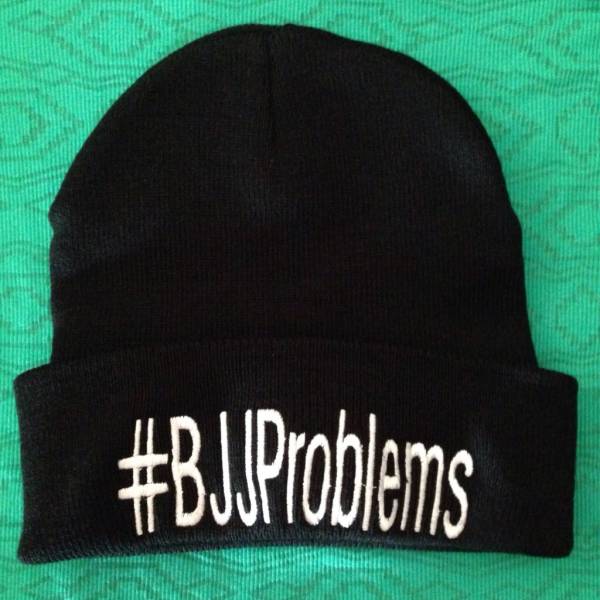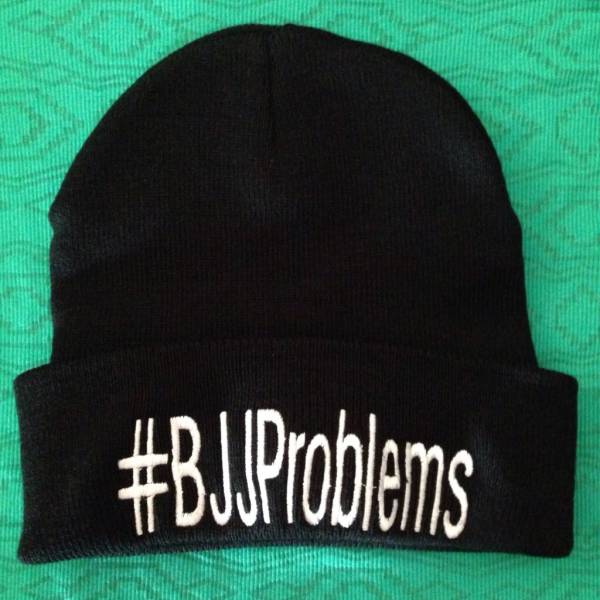 In other news, I'm getting into the beanie business! I don't know if I ever mentioned this, but I'm the admin for the Twitter account @BJJ_Problems. I tweet about the issues we grapplers deal with on a daily basis. I started to get a lot of followers so I wanted to make something they could wear to show off their love for jiu jitsu and the problems we overcome every day. Shirts can be boring, so I decided on beanies. It's a simple black beanie with #BJJProblems written across the cuff. I literally just received the hats, so I'm pretty pumped about this. I will be setting up a store today so make sure you check out @BJJ_Problems on Twitter. I might even post it on Facebook, so check that out too!
I didn't even train this week and I still had a lot to say! I was so worried about having a boring entry this week, but I don't think it's half bad. I'll definitely be back on the mats next week, so I'll have more jiu jitsu-y stuff for you! Later, gators.