EDITOR'S NOTE: Welcome to the athlete journal of CrossFit trainer and masters athlete Patrick McCarty. Patrick competed in the 2011 Reebok CrossFit Games in the 45-49 age bracket and has his sights set on the Games again this year. Follow Patrick's journals here every Wednesday.
Athlete Journal Entry 21 – My Experience at the 2013 CrossFit Games
When it was first announced that the Masters events were going to be moved to mid-week, the uproar was immediate. No one was happy. We were already in a parking lot for God's sake. Now we figured we'd be in a parking lot days before the main event, before the crowds were there, before the vendors were there, before the media was there, etc. The whole thing conjured up images of empty stands, and that polite, golf-tourney applause.
We felt like it was yet another slap in the face to the Masters population. And boy, were we wrong.
The Event
What transpired was a full-scale Games event that was probably larger in scale than the 2010 main event. We were located in the track, but the setup, volunteers, judges, and crowd were all in. It was fantastic. I'll break down the week, piece by piece.
Organization
From check-in to check-out, the event was a well-oiled machine. We were greeted at the Manhattan Beach Marriot by a squadron of volunteers led by Sue Barton, who introduced herself and provided her personal cell number in case we had questions. We received our gear (more on that in a moment), credentials, and other items.
Each morning started with a 7:00am briefing, and the heats ran on time, every time. Volunteers ran like a synchronized human centipede, on and off the field between heats. It was literally the most organized event I have ever been a part of.
The Gear
I won't complain. The t-shirts have morphed into full-blown jerseys and as such, probably won't really transfer to the home box unless I really want to come off like a braggardly douchenozzle, but the shorts are functional and the shoes, ancillaries, and bag are great. No oly shoes this year and, while the young'uns got cleats, we did not, which sent a lot of people searching for cleats in advance of the sled-drag workout.
I will say, however, that having the names prominently displayed on the shirts was a tremendous help, because most of use look exactly alike. This is not satire. I am serious. Take ten fifty-year-old old guys and put them together, and I guarantee eight of them will be bald/shaved, 5'9″, and jacked. We all look alike. It was awesome to be able to quickly glance at the name and say "Ah yeah…not Hamming – Kubitschek."
The Workouts
The workouts were hard. This is not your father's Masters Games anymore. If you can't bang out thirty handstand push ups and then drag a 180lb sled, you might want to search for another age-friendly contest. For the most part, they did not scale the weights from ages forty through 54, so I was dragging and pulling the same sled as some of the monster forty-year-olds. No muscle ups, to my disappointment, but if handstand push ups were my specialty, I would have been jumping for joy.
I finished tenth in Nancy, thirteenth in the Push Drag Pull, thirteenth in Pullgatory, and eleventh in the Deadlift/Box Jump. I was thrilled with the tenth place finished in Nancy, which provided me with the boost in confidence that told me, yes, I belonged there, and my Open performance was not just a dream.
The Judging
Superb. The judges were highly-trained, friendly, and accurate. Every no rep I got was a no rep I earned. I can't recall a situation where there were murmurs of some athlete being given a pass or being no repped without cause. Nice job, all.
The Venue
Unreal. The athlete's tent was practically carnival tent-sized, with door attendants, air conditioning, food, water, chairs, and couches. You could – and many did – sleep in the dimly-lit, cool, and quiet tent. The warm up area was well supplied, there were name placards for all of us, and Swiss chip timing. Sue Barton and Shae Tozzo were running the corralling duties like seasoned professionals. There were separate tents for ice baths, a fully-staffed Arrosti tent, the works.
The Crowd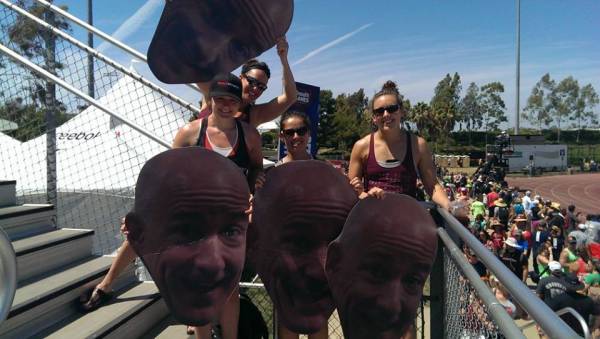 If the Masters athletes thought there was going to be a sparsley attended, half-bored Little League-sized crowd, we were very wrong. The crowd was fantastic. The stands were packed, it was shoulder-to-shoulder at the fence line, there were big giant cardboard heads, you name it. By Thursday's finals, it was standing room only. As I said, the crowd for the Masters was very likely larger than the crowds for the 2010 Games main events when they first hit the Home Depot Center.
Downsides
Few and far between. The only issue that cropped up was that the coaches were not allowed to linger past a few minutes in the athlete's tent and were getting chased out on a fairly regular basis. The tent was so large I don't think it would have been an issue if the coaches spent more than a few minutes back there.
Summary
Overall, the 2013 CrossFit Games Masters event exceeded everyone's expectations. I fully expect that as it grows, they will move it to the weekend prior to the Games because they will literally need to move it to a venue large enough to hold what is an ever-growing facet of the sport. Nice Job, CFHQ. See you next year.