Back when the founders of TapOut were selling t-shirts out of the back of a car, Jay Tan and Turi Altavilla were starting at ground zero in the MMA event promotion industry. Both men had originally planned careers in the Hollywood film industry but their early experiences left them feeling unfulfilled. In the end they wound up founding an amateur MMA fight promotion called the U of MMA. (They are pictured below – Turi on the left, Jay on the right – with one of their champions.) When I asked why MMA instead of the film business, Jay explained:
It addresses and honors some of our most carnal and innate traits as human beings. It's probably the most liberal combat sport in that it allows you to strike (prohibited in most other grappling sports) and it allows you to clinch, choke, and lock joints (prohibited in most other striking sports). In society's pursuit to become more civilized and intellectual, I think we've made a mistake in neglecting our instincts for activity, competition, risk, and self-defense. Under controlled circumstances (because we obviously we don't want to backtrack in our civility either), MMA addresses and honors those instincts.
The two men followed similar paths in the industry and by 2007, Jay had joined Turi at Pride FC, an MMA organization based out of Japan with offices in Los Angeles, California. They developed an instant rapport and their partnership continued at several different companies. After being employed by King of the Cage, Pride FC, and Elite XC on Showtime, Turi had become disheartened at the way the promotions had ended and thought about leaving the sport:
At that time I had no interest in being involved in MMA any longer unless it was on my own terms and realized that may never happen working for someone. That's how University of MMA was born. Jay and I started this out of a need to want to do things on our own, as well as recognizing a need in the fight community, which was the need for a great amateur level show. But not just an event that has fights. Any promoter can do that. Our events are about a community with the fighters, about offering our experience, guidance, and connections, and promoting a show that people are proud to be a part of.
In creating a community for fighters that they can be proud of and flourish in, Jay and Turi select fighters who will contribute to the promotion in a meaningful way. So what does a fighter have to do to be taken seriously? What qualities should he or she have to compete successfully as an amateur and transition seamlessly into a professional MMA career? Jay, the promotion's matchmaker, explains:
As far as what we look for in a fighter, perhaps the most important qualities are heart and maturity. Sure, skill, strength, speed, and fighting spirit are all important elements to being a great fighter, and we do look to showcase those guys, but at the amateur level, not everybody can be Young Anderson Silva, or Baby Jon Jones. We're looking to build ambassadors of the sport, and so the guy who can work well with us (keeps communication and cooperates with the marketing and matchmaking info we need from him), who trains his ass off, and approaches this opportunity seriously – those are the guys we want to support. And whatever skill or experience level they're at, we're willing to give them opportunities to fight.
The fighters' dedication and professionalism is rewarded with the support of their community. Explained Jay:
The bulk of amateur MMA audiences are friends and family of the fighters, which gives any show a casual, homey sense of grass-roots familiarity. That's great, but our shows are designed to give that fighter a night of feeling special, such that they acknowledge within themselves that they can "make it," and that it's worth the effort to see how far they can take this. I think that the more we demonstrate to the fighters that we take them seriously, the more they'll take themselves seriously.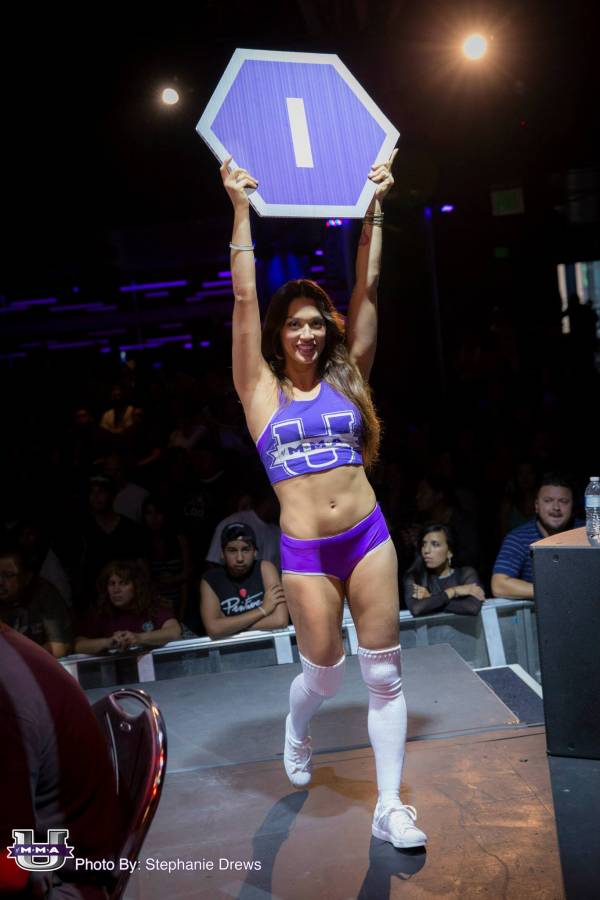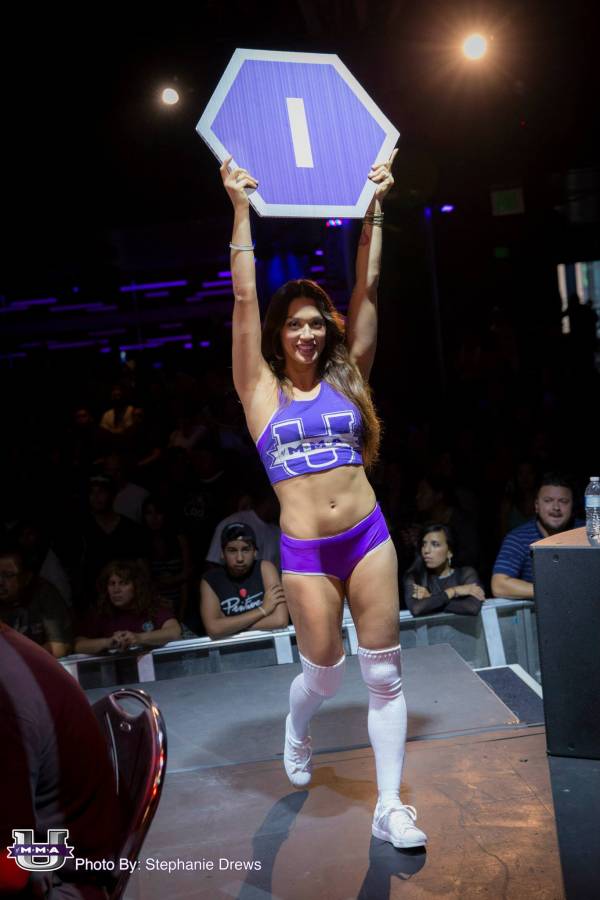 Also supporting the fighters is a team of twenty to thirty promotion professionals including photographers, videographers, a video production crew and announcing team, cage crew, a ring announcer, a post-fight interviewer, a singer for the national anthem, and two to four ring girls. Volunteers are also an important part of the event and help with weigh-ins and setting up the cage. According to Jay, "Their teamwork and dedication to the show makes everything run whoever smoothly it does. Their contributions can't be overstated."
Time is also an important consideration when planning a live event and according to Turi, it's a lot like planning a wedding, which we all know takes forever and causes a lot of stress. I'm surprised some people make it to the wedding day! The U of MMA team begins planning an event about two months out from fight night. Jay explained:
It's a tough balance to plan an event. So much of it starts with the matches. If we start too early, fight teams usually aren't ready to commit so far ahead. But the later we start, a lot of times fighters are committed to other shows already. We start about two months out, and usually have a full fifteen-match card one month out.

From there, the toughest challenges become the little disasters and dropouts that happen closer to fight day. Whether it's matches falling apart, problems with the cage, or losing one of our production or announce team, the closer it is to show time, the tougher it is.
Jay also does the matchmaking, which can be tricky. When signing new fighters, the promoters may not be able to find fight footage and have to rely on the description of managers, which may not have the level of detail and objectivity required to ensure an exciting match. Said Jay:
I think the best matches are the ones where the crowd is going crazy and both fighters look at each other with smiles on their faces, knowing that they both left it all in the cage and they pushed each other to their limits. Those are the win-wins; fighters feel good about their performances, the crowd enjoys a great battle, and I've earned the trust of the fight teams and coaches. When I get that trust, or that crowd reaction, I know that I did a good job with that match.
Although pay per view streams of University of MMA events are not available at this point, many of the fights can be viewed on their YouTube channel. The channel also features interviews with a number of MMA superstars including the UFC Women's Bantamweight Champion, Ronda Rousey. She talks about the importance of amateur MMA events in her U of MMA interview with Rich Slaton below:
Extra Credit with Rich Slaton: 'Rowdy' Ronda Rousey
To attend a live U of MMA event, check out Club Nokia at LA Live in downtown Los Angeles, California. "In our region, we put on the best-looking, slickest amateur MMA event around. The fights are always fiercely competitive. Club Nokia at LA Live is clean, sexy, comfortable and in a really exciting part of downtown Los Angeles, just across from the Staples Center." Connect with the University of MMA on Facebook, Twitter and their website to keep up to date on what's happening in the cage.
Jay and Turi had some really cool stories I couldn't squeeze into the article, but a PDF copy of the full interview is available for download here.
Photos courtesy of the U of MMA.