Photos provided by Timacheff/Fencingphotos.com.
Of the 529 athletes representing the United States in the London Olympics, only one was chosen to carry the flag at the Opening Ceremony. To earn that position, the flag bearer had to make it through five rounds of voting by team captains. This year, the spot went to two-time Olympic gold medalist Mariel Zagunis, who competes in her third consecutive Olympic Games this year.
As is common with the flag bearing ceremony, this year the honor went to a competitor in one of the more obscure Olympic sports. Growing up, I remember hearing a lot about the really popular Olympic events – gymnastics, basketball, soccer, tennis – but not as much about others. Interestingly, many of America's flag bearers have come from lesser known Olympic venues. For example, in the 2010 Olympics the flag bearer was luger Mark Grimmette. This year, the honor goes to a competitor in one of the newest sports at the Summer Olympics: woman's sabre fencing.
Mariel is the first fencer to carry the flag since the Summer Olympics of 1968, when Janice-Lee York Romary received the honor. Incidentally, Romary was also the first woman selected to carry the flag for the United States. American female fencers have made quite a showing at the Olympics, and Mariel is part of a long line of swashbuckling women. However, Mariel's Olympic success also marks a new legacy for female sabre fencers. Although men's sabre and foil have been at the Games since 1896, women foil fencers only began competing in 1924, and epee and sabre were only just added in 1996 and 2004, respectively.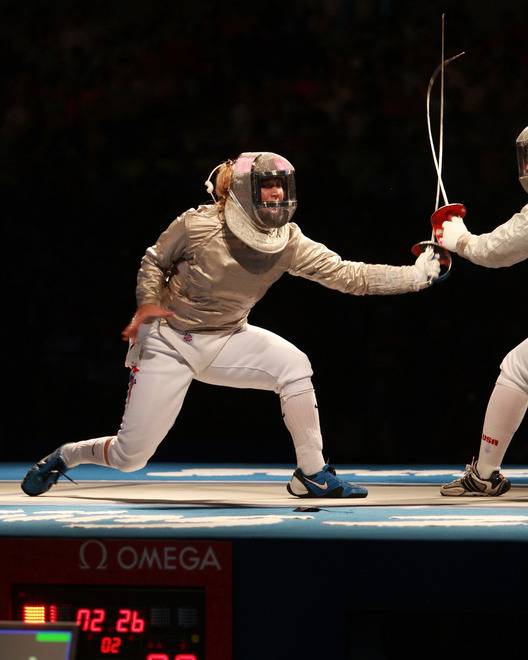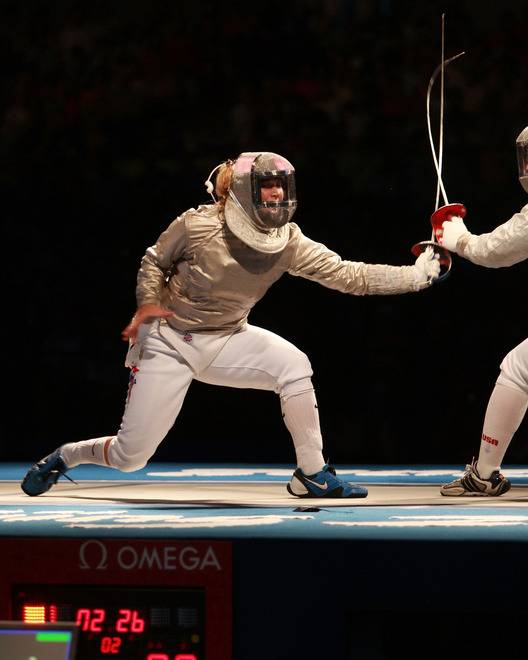 In this relatively short history of women's sabre fencing, Mariel has played a groundbreaking role. In 2004, she became the first American fencer to win a gold medal in 100 years. Zagunis was actually the underdog in the 2004 Games, with U.S. champion Sada Jacobson favored to win. In fact, she only got to go the Games after one of the higher seeded fencers from Nigeria withdrew from the events. Her initial victory paved the way for even more, including her second gold medal at the 2008 Summer Olympics, which was a huge success for the United States. American fencer Sada Jacobson and Rebecca Ward took silver and bronze for an unforgettable victory by Team USA.
Is Mariel feeling the pressure to take gold again? In a recent interview with Al Roker of TODAY, Zagunis was asked if she feels more pressure since she's favored to win. "You know, every Olympic Games has felt different than the last…for this one I'm just soaking up every moment, and it's just as exciting as if it was my first Olympics. So I don't feel any pressure this year; I'll just have fun and do my best to represent Team USA."
One thing that strikes me as a winning quality for Zagunis is her refusal to hit a point of stagnation with her training. She's definitely on top of her game, as her current records show. "Our sport is constantly changing. They're changing the rules; they're changing the timing, and if you're on top like I am you have to make sure that you're unpredictable. I'm constantly working on trying to improve upon myself, have a few tricks up my sleeve, and stuff like that…as a fencer I've changed a lot in the last four years."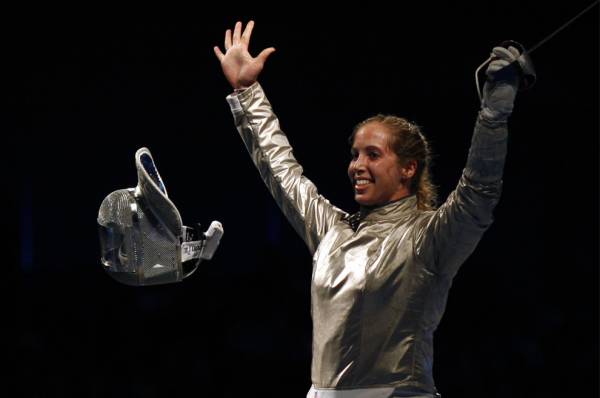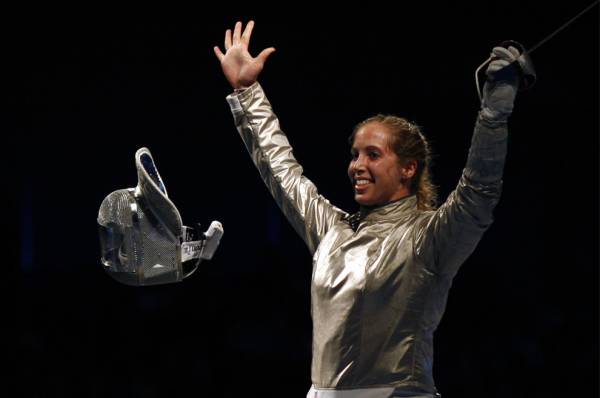 In fact, it's that open-ended, strategic side of fencing that attracted Mariel to the sport to begin with. In an article at NPR online, Zagunis reminisces about her bout against fellow Team USA fencer Becca Ward at the 2008 Olympics. ""It really came down to knowing what her tendencies were, knowing what she thinks she can use against me and not letting her do that, while at the same time executing something different. I had to mix it up. You're four or five steps ahead." But strategy and calculation aren't the only qualities of good fencers. According to Zagunis, "You have to be more aggressive and explosive and kind of crazy. I think that kind of plays into our personality."
Cheer on our flag bearer this Wednesday, August 1st, when Mariel goes for her third gold medal at the London Olympics! You can find the Team USA fencing schedule at the official site of the 2012 London Games.