Photos Courtesy of JennyFletcher.com
Looking at photos of Jenny Fletcher, you would never guess she would describe herself as a tomboy growing up. I wonder who would have predicted that the tomboy who lived on the farm down the road would go on to become a professional model, appearing on the cover of major sports magazines and representing athletic companies like Oakley?
Looking at some of Jenny's photos, you might also be surprised that she's a professional athlete. Any woman who's afraid working out will make her look "bulky" needs to check out Jenny's portfolio. Although she's currently a professional triathlete, Jenny's long history as an athlete includes everything from fencing, to basketball, to equestrian sports.
I had the pleasure to speak with Jenny recently, and she told me a bit about what life was like for her growing up. As a parent, one of the first questions on my mind was how her parents encouraged her to develop her athletic talents. Jenny's answer? Encouragement, openness, and continuous support. "I always look back and I think, 'How did they drive me everywhere?' I was dancing; I was into school sports; I was into Pony Club; I was into horses…basically, everything I could do. I think that's one of the most valuable things, when I think about growing up, is being able to be involved in some kind of club. It doesn't always have to be athletic. That was my choice, but I was also involved in many other things…my parents were so supportive in every venture I went into."
Interestingly, Jenny also credits growing up on a farm as a primary factor in her athletic development. "I wouldn't change it for the world. I think growing up on the farm was probably the best thing ever…I went to a smaller school, where all the 'country kids' went, so sports weren't necessarily like the massive schools where you can do anything." Nevertheless, despite the smaller school atmosphere, Jenny was able to participate in team sports throughout her childhood. She also competed in tetrathlon and pentathlon. "Fencing is probably one of my favorite sports I've ever done, and shooting is so calming and helps you focus. You would never think, 'Oh, let's sign our daughter up for these sports,' but those are probably some of my favorite sports."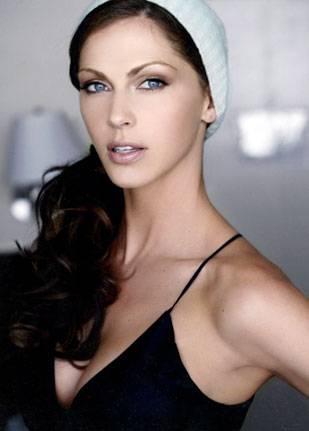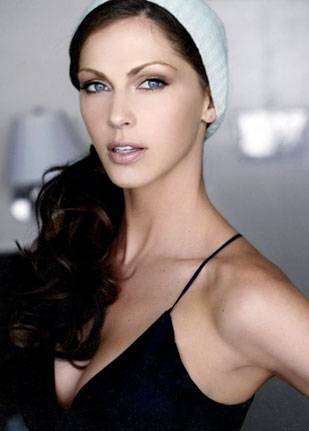 When she was just 15 years old, Jenny's life made a new and exciting turn into modeling, but she didn't leave her athletic background behind. "I think I kind of had that free-spirited, independent, athletic tomboy in me. At first it didn't always translate into modeling. I was 15, and they were like 'Be sexy!' and I was like, "What?!' It took me a long time to grow into that whole thing. I remember my agent and the Ford models, when I went to New York when I was 15 for a week, to test and make pictures for my book. She asked me questions about myself, and I told her I did tetrathlon and pentathlon, and she told my agent, 'This girl wants to be an athlete,' and he said, 'Well, she can be both.' I look at that 20 years later, and that's kind of what I entered into, the realm of the athlete and still the model. It's been an awesome dream, really."
Throughout her modeling and athletic career, Jenny has managed to balance both her athleticism and her femininity, which is one thing I admire most about her. She continues to model, although now she's moved into a more athletic niche. "It's still there; I'm just being very selective with what I'm doing. You have to brand your image properly. So it's still the model, but more as an ambassador, as an athlete and role model for being fit, healthy, and active. I'm hoping to inspire young girls and women to pursue their dreams, take a chance and go for it!"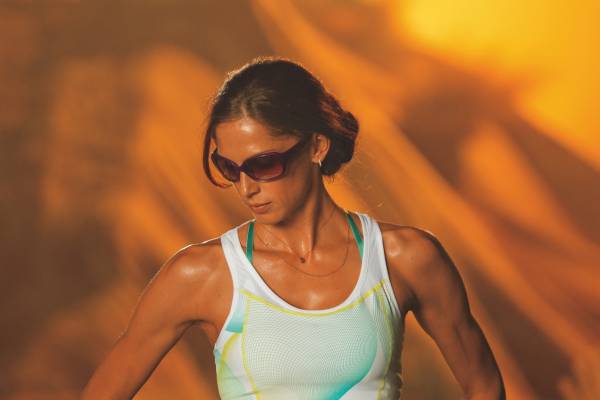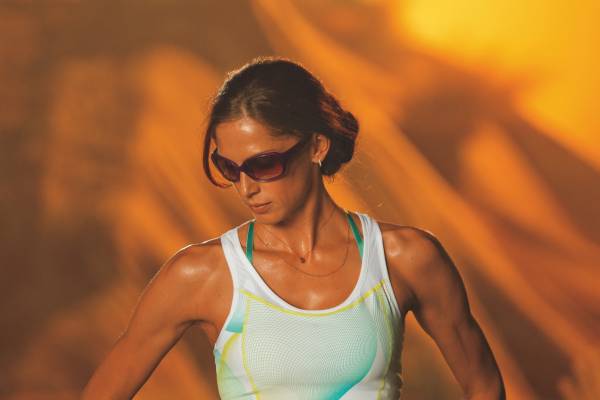 Jenny also shared her vision for her own future and the future of modeling in general. "Let's get back to the happy, healthy, beautiful inside and out, strong woman, versus the over skinny, androgynous look…especially with the Olympic year, you see all the magazines put their focus point into it." Jenny has also made a personal turn to professional athletics, which presented a unique opportunity for her modeling career as well. "Every modeling job I do now is as Jenny Fletcher, the professional athlete, versus just a face on the wall or the magazine. That was my goal, and I feel like it's been happening more and more. It's fun to see the crossover actually happen. It took a while, and I had to work really hard for it, but it's all falling together now."
In part two you can learn about Jenny's transition into being a profesional athlete and how she combined it with a successful modeling career, despite what she was told by naysayers.