We receive free products and receive commissions through our links. See
disclosures page
.

When we worry about knee injuries from the hip bump sweep, usually it's the person being swept who has to be careful. I don't know where I went wrong, but I got injured as I did the sweep.
I could feel my lateral collateral ligament (LCL) pull the wrong way, but it wasn't bad enough to keep me off the mats. A week later while I was trying to pass guard, I was lifted off of my feet and landed on that same leg awkwardly, which sealed the deal. I had to sit out for the rest of the class. A visit to the physiotherapist confirmed that I had sprained my LCL.
Although I couldn't roll, I went to class to practice technique and teach the women's class at Titans Fitness Academy in Halifax, Nova Scotia. My knee was so sore I couldn't even sit in guard, so depending on the technique being taught, I was sometimes very limited as to what I could do. I started wearing the Bauerfeind GenuTrain knee brace for support, but since it's not meant for LCL injuries, it wasn't effective in allowing me to resume training at full speed.
Fortunately, Bio Skin sent me their Hinged Knee Skin for review. Because I'm already a patient at Arthritis and Injury Care in Halifax, Nova Scotia, I had a relationship with the bracing specialist there who helped me to choose the correct brace for my injury. I spoke with Jake Woolley at Bio Skin to confirm the measurements of my leg and not long afterward, I received the Knee Skin in the mail. Jake mentioned that I might have to adjust the aluminum hinges to get a proper fit before I wore the brace, but it fit perfectly right out of the box. The product page for the Bio Skin Hinged Knee Skin offers an instructional video for putting on the brace properly.
The Hinged Knee Skin supports athletes with:
Anterior Cruciate Ligament (ACL) Sprain
Lateral Collateral Ligament (LCL) Tear or Sprain
Medial Collateral Ligament (MCL) Tear or Sprain
Meniscus Tear
Posterior Cruciate Ligament (PCL) Sprain
Features
Finger loops enable easy pull-on application
Offset hinge reduces pressure at the knee joint
Unique strapping system minimizes migration
Donut and horseshoe buttresses can change position to allow custom patellar support
Custom molded soft condylar padding
100% neoprene free and latex free
Choice of materials: Ultima or Ultima 2s
By the time the Hinged Knee Skin arrived, I was able to flow roll wearing the GenuTrain brace. Because it isn't intended to be used with LCL sprains, I would frequently feel a tweak and was aware that I was in danger of being right back where I started. Many of my teammates are much larger than I am and sometimes just moving their bodies around caused ligament strain. I was unable to work any type of de la Riva guard or use spider guard with the leg lasso, shown here by Titans BJJ Instructor Jon Gale. The Hinged Knee Skin gave me enough support to work these positions in comfort. My ligaments were fully supported and after about a month, I no longer had to wear the brace at all.
Rolling Experience
My Hinged Knee Skin was made of the Ultima fabric. When I spoke to Jake, he explained that one of Bio Skin's greatest assets was the SkinLok characteristic of the material. The Hinged Knee Skin is meant to be worn during athletic activity. As you begin to perspire, the SkinLok feature activates and causes the fabric to adhere to the skin and stay in place, even during intense rolling. The material is also breathable, so sweat evaporates through the material. The Knee Skin had a compression fit on the leg, but it was roomy at the front of the knee and allowed unrestricted movement.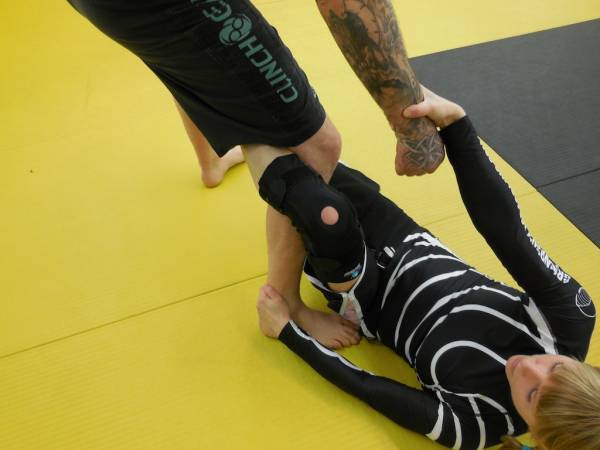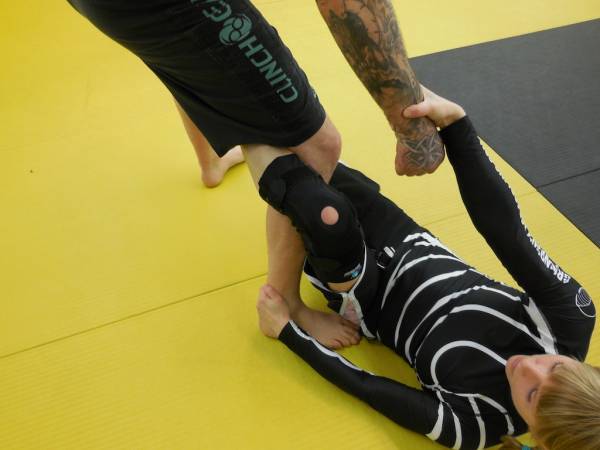 I thought the hinge itself would be cumbersome and possibly hurt my teammates during rolling, but I asked for feedback from everyone I rolled with and they said they hardly noticed it at all. One teammate said that when he did feel it, it was no different than feeling a shin bone or a cup and didn't cause any excessive discomfort.
I was able to wash the Knee Skin in my washing machine and hung it to dry. At one point I noticed that during the wash the foam insert came out, but it was easily slipped back into place and didn't come out afterwards during rolling or in any following washes.
Customer Service
I received the Bio Skin Hinged Knee Skin for review, but I had a great experience working with Jake. He double checked that I was measuring my leg properly and explained exactly how the brace should work and how it would feel while I wore it. He described all of the features and explained how to best fit the brace to my body.
When you visit the Bio Skin website, you will see an option at the bottom of the page to enter your email address to stay informed of discounts and promotions. I signed up to see what kind of discount was offered and received a 10% off code. If you're thinking about buying this brace, be sure to sign up and see what kind of deal you can get.
Shipping in the United States is $5.00. When I looked for the Canadian shipping rate, I noticed that there wasn't an option to ship to Canada. An internet search found Brace Up, who will ship the Hinged Knee Skin to Canada for $9.95.
Follow Bio Skin on Twitter and Facebook to see how their products help athletes with a variety of injuries. They have something for everyone! If you want some great advice for recovering from injury efficiently, check out my interview with strength and conditioning coach William Wayland.
The Bio Skin Hinged Knee Skin is available for $104.95 at BioSkin.com.