We receive free products and receive commissions through our links. See
disclosures page
.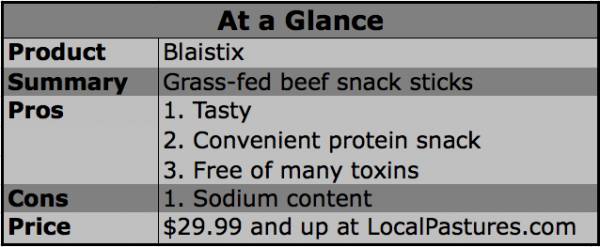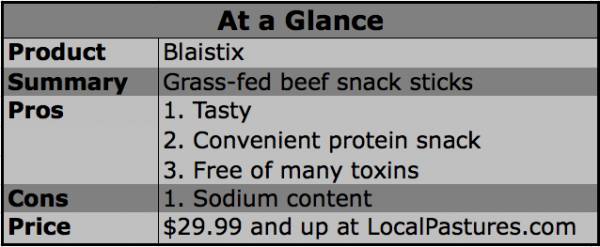 I may be working at virtually any hour of the day, so I'm always on the lookout for convenient protein snacks. I usually shy away from eating a lot of protein bars, even the healthier ones, because they tend to be higher in sugar than protein. So when it comes to getting in my protein, I prefer meat snacks, and if you've read my reviews, you know I love my jerky.
I recently checked out Blaistix as an alternative to my usual jerky, and I'm pretty happy I did. Blaistix are 100% grass-fed, hormone-free, nitrate-free, MSG-free beef sticks that come in five different flavors. They taste great and are much healthier than the typical versions. They also present a great alternative to jerky, since they are softer, less chewy, and generally easier to eat.
Here's a list of the flavors I tried:
Mild Mannered: This is their most basic option. Spicy but not hot, the Mild Mannered flavor delivers exactly what you expect in a beef stick without all the added toxic chemicals.
Hot & Spicy: This one is similar in flavor to the Mild Mannered, but with a kick. If you're sensitive to spicy foods, this one isn't for you, but if you're anything like me, these won't last long.
Sweet & Savory: The flavor is, again, fairly similar to the above options, but instead of the spicy kick of the Hot & Spicy this one has a sweeter flavor, more along the lines of barbeque. I also found this one to be a little juicier than the other flavors, which I liked.
Coriander: I was most excited about this variety. I wasn't sure if they meant it would have standard cilantro flavors like you find in Mexican cooking, or if they were referring to the coriander seed flavor. I'm mildly obsessed with cilantro (the leaf of the coriander plant), but the flavor of this beef stick is from the seed. To me it tasted almost of mild anise or fennel flavor, which I don't personally enjoy, but the flavor was otherwise good. If you enjoy a mild fennel flavor that is similar to licorice but much less intense, you'll love this one.
Chipotle Adobo: This flavor delivers nice chipotle and adobo flavors that aren't at all oppressive. The flavor is great and exactly what you'd expect, but without too much heat. If you're looking for some extra spiciness, the Hot & Spicy is for you, but for a mild chipotle flavor, give this one a shot.
Each one-ounce stick has ten grams of protein, with the exception of the Sweet & Savory flavor, which trades some protein for a few extra grams of sugar. The fat profile looks good (five or six grams per stick, and a good blend of healthy fats), and the meat is grass-fed. Cholesterol (13-14mg) and sugar (2-5g) are low. Sodium ranges from 363mg-463mg.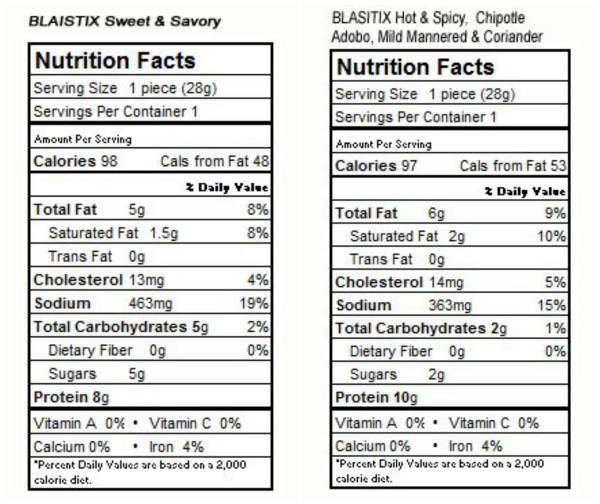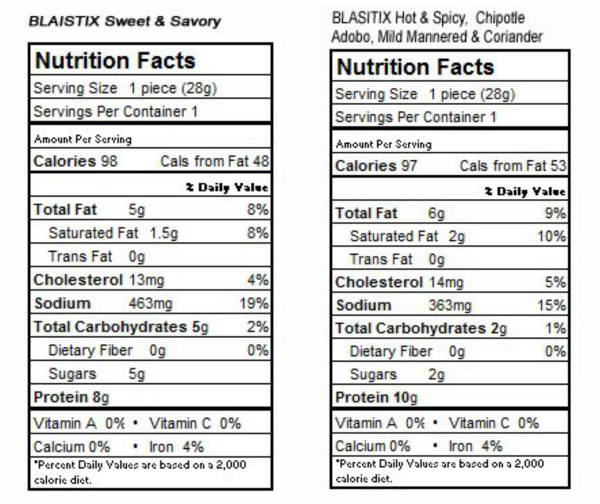 Now if you compare this to the store-bought stuff like Slim Jim, which is the best known brand, you'll see that Blaistix are only slightly more expensive when you purchase the larger box sizes. For the small difference in price, you get grass-fed, hormone-free beef with half the fat, more protein, less sodium, and just as much flavor (or more, if you prefer natural flavors like I do). Seems worth it, if you ask me.
That's not all, from a price point perspective. If you compare the cost of the sticks in the larger boxes, it's actually fairly comparable to online retailers of regular grass-fed beef pound for pound, but Blaistix are dried and packaged. This means per pound, you'll get more protein from Blaistix, and will likely find it cheaper than other grass-fed beef per gram of protein. If you're looking for a convenient high-protein snack after a workout, you won't find a better one.
The only downside for Blaistix is the sodium content. As mentioned earlier, Blaistix have considerably less sodium than the store-bought alternative, but like pretty much all dried beef, you're going to find extra salt. It's the nature of the beast. You'd have to eat a lot of Blaistix to get a big dose, but if you're sensitive to sodium, if might be best to prepare beef at home yourself so you can control the sodium content.
In case you couldn't tell, I'm a fan of Blaistix. If want a post-workout snack that delivers more flavor and nutrition than your average powder or bar, give Blaistix a try. You'll get great flavors, no artificial sweeteners or preservatives, high-quality protein, and convenience at a good price. You can't go wrong with that combo.
Blaistix are available for various prices at LocalPastures.com.