We receive free products and receive commissions through our links. See
disclosures page
.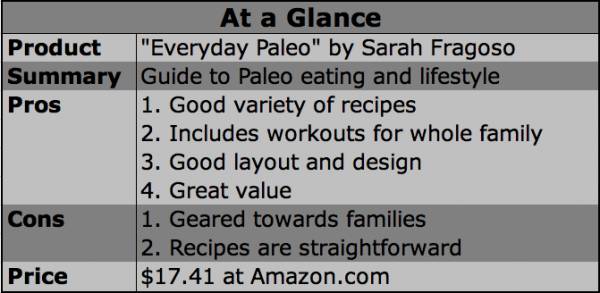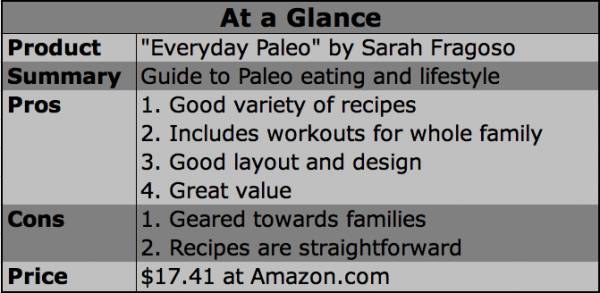 I can't say enough good things about Sarah Fragoso's cookbook, Everyday Paleo. My only complaint is that I didn't find it a long time ago. Don't let the title fool you; this is not your everyday cookbook. Everyday Paleo is a practical guide to a healthy, fit lifestyle that provides great tips for cooking as well as budgeting, "cheating," family fitness, and exercise. It's not just a manual for paleo eating; it's a guide for healthy living.
Sarah begins Everyday Paleo by telling her story of how she found paleo and got her family on the bandwagon. She explains what the diet is and the basic components of a paleo diet. The first forty pages are actually not recipes at all, but an introduction to paleo eating and following a paleo diet with a family (Fragoso has three boys). I'm also a mom trying to do the paleo thing with two children under the age of four, so this was helpful for me.
The middle section of the book is devoted to recipes. There are some real gems in there that my family has enjoyed, like the Puerto Rican Beef, Perfect Pork Pot Roast, Steak Chile Rellenos, and Garlic Beef Stew with Acorn Squash. A lot of the recipes are straightforward, but that's really the point. When you can't take an hour out of your day to prepare lunch for your family but still want to make something healthy and delicious, having a simple recipe is essential. So many of these simple but creative recipes, like Egg Cupcakes and Avocado Tuna Boats, have become my daughter's new favorites.
Sarah also has some great shopping lists to help you stock your pantry, fridge, and freezer with paleo ingredients. At the end of the recipe section, she gives you a thirty-day meal plan for your family, with all the shopping lists already made, as well as a two-week plan for kid's lunches. If the meal plan exceeds your budget, you can easily customize it by taking out a couple of meals and having leftovers instead.
The last eighty pages of the book are devoted to exercise. I would buy the book just for the workouts. We love to exercise as a family, and this is one of the few books I've found that provides great workouts that I can do with every member of my family – my one-year-old, four-year-old, and even my husband! The "Basic Fitness" chapter has step-by-step instruction on bodyweight exercises and provides customized workouts for newcomers to exercise, and there are also chapters on advanced bodyweight movements.
I had a hard time finding any fault with this book. I had to actually go online and look for negative reviews because I liked it too much to be objective. There weren't many out there, but the ones I did find had three common themes:
The book isn't paleo enough. Sarah uses a lot of root vegetables and dried fruit in her recipes (although she usually labels those as "optional").
The recipes were either too spicy and complicated, or not complicated enough.
The pictures could be better.
In response to these criticisms, I would like to simply point out the title of Sarah's book. It's called Everyday Paleo. It is not called Strict Paleo, Gourmet Paleo, or Paleo the Beautiful Cookbook. The subtitle reads "Embracing a Natural Diet and Lifestyle to Increase Your Family's Health, Fitness, and Longevity." The point of Sarah's book is not only to teach her readers how to cook paleo recipes and use paleo-friendly ingredients, but also to provide helpful tips on how to raise a healthy family. In this respect, only the harshest critic and paleo purist would say that it is not successful.
I'm just curious to see what more Sarah could have to say on the subject – her new book, Everyday Paleo Family Cookbook, comes out on September 4!
"Everyday Paleo" is available online for $17.41 at Amazon.com.