We receive free products and receive commissions through our links. See
disclosures page
.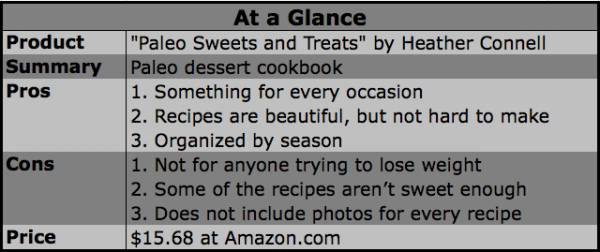 Although Heather Connell of Multiply Delicious has previously published a PDF cookbook, Paleo Sweets and Treats is her first foray into traditional publishing and really putting herself into the mix of the paleo cookbook scene. Although it might seem counterintuitive to create a paleo book filled with desserts, I think this book is actually quite successful in its intentions and it sets Connell apart from other paleo chefs and bakers.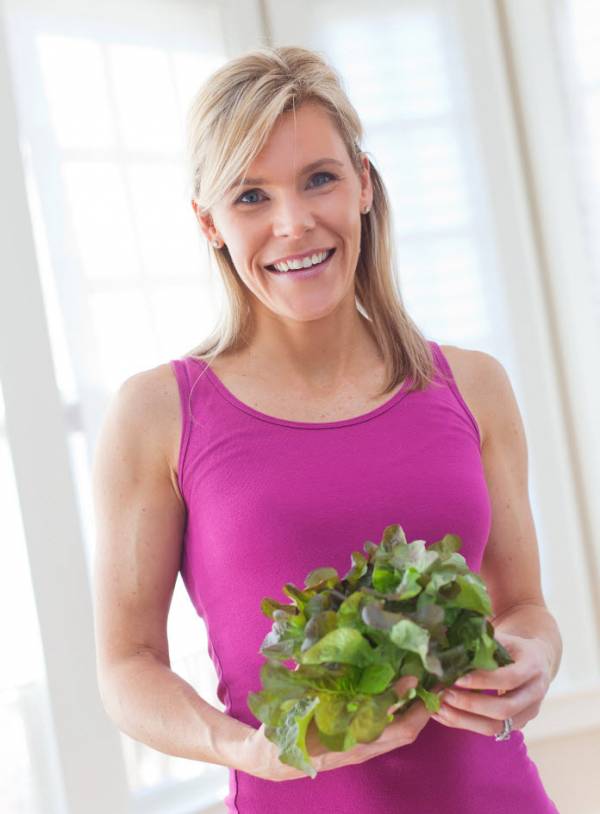 Now, before we go any further, the biggest thing to know about this book is that if you are trying to lose weight or cut back on your sugar intake, you should not buy this book. Just because it has "paleo" in the name doesn't actually mean it's healthy. (I know that's strange, but it's how things have evolved (no pun intended).) Like I tell my weight-loss clients, if it looks like a dessert, don't eat it.
Now, on the flip side if you are at your goal weight or you just simply want to be able to create special items for special events, holidays, or random weekends that need cupcakes, then this is a fantastic book for you. All of the recipes are grain free, dairy free, and free of processed sugars. Instead, you will see a variety of nut flours, honey, dates, molasses, and maple syrup. And the recipes cover everything from cookies, to cakes, to candies, to ice cream.
The book is laid out by season, with the idea that fruits and vegetables are best eaten (both cost-wise and nutrition-wise) when they are in season. I must say, there is also something just innately enjoyable about lemons and strawberries in spring and pumpkins and squash in the fall. So if you are committed to seasonal eating for nutrition reasons or simply trying to make something appropriate for a certain holiday, then you will find this book simple and useful in its organization. In addition, many of the recipes can easily be modified for what is in season by changing the toppings or fillings.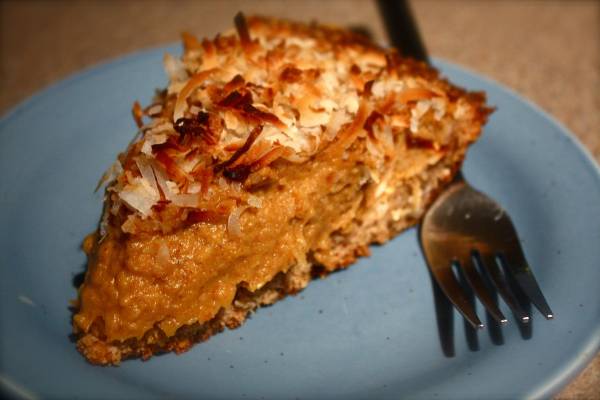 Recipes I tried included:
Mini Lemon "Cheesecakes" with Raspberries
Apple-Walnut Cake
Pumpkin Spiced Bundt Cake
Maple Spiced Sweet Potato Cupcakes
Coconut Sweet Potato Pumpkin Pie
Pumpkin Pecan Pie Bars
Now, there are a couple potential negatives to know about. First, I actually found some of the recipes weren't sweet enough. The Pumpkin Spiced Bundt Cake could be called more of a pumpkin bread and the recipe for the Maple Spiced Sweet Potato Cupcakes even says you can just call them muffins if you leave the frosting off. Now it may be your experience that if you've been hardcore paleo for a while that these recipes are sweet enough for you compared to what you've been eating. For me, when I make the choice to splurge on dessert, I really want it to taste like dessert.
However, this problem is easily solved. Most home cooks and bakers I know will modify recipes over time, slowly tweaking them to fit their taste. This cookbook will be no different for me. Now I know to make things a little sweeter than prescribed and the base recipes remain fantastic regardless.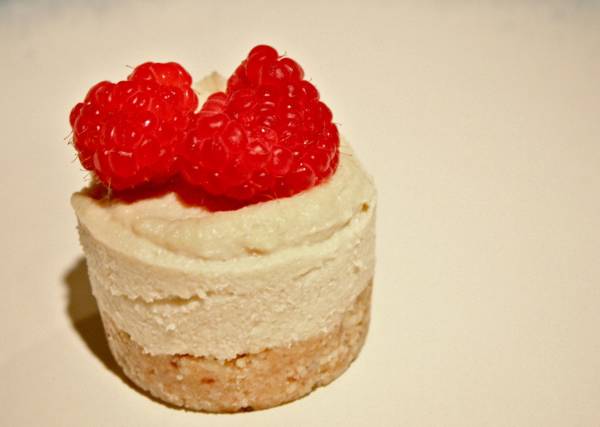 The only other thing about the book that I didn't like was that there aren't photographs for every recipe. I really like having a photo for each recipe so I know if I even remotely hit the mark in what I created. I also think I'm more likely to make a recipe if I've seen an enticing picture. (So that would be my personal tip to all cookbook publishers out there, by the way.)
Taking all of that into account, I still have a big list of recipes from this cookbook that I intend to make. We enjoyed all the recipes I tried and I have faith that many more in the book are just as good or better. And I do think the idea of seasonal eating is good for the planet, the pocketbook, and the soul. I just wish I worked in an office so I could bake something every day and then make other people eat it.
"Paleo Sweets and Treats" is available for $15.68 from Amazon.com.
And just to give you a taste of what you can find in Paleo Sweets and Treats, here's an excerpt from the book. This is one of the winter recipes:
Honey Spiced Orange Cake
Yield: One 9-inch (23 cm) cake.
The most important aspect of this simple cake is the orange flavor that shines throughout. Adding fresh orange juice, orange zest, and a sweetened honey-orange syrup allows this cake to speak volumes. Transform this cake into a bread by simply using a bread pan instead.
Ingredients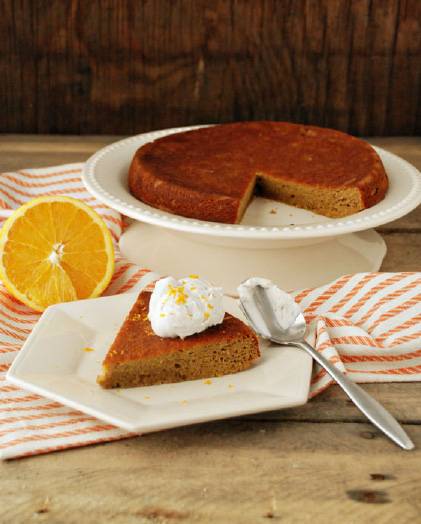 For cake:
2¼ cups (270 g) almond flour
1 teaspoon (2.3 g) ground cinnamon
¾ teaspoon baking soda
½ teaspoon ground ginger
¼ teaspoon ground nutmeg
¼ teaspoon sea salt
¼ cup (55 ml) extra-virgin unrefined coconut oil, melted
4 Medjool dates, pitted
3 eggs
¼ cup (60 ml) freshly squeezed orange juice
1 tablespoon (20 g) raw honey
2 teaspoons (3.6 g) orange zest
For honey-orange syrup:
¼ cup (60 ml) freshly squeezed orange juice
1 tablespoon (20 g) raw honey
Method
Preheat the oven to 350°F (180°C, or gas mark 4). Grease a 9-inch (23 cm) round cake pan with coconut oil.
To make the cake: In a small bowl, whisk together the almond flour, cinnamon, baking soda, ginger, nutmeg, and salt.
In the bowl of a food processor, process the coconut oil, dates, eggs, orange juice, honey, and orange zest until the dates are completely broken up and the mixture is smooth. Add the dry ingredients to the wet and process until well combined.
Pour the mixture into the prepared cake pan, spreading evenly. Bake for 20 to 25 minutes, or until lightly golden and a toothpick inserted into the center comes out clean.
Let the cake cool in the pan for 15 minutes.
Meanwhile, to make the syrup: In a small saucepan over medium heat, combine the orange juice and honey and stir until the honey is completely dissolved. Once dissolved, continue to cook for 2 more minutes while stirring constantly. Remove from the heat and allow to cool for 5 minutes.
Line a baking sheet with parchment paper and invert the cake onto it. Use a toothpick to poke holes in the top of the cake.
Brush the top of the cake with the honey-orange syrup and allow the syrup to soak into the cake. Let the cake cool completely, at least 30 minutes.
Once cooled, slice and serve with coconut whipped cream (page 67) and dust with orange zest.
The cake is best stored in an airtight container or wrapped in plastic wrap and placed in the refrigerator for up to four days.