We receive free products and receive commissions through our links. See
disclosures page
.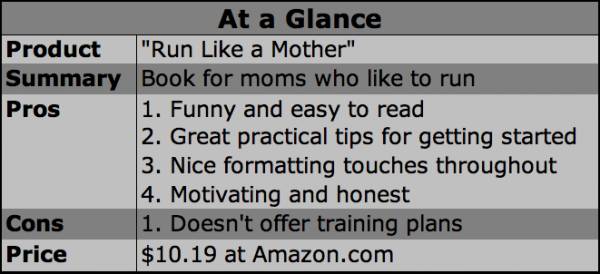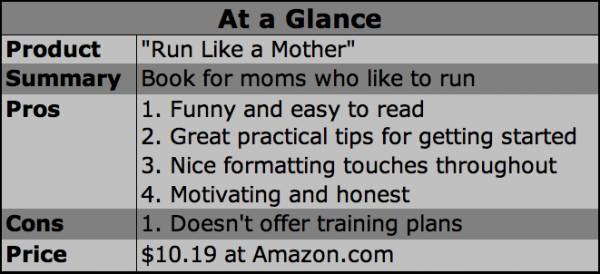 Run Like a Motherprovides some humorous and honest motivation for the mother who loves to run. For myself, a recreational runner who also has two little ones at home, it was a great source of new ideas for making running work on a daily basis. Although I was running before I read the book, my running habit has somehow become more manageable and enjoyable since reading this book. I highly recommend this book to moms who want to start running without added stress and neglected piles of dirty dishes.
One thing that made this book unique from the start is that it is actually written by two friends, who also happen to be runners and moms. Dimity McDowell and Sarah Bowen Shea have an impressive running background of their own, and definitely practice what they preach (although the tone of this book is so far from preachy I hesitate to even use that expression). The project actually started when Dimity and Sarah made a pitch to Runners World magazine to run the Nike Women's Marathon in 2007, and the two have gone on to run many more.
This book was also fun to read. I read it in a few sittings because the language is so engaging. The chapters cover a wide range of topics, including The format is also very reader-friendly. Each chapter ends with a ".2," which refers to the final leg of a marathon, that offers a brief break before going into the next chapter's theme. These sections provide playlists, "how to" lists, and some really funny and frighteningly accurate short pieces, like "If You Give a Mom a Pair of Running Shoes and 40 Kid-Free Minutes," "If Famous Women Were Runners," and "I Heart Zac Efron."
Although humor is probably one of the most stand-out qualities of this book, that doesn't mean there is no practical take away. There are chapters that discuss running during and after pregnancy, nutrition advice, playslists, and several great workouts scattered throughout the book (I love the "Secret Recipe For Strength and Speed" on page 113). However, I would say that more than anything, this book emphasizes two things you need to be a both runner and a mom:
1. An Honest Sense of Humor
If I've learned anything since having children, it's that I need to lighten up and take life less seriously sometimes. Although I would love to be a more serious runner someday, I'm not at that place right now in my life. Dimity and Sarah encourage moms to keep up their running habit but modify the intensity based on where they are with their kids. For me, a mother of a 4-year-old and almost 2-year-old, it was very encouraging to read their advice for moms who feel torn between being a "serious" runner and keeping up with family life:
When your babe is older, you may be able to sandwich your husband and kid into a "family" package and make room for running. Or you could win the lottery and running can become your job. Until then, do your best to work with your new level of intensity: Trail run, find a group of running moms, steer clear of races. Just as kids go through endless phases, your running has too, and you might enjoy this stage if you give yourself the chance.
2. Community
When I was younger I was a bit of a loner when it came to fitness and hobbies. I've always liked being around people, but I never felt the need for group interaction to motivate me, be it in my own fitness, school, or other hobbies. Now that I'm a mom, I find that seeing other women do amazing things – or even small things happily and well – is so inspiring and motivating. Likewise, I never liked the idea of having running buddies before I had children, but more and more I find myself wanting to join a group of other moms who also like to run. Dimity and Sarah emphasize the importance of finding other people to run with, and even provide tips for choosing a running buddy, be it a coach, friend, or group. They have also started a great online community for moms who love to run, which I'm very glad to have found for myself.
All in all, I would highly recommend this book to any mom who loves to run, regardless of their level. I think no matter how seasoned a runner you are, if you have children you can always use some motivation – and that is just what Run Like a Mother provides. There is also a second book by these authors that I reviewed – Train Like a Mother.
"Run Like a Mother" is available at Amazon.
We have one copy to give away to a lucky reader!
Leave a comment below to be entered into a random drawing!
And don't forget to enter to win the Train Like a Mother giveaway as well. Leave a comment before midnight on Thursday, 11/29 and look for an announcement on Friday to see if you won!