We receive free products and receive commissions through our links. See
disclosures page
.
Dumbbells are still one of the best tools for strength development. They may not have the mystery of kettlebells or the perception of power that comes with barbells and bumpers, but they can make you strong in so many ways. Like all exercise tools, dumbbells come in all shapes and sizes with a wide range of quality and pricing. We decided to give the CAP PVC coated hex dumbbells a test because, frankly, they seem practical and they look good.
Hex style dumbbells are a great choice all around.
CAP Dumbbell Review Details
A set of 20lb hex style cap dumbbells were used for this review. The dumbbells were used in a garage gym setting and in home gym workouts over a period of over nine months. The dumbbells are considered commercial grade. The PVC coated weights have a feel of durability, and are suitable for use in a garage gym or home gym, as much as in a commercial gym. We tested the set over a period of nine months and found overwhelmingly that the CAP dumbbells deliver on quality and affordability. They are, in our opinion, safe, versatile, and built to last. We did notice that the product had a slight smell upon delivery. The odor dissipates quickly when the weights are out of the box and exposed to open air. You may want to keep them stored somewhere ventilated in the beginning. After a little while we had no problem keeping them inside the house, in a bedroom or closet.
A Note on Quality and Usability
The quality of the dumbbells is noticeable. They look like, feel like, and are built for commercial grade gyms, public, or at home. The hex style makes the dumbbells suitable for a great variety of exercises over and above the traditional plate design. Things like dumbbell push ups and man makers are a lot easier with the safe, six-sided, anti-roll, hexagonal design.
The hex design is also easier on the floor. Although the dumbbells are made of solid cast iron, they have a protective plastic (PVC) coating which adds to the general sense of quality. We did not notice any floor damage over repeated use in the nine months we tested the product. The contoured steel handles give you a comfortable grip, even when you are very sweaty. This makes it easier on the user because you may not want to chalk up at home or use gloves.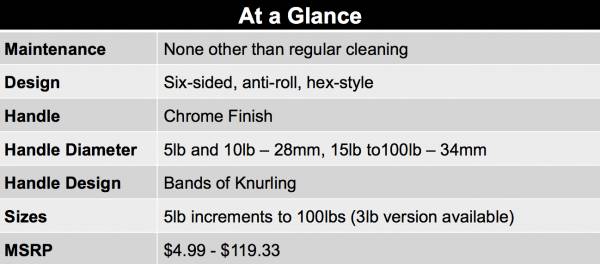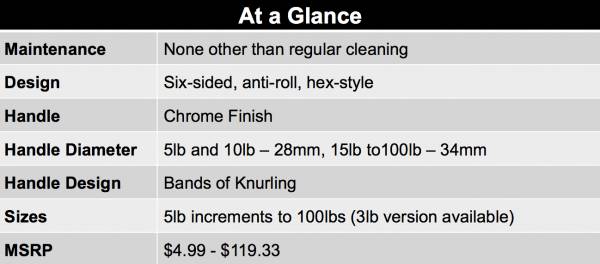 Our Recommendation
These dumbbells are not cheap, but they are affordable. For this quality of equipment, you should expect to pay more. Per pound, the dumbbells should never cost you more than $2. We have found prices, with free shipping, for a 50lb single dumbbell of around $72. You may find better.
For our particular situation we bought a 20lb pair. We used them almost every day for nine months and, without a doubt, we will continue to use them for as long as they are around.
More on training: