Sometimes in life you know what exactly path you're on and can plan for every step of the way. Other times, life throws us unexpected surprises that grow organically and develop into more than we could have imagined. For Doug Kline, photography falls into that second category.
Photography began as a past time and a way to capture some of Doug's son's wrestling matches. From there, he started taking photos at jiu jitsu meets, and it all grew from there, as he explained:
It started out with me taking pics of my friends and teammates. Then other competitors saw my work and started to request me to cover their matches as well. One of my team mates would post pictures on Facebook and give me photo credit as "D Kline Design." It had a nice ring to it, so it became my new identity. It got to a point that I had no choice but to start up my own website where competitors could go to view and purchase images of them competing.
What began as a hobby developed into a passion for shooting grappling. For Doug, photographing grapplers is a means of telling a story, not simply capturing movements. As he explained, one of Doug's favorite stories to capture is the moment of victory or defeat.
I love to capture that raw emotion of the competitor at the end of their fight whether it be an exciting win or a devastating loss. I captured a particular moment at a tournament that explains this to a tee. It was a close back-and-forth fight, and the fighter who was losing managed an incredible "come from behind" victory. As the referee raised the hand of the winner, you saw the joy in one man's face and the agony in the opponent's face.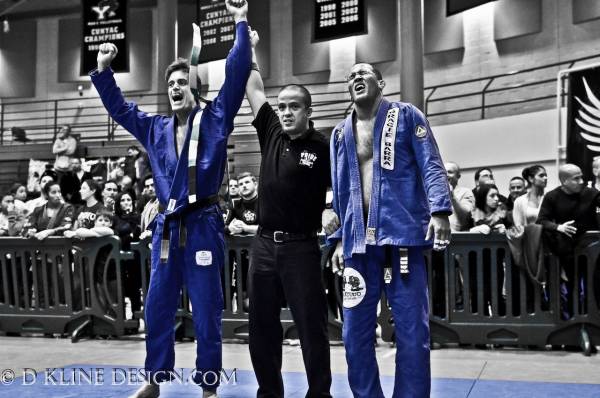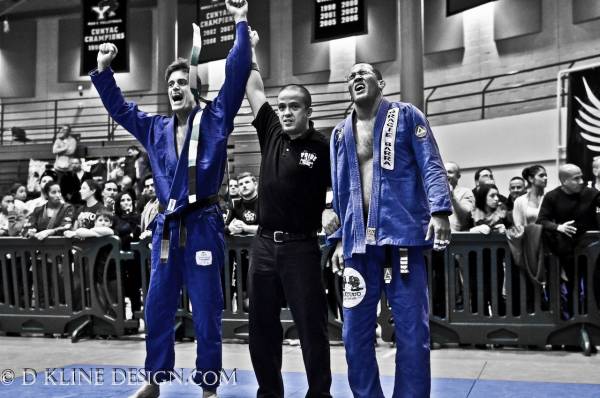 Doug noted that the most difficult aspects of action photography are lighting and timing. "There are no 'do-overs' in action sports," noted Doug. "If you miss that shot, it's gone forever." To address this challenge, Doug gets into the action himself, which is his favorite part of shooting meets. "My favorite part is being down on the floor, just a few feet from the action. Other than the referee, you literally have the best seat in the house."
But in the end, the joy of photography all boils down to creating a memory for athletes to remember, as Doug described:
I absolutely love showing an image on the back of my camera to a competitor who just walked off the mat and seeing their response to an epic shot. To be able to capture a key point in someone's life and provide an image that will last a life time is pretty damn cool, if you ask me.
Photos courtesy of D-Kline Design Photography: