CrossFit has become more mainstream in the past few years. We see many different types of people doing WODs, wearing lifting shoes, comparing benchmark scores, and working toward their first muscle-up. Among these newcomers there seems to be quite a number of people who have struggled in the past or currently are dealing with eating disorders like bulimia or anorexia. It's hard to say if CrossFit attracts an abnormally high number of eating-disordered people without gathering quite a bit of information. What is not hard to see is the incredibly positive changes CrossFit has made in the lives of so many people who have basically waged war on their own bodies and suffered from debilitating self-image problems.
Somehow, CrossFit changes how so many people view their bodies. Function trumps everything, including six-pack abs and cellulite-free legs. Is this why CrossFit seems to be so popular and beneficial for people with formerly disordered eating?
Cheryl Nasso, owner and coach at CrossFit Tuckpoint and 2011 CrossFit Games competitor, found that CrossFit was literally her salvation. Cheryl battled with anorexia before finding CrossFit in 2009. Having dealt with deranged eating myself and finding my cure through CrossFit, I wanted to probe a little deeper into Cheryl's eating disorder and her journey to healing through fitness.
When I asked Cheryl what triggered her anorexia she had a hard time putting a finger on it. She shared this about how her battle began:
It is truly crazy how gradually it happens. If I had to compare it to anything, I would have to compare it to the way alcoholism works. One day you have one drink, then you want two, then before you know it, you can't stop. I know it started around age nineteen (2004) and went on until age 24, or the end of 2009. It is so ironic you use the word trigger, because that is the most influential word I heard while I was inpatient.

I think it was more a series of events. My life was all over the place. I was away (for the first time) at school (in Orlando), in an unhealthy relationship. About three months into school I learned that my grandmother was terminally ill with lung cancer. After spending two months trying to drive back and forth every weekend, I decided to move back home. I filled my day taking care of the house for my mother, taking care of my younger brother, taking care of my grandmother, and slowly watched myself disappear. I had a job at Gold's Gym as a group instructor and personal trainer. When I wasn't taking care of family, I was exercising. I would only eat after I exercised as that was when I felt I "earned my food." No one noticed at first, because I hid it well under baggy clothes.
Even after recovering, Cheryl, having been warned not to go back to a gym after getting out of rehab, still felt like she needed to be active is some way. After starting to run again, and noticing old, familiar, and negative patterns she joined an MMA gym with her brother. This too left her wanting something more. As luck would have it, the MMA gym was right next to a CrossFit box. While Cheryl was instantly attracted, it took her a while to fully take on the training methodology:
My first workout was Fight Gone Bad. It didn't take much for me to realize that I had found something special. I quit MMA and was full-time at CrossFit. At first, it was hard for me to let go of running for hours a week. It wasn't until I realized my strength deficit amongst the CrossFit community at the Florida Sectionals in 2010 that I committed to just CrossFit.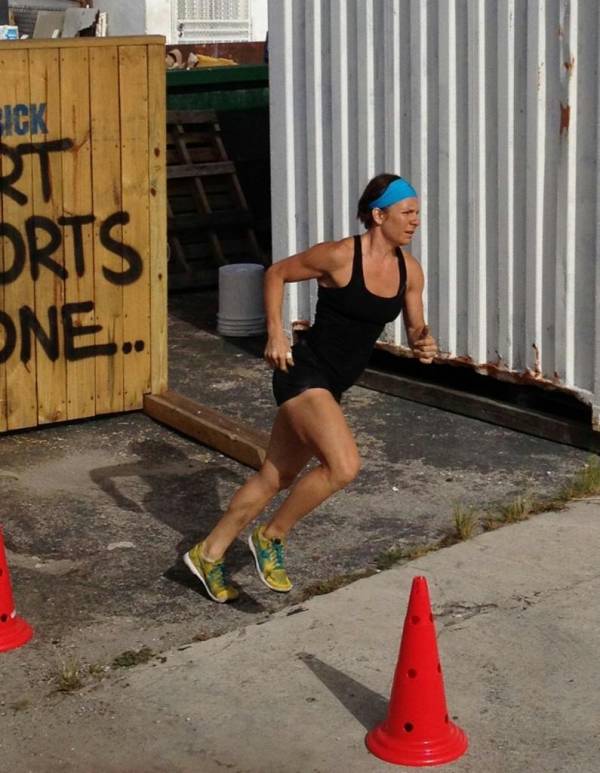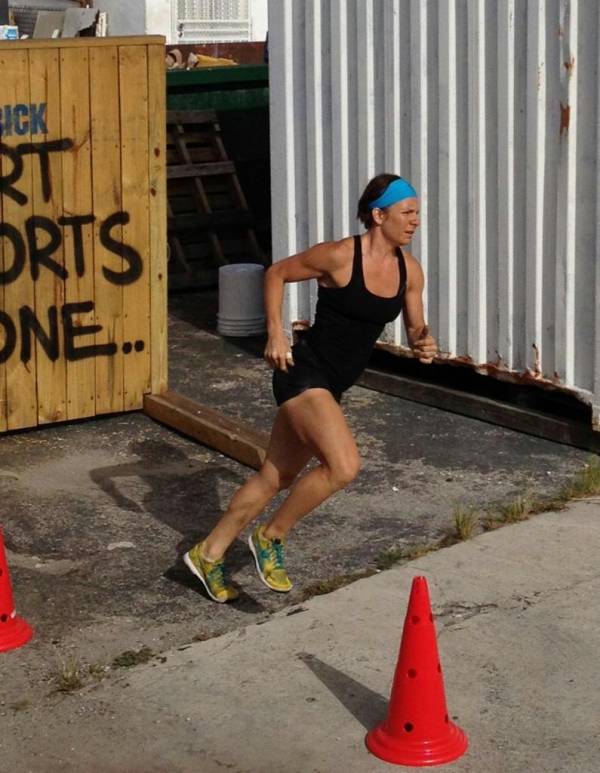 For Cheryl, not only was the running impacting her strength gains, but she realized she needed to eat well in order to get stronger, faster, and more competitive in CrossFit. Cheryl had felt frustrated and confused about what to eat after treatment, due to the food exchange system they encouraged, but she found inspiration in the Florida CrossFit Games sectionals competitors. She started emulating their diets, first eating Zone, then paleo, and then becoming comfortable eating more fat, which she says was the hardest thing to overcome.
I was interested to know Cheryl's thoughts about CrossFit and if getting involved in CrossFit could trigger an eating disorder or exercise addiction. Cheryl said, "Completely! You are surrounded by leanness all the time…Luckily the competitive nature, as you get deep into CrossFit, outweighs the want or need to be thin. Now, I want to be strong. I want to lift more! I want to move fast!"
And the same sentiment holds for those who want to train too much. The feeling that you must work out daily, filling every spare moment with some sort of exercise or risk feeling lazy and fat is common among those with eating or exercise disorders. However, in CrossFit, where performance is king, anything that impedes performance gets chucked to the wayside. Too little rest or food will not make you a stronger, faster, or more skilled athlete. Cheryl navigated this conflict as well. She explained there was a time when she "couldn't go on vacation without figuring out how I was going to WOD." But ultimately the gym became a positive influence. "Over time I have been able to learn (through CrossFit) how crucial recovery and rest is to my performance."
For Cheryl, CrossFit gave her a new perspective – on her body and her life:
The most important thing that CrossFit has done … is help me break away from the number on the scale. All throughout my eating disorder, that was such an indicator of self-worth. If it was up, I was sad. If it was down I was happy. It is still scary to see the scale go up, but with CrossFit, I have learned to embrace the fact that the number on the scale does not change who I am and what I am capable of.

I have gained thirty pounds since I started CrossFit, and I still have a body fat percentage of around 14-15%. Yes, I will always have body image issues. I will always be afraid of gaining too much weight. My road to recovery is not over, but I am finishing it the strongest I have ever been. I can talk down to that voice inside my head and enjoy a cheat meal here and there! Thank you CrossFit. You saved my life!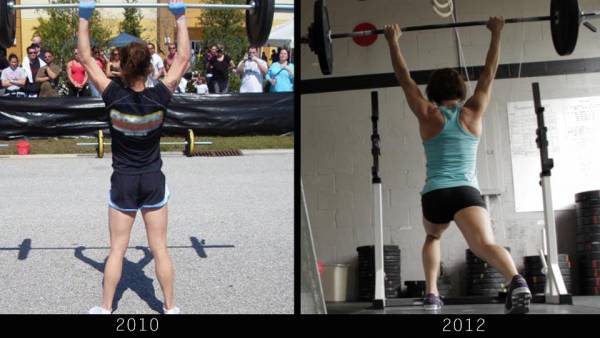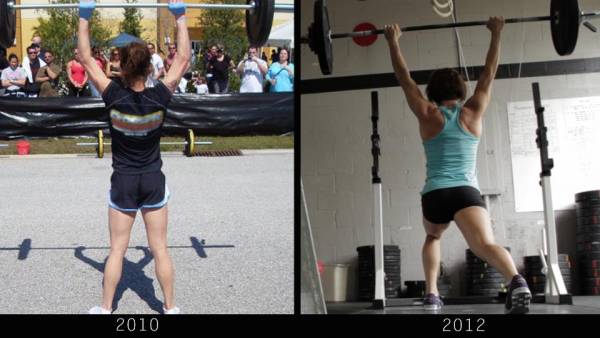 Cheryl now plans to reach out to local high schools and middle schools in an effort to stop eating disorders before they start. Cheryl hopes to explain to young girls "…how important it is to be open with people about our feelings. I hid so much pain under my eating disorder. I also would like to reach out to parents and help them to understand how to go about dealing with a child with an eating disorder…It is so easy to say the wrong thing."
Obviously, Cheryl has risen above her eating disorder to become an incredible athlete and inspiration for many, including myself. I agree with her that CrossFit can save women from the self-imposed hell of an eating disorder and the empty life it creates. It teaches us that our bodies are more than the number on the scale or the size of jeans we wear. Frail girls become powerful, capable beings, athletes, and women.
CrossFit helps to expose the potential that so many of us have ignored or impeded by dieting, starving, and abusing our bodies in an effort to be small. CrossFit sets us free by giving us new goals, a new perspective on what is valued and appreciated physically, and what is beautiful. I encourage those who are struggling with body image and eating issues to find CrossFit or whatever makes you feel strong and powerful and discover how truly amazing your body can be.
Learn more about Cheryl's story by visiting the website of the film "Box of Salvation."
Photos courtesy of Box of Salvation.