We receive free products and receive commissions through our links. See
disclosures page
.


Combat Skin is a newcomer to the Brazilian jiu jitsu gear market, and so far they've produced striking designs with each new product. I've had more people stop me in class to take a closer look at the graphics on the Samurai in Combat rashguard than any other.
Most people have wondered at first if the characters were Transformers due to their robotic appearance, but they're not. They're badass samurai warriors sinking armbars in front of a giant dragon. The product description on the Combat Skin website explains the origin of this design:
The artwork featured on this t-shirt was created by Jay Acosta, a renowned BJJ artist living in the Philippines. In feudal Japan, Samurai warriors would fight to the death to protect their lands and their lords. They were noble and upheld the "Bushido" code. In modern times, the great Helio Gracie said "What Samurai did with their swords, we do with our hands". The artwork featured on this t-shirt embodies the warrior spirit of the Samurai intertwined with Jiu Jitsu of the modern age.
Features
82% Polyester and 18% Spandex
Designed by Jay Acosta
Sublimated graphics and tags
Surf-style neckline and seamless armpits
Long torso
Rubberized waistband
Flatlock stitching
Pre-washed
Quality and Style
The Combat Warrior rashguard is made of lightweight but top-quality fabric. I've found that some rashguards tend to pill across the shoulders after a lot of wear, but this one has remained flawless. The seams are as thick and durable as the Mandrill 2.0 rashguard from 93 Brand, and not a thread has come loose.
No-gi jiu jitsu can get pretty sweaty and disgusting. I was once so sweaty, perspiration was dripping from the ends of my braids (take that, hot yoga). Because white fabric becomes transparent when wet, I tend to avoid rashguards with large amounts of white in them. The good thing about the placement of the white parts of this rashguard is that it's under the arms and at the sides, so there's no chance of any issues if your sports bra fails you, too.
The graphic on the front of this rashguard is epic, and as I mentioned, it attracts a lot of attention. What people may not notice is that the design is also watermarked throughout the darker blue portion of the top, which adds a nice textured look. The red flatlock stitching brings everything together and complements the red armor of the samurai being submitted. For close-up photos, visit my blog.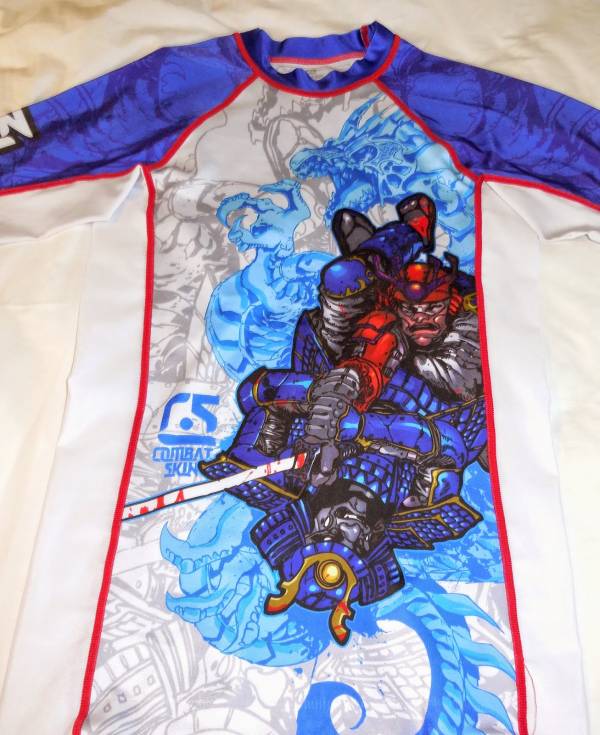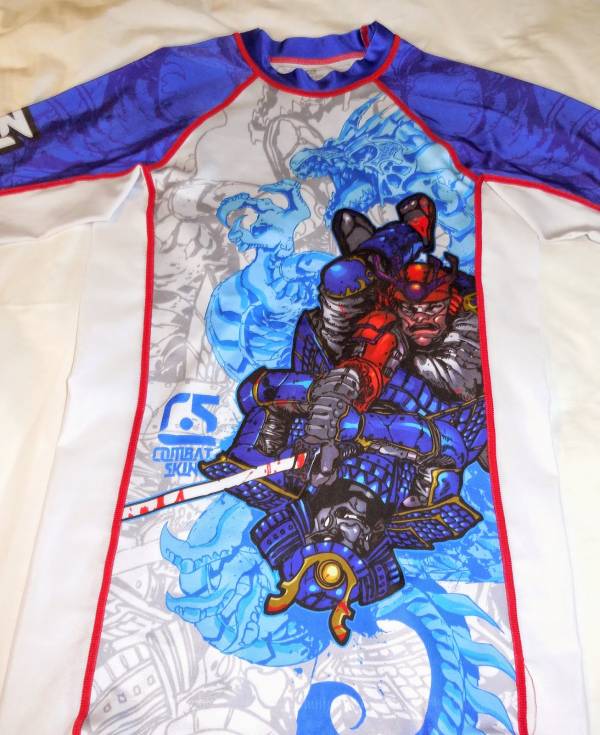 Fit and Comfort
The Samurai in Combat rashguard fit me well. It's a tailored, rather than compression fit for me, which I have come to like in rashguards. The bottom is lined with a thick, rubberized waistband designed to keep it from riding up during rolling, and I found it to be very effective. The bottom of my rashguard had a hard time rolling up past my waist.
However, like the tight waistbands on grappling spats, I found the waistband on this rashguard to be too restrictive and it hurt my stomach. My stomach gets sore and puffy sometimes and I can't stand wearing elastic bands around it. I like the rashguard, though, so I took a pair of scissors and snipped away the seams holding the band in place. It took me a couple of hours and when I finished, I sewed the bottom of the flatlock seams so they wouldn't unravel. You can barely tell that the rashguard isn't hemmed now, and it's been comfortable rolling ever since. With the band, I probably wouldn't wear this rashguard again. But as I've said, I have a sensitive stomach. Now that it's gone, I wear it regularly.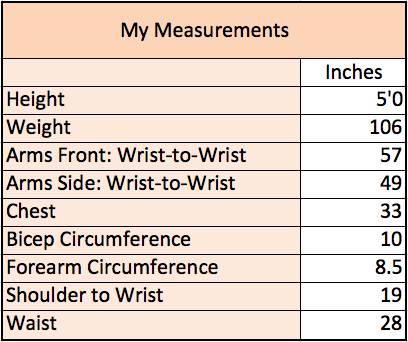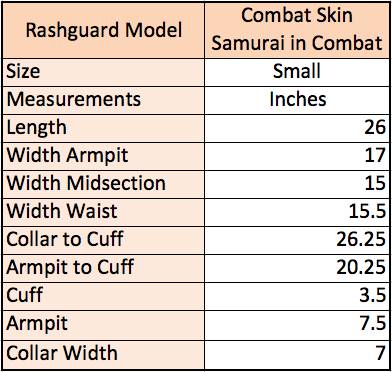 Customer Service
I was sent this rashguard for review and did not experience typical customer service. Shipping charges are as follows:
United States:
$5.00 first item
$2.50 per additional item
Free shipping on orders over $100.00
Free gi patch on orders over $150.00
International:
$15.00 first item
$7.50 per additional item
Gis and kimonos: $25.00 per item
And guess what? A little birdie told me if you watch BJJ Scout videos, you may see an amazing discount code for Combat Skin products. With that kind of discount, why not try the Samurai in Combat spats, as well?
Combat Skin supports the jiu jitsu community by sponsoring several athletes, including the very awesome Taylor "The Terror" Guerra and Jaime Sterling. For Taylor, Combat Skin designed a special "Bullying Stops Here" kids' rashguard to "empower the new generation of grapplers and martial artists." Follow Combat Skin on Facebook, Instagram, and Twitter to stay informed of contests, sales, and new gear offerings.
The Samurai in Combat rashguard is available for $59.00 at CombatSkin.com.