We receive free products and receive commissions through our links. See
disclosures page
.

Jiu jitsu gear is awesome. Breaking Muscle Managing Editor Becca Borawski Jenkins has even said she wants to train BJJ again, just for the gear. I think one of the reasons we have so many cool designs to choose from is because the gear is designed by people who actually train, and people who train are cooler than people who don't train, amirite?
About Dokebi Combat Outfitters
Dokebi Combat Outiftters is a newer brand on the jiu jitsu scene. They create their own original designs and as BJJ practitioners themselves, they know what features to focus on. The company is based in South Korea and their About Us section describes the importance of martial arts in that country:
Martial arts play a prominent role in South Korea as seen by successful martial artists carrying celebrity status. MMA fighters and Olympic athletes are common faces in talk shows, game programs and commercials. Taekwondo, the national sport, is practised by every school child in the country. In other words, martial arts are serious business in South Korea. Naturally, the gear made for the practitioners is treated the same.
Sometimes I am lucky and win contests. I'd like to win the lottery, but until then, I am happy with prizes like the Dokebi Combat Outfitters Ranked rashguard I won in a Facebook drawing back in November 2013. The design of this rashguard was foreign to me, so I did a little bit of research into the Dokebi, also known as the Dokkaebi, on Wikipedia. According to Wikipedia:
Different versions of the Korean Dokkaebi mythology assign different attributes to them. In some cases they are considered harmless but nevertheless mischievous, usually playing pranks on people or challenging wayward travellers to a ssireum (Korean wrestling) match for the right to pass.

Dokkaebi love to play games, especially ssireum as mentioned above. They are extremely good at it and one will never be able to beat them by trying to push them from the left side. However, they are very weak on the right side. In other stories one should hook their leg and push them to win, as they have only one leg.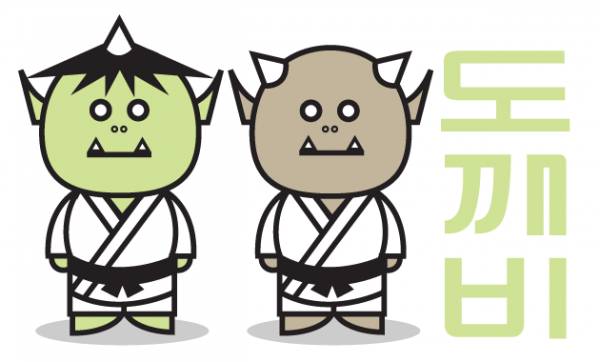 Quality and Style
In the design of the Ranked rashguard, Paul explained in an interview with Grappler's Review that they went for the "traditional dokebi look based on stone carvings." A physically intimidating, yet friendly looking Dokebi graces the front of the rashguard, while the Dokebi Combat Outfitters logo is displayed on the back. The shoulders feature circular symbols and the side panels and designs are colored by rank. I very much enjoy playing pranks and grappling and am happy to rep the Dobeki, although the style of the rashguard is a bit masculine for my taste.
While this is a lightweight rashguard, the seams are comparable to the thicker 93 Brand Mandrill 2.0 rashguard, which is built like a tank. The Ranked rashguard is solid and durable with no loose threads. The fabric is ultra-light, lighter than any other rashguard I have ever seen, but it's strong and stretchy. It has a flat, rather than shiny finish, and the fabric has resisted pilling across the shoulders. Every other short-sleeved rashguard I have has pilling across the shoulders from rubbing against my gi during rolling. I've worn this rashguard at least once a week for seven months and aside from a small amount of pilling on the seams, it still looks brand new.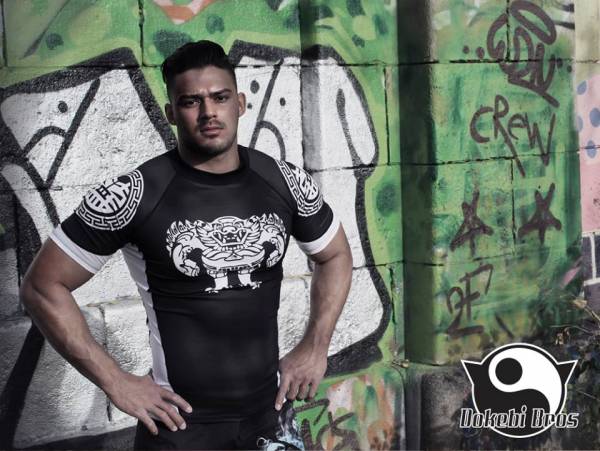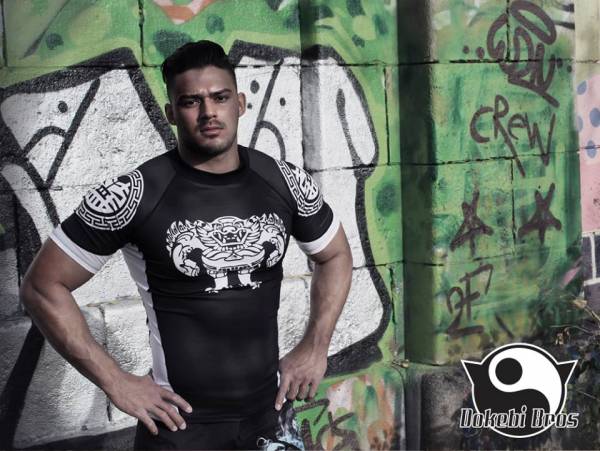 Features
90% polyester, 10% spandex
Slight mock neck
Sturdy flat-lock seams
Sublimated graphics
Fit and Comfort
When I won the Facebook contest, I was going to ask for a size XL for my boyfriend because since it's a men's rashguard, I thought size small would be way too big on me. The Dokebi Combat Outfitters Facebook administrator explained that because sizing is developed for the Asian market, the small would probably fit me.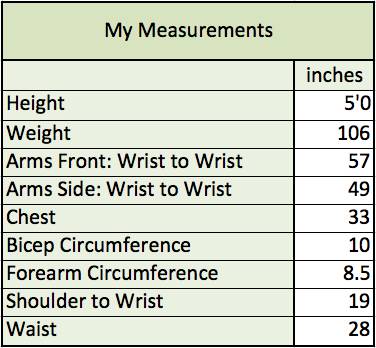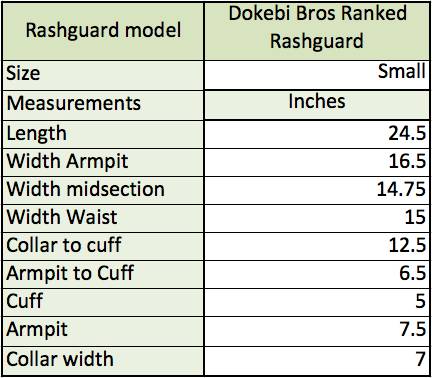 When the rashguard arrived, it was a perfect fit and I've found it extremely comfortable during rolling. It feels silky and lightly skims the skin as it wicks away sweat. The sleeves are long enough to protect my underarms from chafing from my gi and there are no scratchy seams or patches. Dokebi Combat Outfitters has created the ideal rashguard construction to wear under the gi as well as on its own. Because it is so light, it does not cause overheating when worn under the gi at all, but it is tough enough to withstand the friction created during rolling.
Customer Service
I won this rashguard in a contest so I didn't receive typical customer service. It was shipped on November 8, 2013 and arrived on November 25, 2013, which is typical for international packages.
Shipping to Canada and the US from the Dokebi Combat Outfitters online store is €9.00/$13.25 CDN/$12.21 US. This rashguard is also available at Fightshop.ca for $54.99 CDN plus tax, with $9.95 shipping to Canada and $20.00 shipping for US customers.
Dokebi Combat Outfitters has also released the Balance gi, a couple of sick t-shirts, BJJ belts, wrist bands, and another long-sleeved rashguard. Like them on Facebook to get updates on all of their gear in your News Feed.
The Dokebi Combat Outfitters Ranked rashguard is available for $47.50 at DokebiCombat.com.