We receive free products and receive commissions through our links. See
disclosures page
.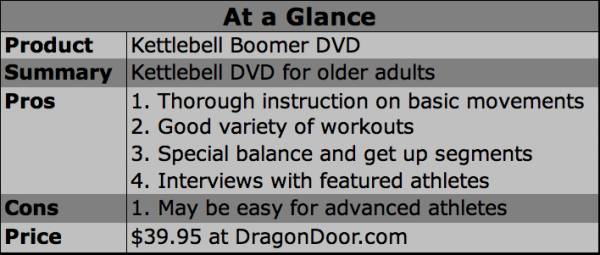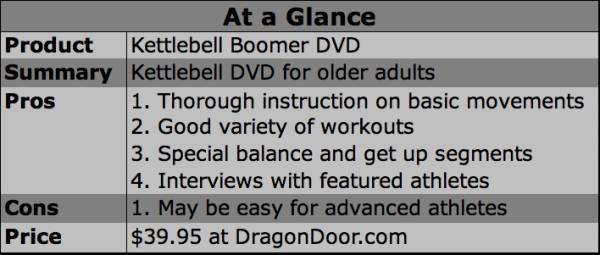 If I can still do Andrea DuCane's Kettlebell Boomer DVD in forty years, I will be a happy woman. Although I don't fall into the category of "boomer" just yet (I'm 26), I did appreciate and enjoy reviewing this DVD. Andrea is a living example of the benefits of kettlebell training as we age. If you're not familiar with her story, be sure to check out the Featured Coach interviews to learn more. Although the Kettlebell Boomer workouts aren't quite as intense as some of the sessions in Andrea's Kettlebell Goddess DVD, it has other strengths that make it ideal for the mature athlete. Here are the three things I appreciated most about this workout DVD:
1. The Instructional Segment
Andrea offers an in-depth instructional segment that teaches the basic kettlebell movements featured in this DVD. This segment is over thirty minutes long, and is perfect for the viewer who is new to kettlebells and hasn't had any formal training. Here are the exercises Andrea teaches:
Deadlifts
Kettlebell Carries
Squats
Presses
Planks
Swings
2. The Workouts
Andrea provides a 45-minute workout to build strength, as well as a 45-minute cardio workout. I appreciated how the workouts are tailored for older viewers. Andrea did a good job of selecting exercises to strengthen and tone, while also focusing on areas that are particularly important as we age, such as balance and coordination. The foundational exercises for these workouts include the deadlift, kettlebell swing, squat, and plank.
3. The Turkish Get Up Segment
35 percent of people over age 65 fall at least once each year, or 50 percent of adults over 75. For this reason, experts recommend that programs that feature on fall prevention also include exercises to help people stand up after a fall. For his reason – and because the Turkish get up is just a great exercise – I was glad to find a 15-minute segment devoted entirely to teaching the Turkish get up, followed by a short workout. I found this instruction very helpful, although I'm not an older athlete. There is also a short balance segment.
Andrea also has a segment devoted to the four athletes who appear in the DVD and demonstrate the workouts, each at a different level. I found it very inspiring to listen to their stories. For example, Leslie Bohm, age 65, is a former librarian with no athletic experience. Her homeopath recommended kettlebell training for prevention of osteoporosis, and it was a good fit for Leslie. She talked about the small ways kettlebell training has helped her, from lifting furniture with co-workers to improving her posture and making her less "shuffly," as she put it.
It was interesting to compare the DVD to the Kettlebell Goddess DVD I reviewed earlier this year. Both have thorough and top notch instruction, but the tone of each is notably different. I found that Kettlebell Boomer had a much more laid-back feel. Andrea does the warm up with the four other adults in the video, but otherwise it's a bit like watching a kettlebell small group class. Andrea doesn't participate in the workouts, but provides helpful cues with an emphasis on good form during each exercise.
Like all kettlebell workouts, the intensity of the exercises can be easily adjusted by using a heavier (or lighter) bell. However, although there is a bit of scalability, very advanced older athletes might need more of a challenge. For very athletic adults in the 40s and 50s who want a challenge, I would probably recommend a different DVD, since the exercises here may be too basic to be challenging.
With over 100 minutes of workouts, as well as thorough instruction and athlete interviews, you get a lot for your money with this DVD. I would highly recommend Kettlebell Boomer for older adults who want to reap the benefits of kettlebell training, whether they are new to kettlebells or have previous experience.
"Kettlebell Boomer" is available for $39.95 at DragonDoor.com.