We receive free products and receive commissions through our links. See
disclosures page
.


There's just something about seeing a champion fighter perform consecutive perfect hollow body push ups while spinning 360 degrees in the air that makes you want to watch his DVD training system. That's what went through my head when George Saint Pierre filmed this commercial at the gym where I coach. There's a certain presence in the room when a champion walks in. GSP has that. First, I felt that presence, then I began to wonder, "How fit is this guy?" And next think I know he takes clapping push ups to another universe doing those 360 aerial renditions of a push up on cue.
Given that introduction, I didn't have the same underwhelmed attitude I might have with other products when GSP's DVD training system, RUSHFIT, arrived at my house. Upon first glance, the consumer will realize this truly is a system. The box it comes in is big, which had me wondering what all could fill it. Inside, I found another box that held six separate DVDs, a workout guide, three (level specific) training calendars, and a nutrition guide. With a living room full of RUSHFIT stuff, I was excited, overwhelmed, and impressed all at once.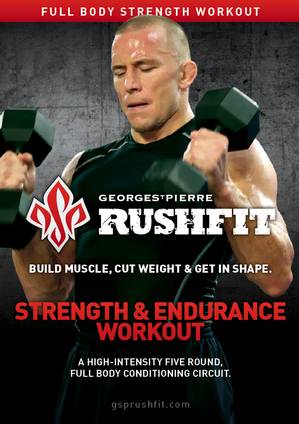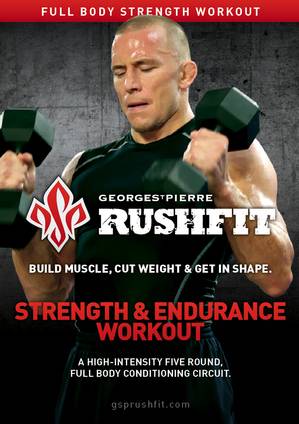 The "Quick Start Guide" became useful right away to help me sort everything out. In minutes, I realized this program is as comprehensive as anything I'd ever seen arrive at the door. In fact, part of the reason that I am often quick to shrug off such DVD training programs is because they often aren't comprehensive, practical, or sustainable.
RUSHFIT starts things off with an assessment, which set the tone for the maturity and commitment to measurable performance in this program. The assessment serves as a baseline for people to track their improvement. The test includes a one-minute effort for max reps air squats, push ups, sit ups, and burpees, with twenty seconds rest in between. After the eight-week program, men and women can see very specific and accurate gains.
The impact RUSHFIT has on the lifestyle of those who take part in the program is maximized, in part, by the fact that it's more than just training. RUSHFIT comes with a nutrition program, as well. The nutrition component does a great job of guaranteeing results. The first page of the nutrition guide has each participant use several equations to find one's Basal Metabolic Rate (BMR). From there, people with weight loss goals are encouraged to shoot for weight loss of two pounds per week by subtracting BMR and calories burned from the day's calories consumed. The nutrition guide is rounded out with pre- and post- workout macronutrient ratio suggestions and a list of "to do's," which includes notes regarding eating small meals throughout the day, hydration, fiber, protein, good fat, sleep, sweating, and stretching.
As for the training, RUSHFIT utilizes a training calendar (provided) based on your experience level (beginner, intermediate, or advanced). The beginner program starts with just three workouts per week, plus a couple independent cardio recovery days, and the eight-week cycle ends with a five-workout week. The intermediate program adds volume from there, and the advanced program even still.
Regardless of which level you've chosen, RUSHFIT trainees rely on the host of DVDs that come along with the program. Week 1 of the intermediate program, for example, begins with the Strength & Endurance DVD on Monday and the Abdominal Strength and Core Conditioning DVD on Tuesday. Day 3, then, is a "cardio" day, in which participants are encouraged to do "30 minutes at medium intensity" for weeks 1-4 and 40 minutes in weeks 5-8. Day 4 is back to the Strength & Endurance Workout DVD and Day 5 is another cardio day. Then finally, the week is wrapped up with the Full Body Strength and Conditioning DVD on Day 6, and Day 7 is set aside for rest.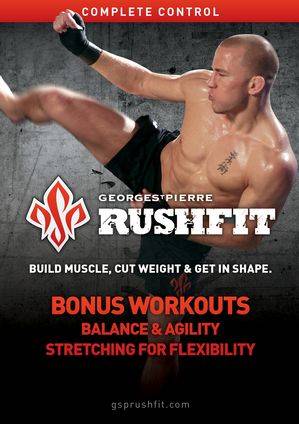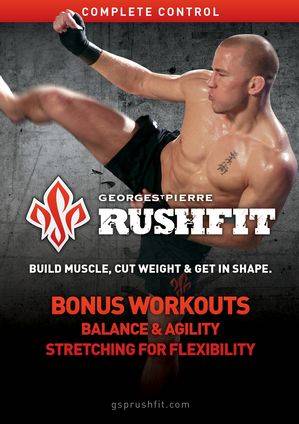 As far as the workouts themselves, participants can expect a butt kicking. All you'll need are some dumbbells (2-25lbs), and the will of a fighter. The dynamic sessions are lead largely by Erik Owens as he takes GSP and two other trainees through the workout. In contrast to other, less effective DVD training programs, RUSHFIT isn't afraid to include functional, complex movements such as the dumbbell hang power clean, push press, and plank row.
With short, intense, timed workout sessions, participants are always set up to get an incredible response, regardless of their fitness level. I couldn't help but enjoy the fact that I was training, virtually at least, with GSP. He is human and, believe it or not, he fatigues, too.
I must say RUSHFIT covered all the performance bases with this one. The linear training program, nutrition guidelines, and the aggressive training schedule are legitimate builders of measurable fitness. In addition, RUSHFIT builds in a measurable element for participants to enjoy when they retest at the end of their eight weeks. I applaud the makers of RUSHFIT for taking the time and energy to put together a program with excellence and passion. If you're training at home or without a coach, have no fear. RUSHFIT puts together a training program and lifestyle that, given your compliance, will get results.