We receive free products and receive commissions through our links. See
disclosures page
.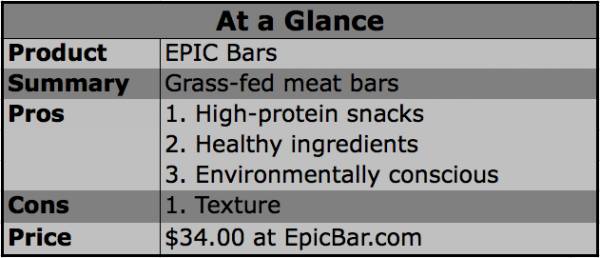 High-protein, healthy snacks that are suitable for athletes and paleo dieters can be tough to come by. I'm fortunate to get to try out so many awesome companies that support athletes and corporate responsibility alike, but it's tough to find it all in one product. Well, I recently tried EPIC Bars, and they just might qualify.
EPIC bars are a meat-based protein bar that combine various kinds of meats with savory and sweet flavors. The meat is either grass-fed or as naturally raised as possible. The remaining ingredients are mostly nuts, fruits, and spices. Despite the short ingredient list, eating these bars is like having a delicious meaty meal condensed into one bar.
EPIC doesn't just produce these bars, but they also do it with a passion for people, animals, and the environment. The company believes animals should live a life as natural as possible prior to consumption, and require their sources to prove that their animals are treated humanely and live "pasture-centered lives." EPIC also provides literature about the benefits of grass-fed animals compared to their grain-fed counterparts. And, finally, they care about the human health benefits of eating healthy, high-protein meats with healthy fats, nuts and fruits.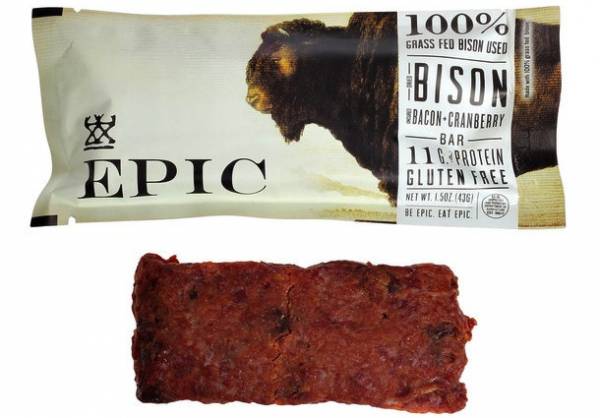 Until now, my gold-standard protein snack for athletes has always been low-sugar jerky. It's a convenient, high-protein, low-sugar snack, and when you get the grass-fed stuff, you're golden. But jerky commonly has two problems. First, it's often chewy or tough. Second, it's almost universally loaded with salt. EPIC bars are not only soft and moist, but they also have half the sodium content of even the lower sodium jerky options.
Based on the above, perhaps I should have a new gold standard. And honestly, I expected to pay for that level of quality. However, gram for gram of protein, EPIC Bars are similar in price to the high-sugar, low-quality, high-salt stuff you'll find at a grocery store.
I got to try three out of four of their flavors.
Bison with Bacon and Cranberry: Out of the three, this bar may have been my favorite, but it's hard to decide. The bacon in the bar – and let's be honest, bacon is amazing – almost imparts a jerky-like flavor, which plays nicely with the tartness of the cranberry. All the flavors are blended together perfectly by the healthy fats.
Lamb with Currant and Mint: The flavor of the lamb bar is intense and delicious, especially for lovers of Mediterranean cuisine. Loaded with Italian spices like basil, oregano, and rosemary, expect an amazing taste and aftertaste that will keep your mouth watering.
Turkey with Almonds and Cranberry: This is the offering with the lowest sugar and fat, as well as the most protein. The meat flavor on this one is very mild and serves mostly as a vehicle for the cranberry tartness. The almonds contribute more to texture than taste, but they do add some of the healthy fats that the turkey meat lacks, which helps round out the flavor. This bar has a nice seasoning blend as well, including many earthy spices along with garlic and onion. However, it's the cranberry tartness that shines through most, reminiscent of a bar version of Thanksgiving dinner.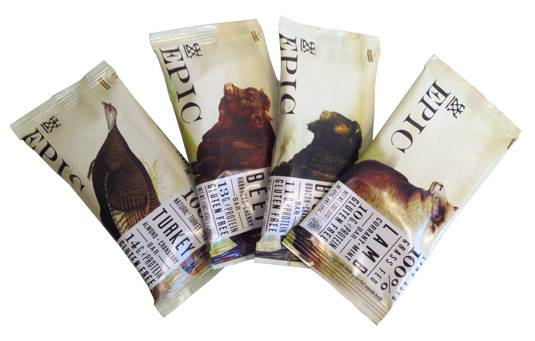 In the cons section I listed texture, but this is only going to be a negative quality for some people. Because the bars are made from finely ground meat, the texture is not unlike a dry pâté. The lamb bar, which is quite rich, can leave a residue in your mouth as well (and a nice aftertaste that lasts for an extended period). Again, I personally thought these bars were good in both flavor and texture, but I'll let you decide for yourself.
If you're looking for a high-quality and tasty snack that's convenient and travels well but won't break the bank – and what athlete isn't looking for that? – EPIC Bars are for you.
EPIC Bars are available for $34.00 for 12 at EpicBar.com.