We receive free products and receive commissions through our links. See
disclosures page
.
As someone who follows technology and fitness closely, there was no way I was passing up the opportunity to attend HACKFit Boston this past weekend.
During this three-day event, teams gather together after a pitch session on Friday night to work on respective fitness and wellness hardware and software ideas. Within all of this thinking is plenty of activity, with yoga, CrossFit, running, and climbing classes mixed through the weekend, as well as points awarded to teams and participants for their level of activity, such as running and cycling outside of the work sessions. The kick-off event also had a keynote speaker who exemplifies the goals of HACKFit: Jason Jacobs, Founder and CEO of RunKeeper.
The mission of HACKFit is simple. According to the company mission, "HACKFit was born out of Boston, MA. We are technologists, entrepreneurs, and hackers designing a culture where work, play, and activity are one-in-the-same. Our mission is to unite aspiring entrepreneurs with a passion for fitness, sport and activity to build revolutionary technologies that get the world moving." HACKFit achieved their mission with great success during their first event this past weekend.
Saturday started at 7:30 AM with a running class. The organizers thought of everything and even had showers available to attendees throughout the day. It's a good thing, as I'm sure sweaty workout clothing impedes creative thinking in a big way. A healthy breakfast was served, and attendees got into their teams either at the Microsoft N.E.R.D center or at Brooklyn Boulder Somerville. Walking desks from TrekDesk and alternative seating from Focal Upright Furniture were provided.
Samples from local companies providing food and drink for the active athlete and professional, making for a social and generally well-fed and caffeinated atmosphere. A surprise guest talk about starting your own brand was given at lunch via video by the founder of Reddit, thanks to General Assembly.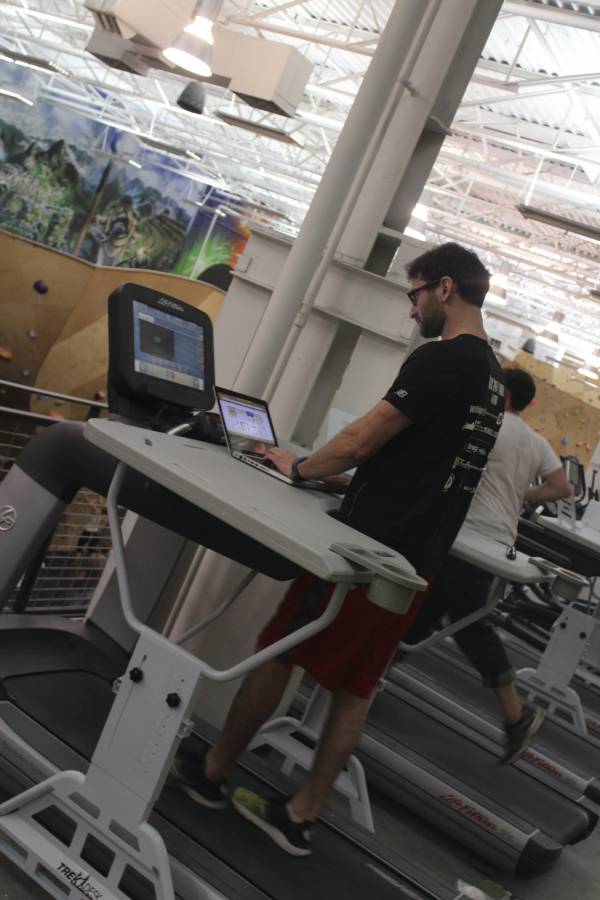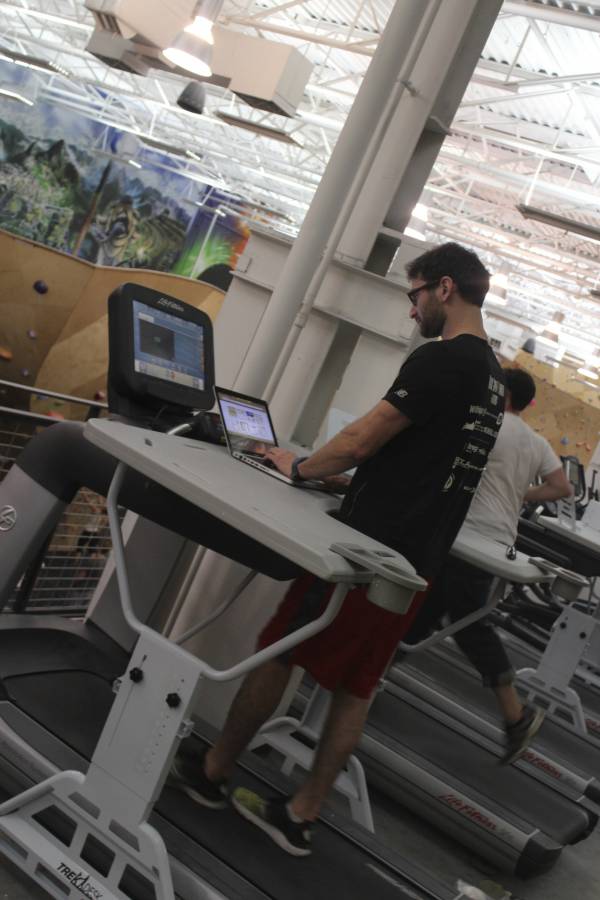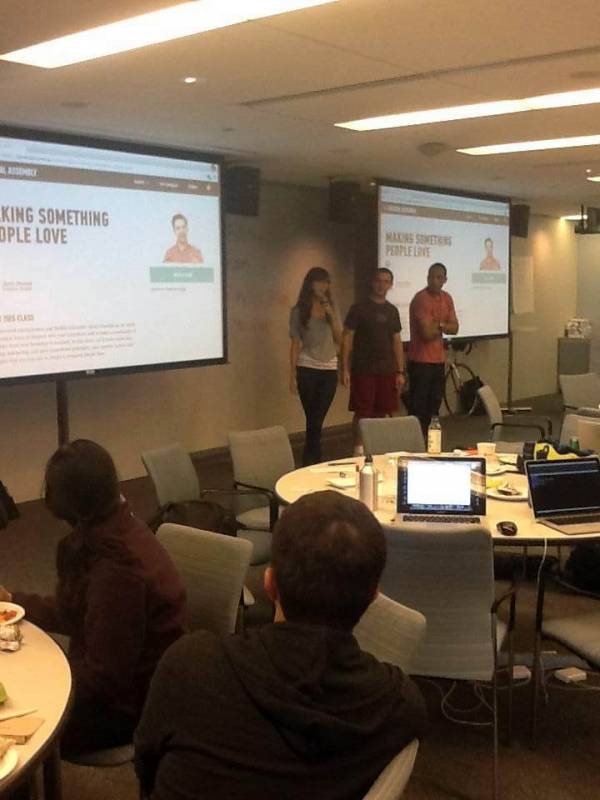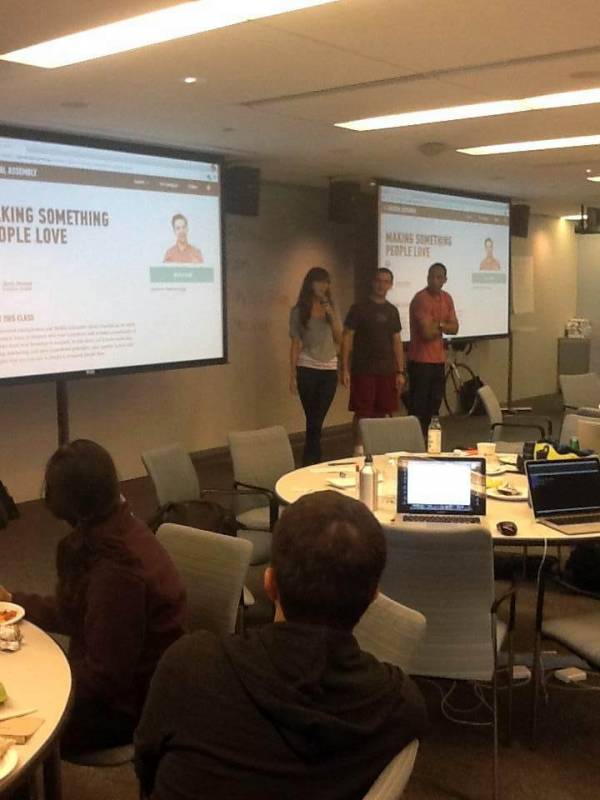 LEFT: Justin Mendelson, HACKFit Founder and CEO, checks out one of the walking desks being used at the event.
RIGHT: Representatives from General Assembly kick off a presentation video during a healthy provided lunch.
Throughout the day classes were provided at local rock gym Brooklyn Boulder Somerville, or BKBS, a full-service climbing gym, fitness class, and community center new to the area. HACKFit Co-Founder and COO Andy Cole told me BKBS came into the picture almost immediately when the HACKFit event was conceived, and you can see why. With common work areas at the top of climbing walls, free wireless access, and well-appointed fitness classrooms, the BKBS space exemplifies the HACKFit mission of mixing activity with ingenuity.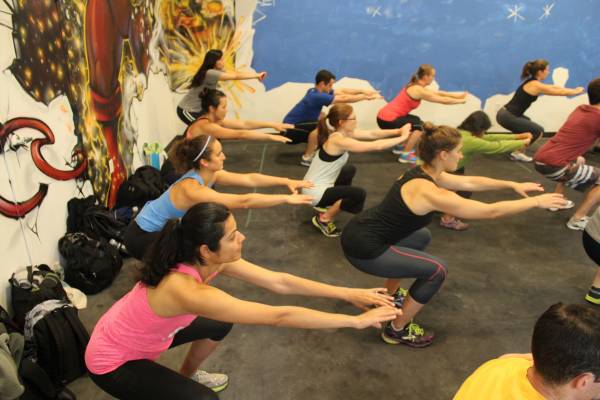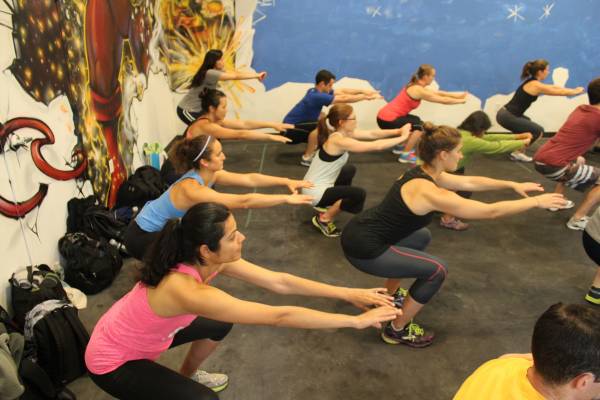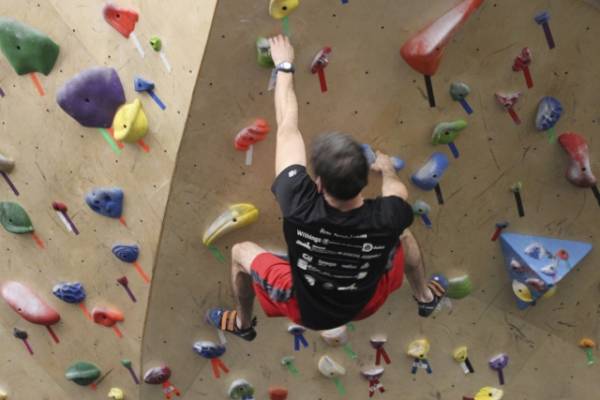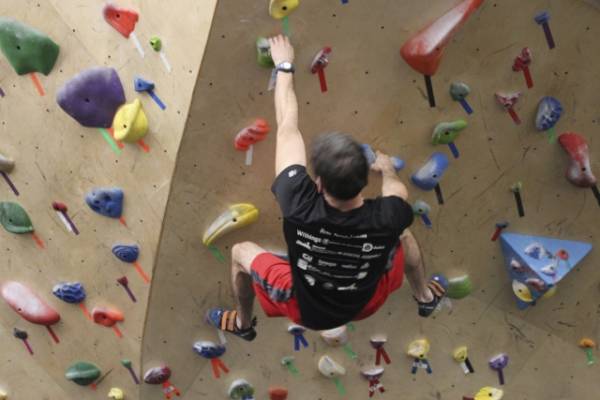 LEFT: Participants take part in a crowded CrossFit class provied by local affiliate Commonwealth Crossfit.
RIGHT: While right next door, other participants take part in a bouldering class.
Sunday rounded out the weekend with a morning yoga class, product pitches, and prizes awarded for best ideas and most active teams. Ideas for technology-augmented weightlifting equipment to transmit force and speed data to mobile apps and a program that uses your recent activity to suggest food and recipes were some of the front runners. Several other new ideas for social media engagement, interactive fitness apps for kids, and fitness studio management also garnered interests.
I'll be following up with several of the teams in the next few months to see how their product has progressed and hopefully to review them for you as well. If you are interested in a HACKFit event in your area, check the HACKFit website. Founder and CEO Justin Mendelson hopes to have events in San Francisco and New York by the end of the year.