Although binge drinking may not be as much of a concern, a family vacation over spring break can be an opportunity for other excesses, like hours in front of the TV and fast food meals three times a day. Hiking is a great way to keep the whole family fit on the break while also getting a unique view of your surroundings that goes beyond the overpriced and overcrowded tourist traps.
We've hiked with our kids since they were babies (that's us pictured to the right), and are always amazed at how much they enjoy it. Not only does hiking help promote a lifetime of fitness and active lifestyle, but it also instills a love of the outdoors and nature. A quiet hike is a good escape from hectic daily life, whether you're on vacation or just looking for a fun and affordable weekend activity.
As noted by the American Hiking Society, hiking also has health benefits for adults. Its benefits for weight loss make it ideal for vacation time, when the calories often add up more than they normally do. Hiking also helps relieve anxiety, which can wreak havoc on even the most leisurely family vacation.
If you've never tried hiking as a family, it's never too late to start. Older children often enjoy the sense of adventure offered by a more challenging hike. If you have younger children, don't be fooled into thinking hiking is off-limits. With a bit of preparation and planning, hiking with young children is totally doable.
Here are a few tips for hiking as a family:
Keep it simple. There's lots of hiking gear out there marketed to families, but not all of it is necessary. Your baby really doesn't need that $30 sunhat, and your toddler can walk just fine in her tennis shoes. However, some equipment is helpful for parents with small children, such as a hiking baby/toddler carrier. We bought a Kelty hiking child carrier at a secondhand store a few years ago, and it's lasted through both of our daughters. Choose a backpack that can hold a wide range of ages and weights to get the most use out of it. For young babies, a sling with good support will also do the trick. I use a Moby wrap for my 1-year-old, and my husband carries our 3-year-old in the child carrier when she gets to tired to walk.
Stay hydrated and bring lots of snacks. If you plan to be out on the trail all day, pack non-perishable items. We have a dehydrator at home and use it to make homemade beef jerky, as well as dehydrated fruit for the trail. Nuts are a good source of healthy fat and protein. Bring plenty of water and stay away from sweetened drinks, which only make kids more thirsty.
Challenge yourselves and your children, but be realistic. According to REI, you can count on your child hiking about half-mile per year of her age. Hiking is a great challenge for kids. When our preschooler climbed her first "mountain," (all 2,000 feet of it) it was an awesome experience for her. Your children might need motivation, so think of creative ways to keep them going. A trail that ends with a cool destination, like a mountain summit or waterfall, is more exciting for children. I like to "race" my daughter to a rock or tree in the distance when she starts to lose interest in the trail. Choose trails that are appropriate for your family's experience and fitness level, and try to find ways to challenge yourselves as parents as well. My husband and I like to take turns caring for our kids when we're out on the trail so that one of us can go a bit faster than our preschooler's pace. Think of it as interval training!
Fortunately, many popular spring break destinations provide numerous hiking opportunities for families. Here are a few great hiking trails that we've hiked in some popular spring break destinations, and others we hope to add to our list:
1. Florida
We hiked a few trails on the Gulf Islands National Seashore near Pensacola a few summers ago. Unfortunately, we visited in June, and it was a bit hot for our daughter, who was one at the time. After about a mile hike, we had to head back due to thunderstorms. The area would be perfect for a spring break hike, however, when temperatures are a bit milder.
If you visit southern Florida, a trip to the Everglades provides several hiking opportunities. Hiking trails are in close proximity to Miami as well as cities on the west coast, like Fort Myers and Naples. During our college years, my husband and I liked to hike the Anhinga trail, which provides up-close and personal views of alligators and other wildlife.
2. Arizona
Lake Havasu is a popular college spring break destination, but there are several other spots in Arizona that are great for hiking during the spring months. Sedona's Red Rock Canyon is a stunning place to spend a day hiking, swimming, and rock-climbing, and the trails are family-friendly. Our daughters love walking the trails and climbing the rocks at Grasshopper Point, a popular swimming spot that also has access to three hiking trails: Allen's Bend, Casner Canyon Trail and Huckaby Trail.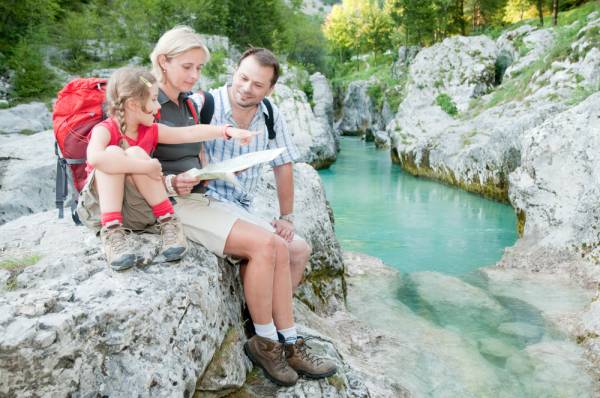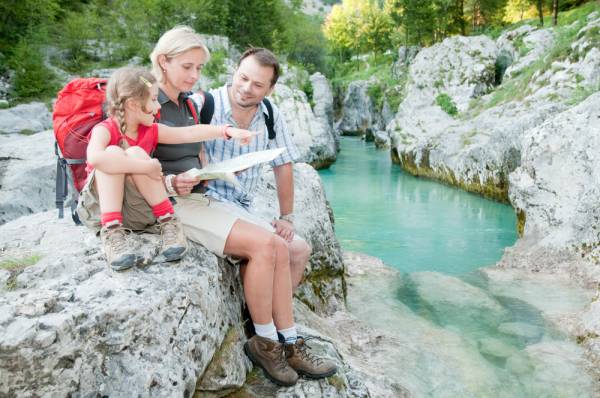 If you plan to visit Phoenix over the break, you don't need to drive far to find some great hiking trails. In fact, National Geographic rated Phoenix among the top 15 best hiking cities in the U.S. The Phoenix Mountain Preserve has parks throughout the city that are free and easily accessible. Lookout Mountain Park in north Phoenix is a great mountain for beginners, with more challenging trails at Camelback Mountain and South Mountain.
3. California
We haven't made it to California yet, but we hope to do so soon. The Los Angeles area has several nearby trails. The Mishe Mokwa loop trail to the top of Sandstone Peak, which is the highest point in the Santa Monica Mountains, is a great hike for families with older children. For more hiking in the Santa Monicas, try the hiking trails at the Roy Rogers State Historic Park, which range from a moderate 3-mile loop trail to more challenging hikes for experienced hikers. If your spring break trip takes you closer to the San Francisco area, don't miss the stunning trails in the Redwood National and State Parks.
With preparation and good safety practices, family hiking is a great way to add healthy activity and a bit of fresh air to your spring break itinerary. And a secret parent bonus: your kids will be so tired and content after a long day of hiking that they just might go to bed early.
Do you know any great hiking destinations that are family-friendly? If so, please share in the comments below!