"I lost my father when I was 12. He was 48 and died of alcoholism. He was a functional alcoholic, and my world was tipped upside down." These were the words of Kevin Kearns as he began his story of how he became a coach. Always the kid picked last, growing up in a bad neighborhood, and newly fatherless, Kevin was lucky enough to have an uncle who cared. His uncle encouraged him to pursue martial arts and paid for part of his enrollment in karate school. The death of his father and the discovery of martial arts would prove to be a life-changing combination for Kevin.
For many martial arts is a source of discipline and structure, and for Kevin it would be no different. From the beginning he was hooked, as he explained:
Well, I stayed for four and a half years. I got my black belt. I started at thirteen and figured out right away, "Oh, look: if you practice you get better!" My teachers could see that in me, and I started training more and more. When I was fourteen or fifteen I started lifting weights. My body just responded.
From there life flowed for Kevin, now that he had the knowledge of what his body wanted and how to apply his mind. Kevin would make the unlikely journey from his rough-and-tumble childhood to becoming a strength and conditioning coach to world-class athletes in the UFC Octagon. And he did it by following his passions.
From there, it's kind of interesting when you look at it, at my life. When you look at it, I turned a hobby into a lifestyle, into a career. It got me into the best job in the world. I started off with martial arts and strength training. From martial arts, I got my discipline, and infused it into strength training. And from there, I introduced it into my career. I tell people all the time, I didn't have a plan in motion or say "I'm going to be a trainer and train fighters for the rest of my life." I tell them, I'm the opportunist. I was in the right place at the right time. I'm famous for quoting, in my certifications, "When your heart speaks, take note."
In 2004 Kevin was training at Mark DellaGrotte's gym, Sityodtong Muay Thai Academy, in Somerville, Massachusetts. It was a time when the UFC was gaining traction and garnering more attention, but fighters still didn't know how to train. Most were still doing bodybuilding-style workouts. At Sityodtong, Kevin noticed this and started helping the fighters, introducing them to tools like foam rollers, stability balls, and BOSUs. Surprisingly the fighters found themselves exhausted by only short routines, and they also started seeing results. Kevin started working with more and more of the amateur and professional fighters at Sityodong. One of these professional fighters happened to be the then-recent graduate of the Ultimate Fighter TV show, Kenny Florian.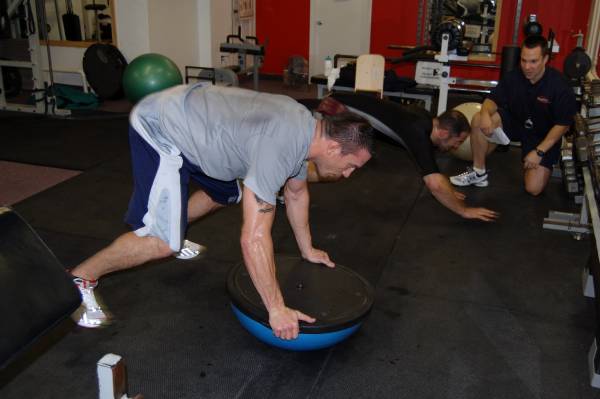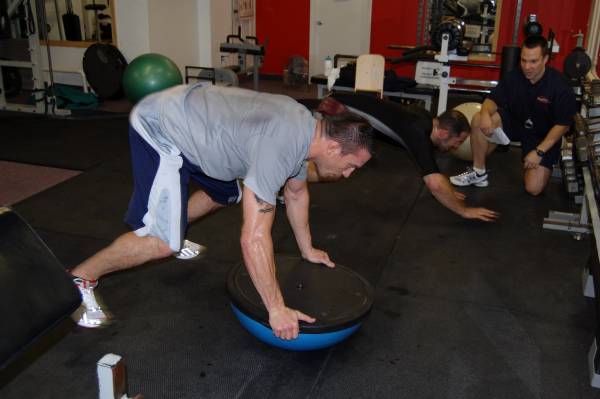 Just prior to his title fight with Sean Sherk in 2006, Kenny Florian injured his back. Although Kenny and Kevin hadn't worked together much at that point, at the last minute Kenny requested Kevin fly out to Vegas to help him stretch and do back rehabilitation work, in the hopes of salvaging the match. Kenny went on to lose the fight, but Kevin earned himself a job. Kenny knew he had to make serious changes to his training and hiring Kevin was the first change he implemented. Anyone who watched UFC in those days can tell you, the next time Kenny Florian walked into the cage he was a visibly different man.
Along with a team of other people, including a nutritionist, Kenny Florian was rebuilt. Kenny wasn't the only fighter back then that needed change in his approach to training. As UFC evolved into a more serious sport, it was time for the training to evolve to a professional level as well. Explained Kevin:
One of the big problems we had was Kenny's back. I don't know if you remember reading about when he was going to fight Sam Stout for the first time, he bent over to pick up his T-shirt and he threw his back out. This was the same thing with Sherk. I said, "You know, we have to rebuild you from the inside out." These guys were famous back then getting serious six weeks before a fight. I remember the first conversation:

I said, in my basement gym mind you, "Do you like Tom Brady."

Kenny's like, "Yeah, why?"

I'm like "Okay, just asking. Do you like Tiger Woods?"

He's like, "Yeah, definitely."

I'm like, "They're pros, right?"

He's like, "Yeah, of course."

I'm like, "Are you a pro?"

He said, "Yeah," and I said, "Then friggin' act like it. Stop screwing off."
From there Kevin designed a system for Kenny that made sense. Before long he was also working with Stephan Bonnar and Marcus Davis. Over the years the list of names would grow to include Alberto Crane, Din Thomas, Daniel Gracie and more. Kevin also created DVDs so he could share his systems with every day people and fulfill on his passion to inspire health and wellness. Before he knew it, all of his passions were in full force. As Kevin explained:
I'm very fortunate to work with everybody that I work with. I'm very fortunate and proud of the fact that I can go to a UFC Expo and people will say, "I love your stuff." Giving back to the people, giving back and doing my job – you know, my job is to be of service, and that's an accomplishment.

I can't stand being away from my family. I'm hopping on a plane on Monday to go to Japan. I'm going to Japan! To perform a certification! If you had told me that three years ago I would have said, "Nah, that's never going to happen." I've wanted to go to Japan since I was eighteen. And I'm getting paid. I'm getting paid to go to Japan to teach a certification. The flight's going to be long and all that other crap, but you know what? I'm going to Japan!
As for other aspiring trainers, dreaming of travelling the world, or walking out to the cage with professional fighters, Kevin had some advice to share:
I would say first, is this what makes your heart sing? Because if this is what makes your heart sing, don't worry about the money. The money will follow. Do what you love. The money will follow.

The second thing I would tell them is to start small. Stay in the framework of: if you can't do big things in a great way, do small things every day. Start with the small things. Get an education on this. If you think you want to just jump in and create fighters right away, okay, let me explain something to you – number one, they don't have a lot of money. So, it may not pay the bills.

I would also say, study, study, study. And have a clean slate. I'm saying this to say, "color outside the freakin' lines." Think outside the box. So what if it's crazy or ludicrous? So what? Just try it. All they have to do is stay safe. I tell trainers there are three parameters: effective, efficient, and safe. That's what I want you to think about with a client. Not what you want to do, what they want to do.

Another thing I tell a trainer to is to have some personal depth. And be ready to work hard, because this is not an easy job.
And having taught over two hundred certifications in the last four years, Kevin knows the meaning of had work. In part two of this interview, learn more about Kevin's mission to bring MMA-style fitness to people who don't want to get punched in the face, what it really takes to be a trainer, and what his intentions are from here on out (Hint: Kevin doesn't exactly think small!)
Click here to get started on your four weeks of free workouts with Kevin.
Read part two: Featured Coach: Kevin Kearns, Part 2 – Everybody Has a Good Fight
Read our review of Kevin's "Burn With Kurns: MMA Strength & Conditioning" DVDs