We receive free products and receive commissions through our links. See
disclosures page
.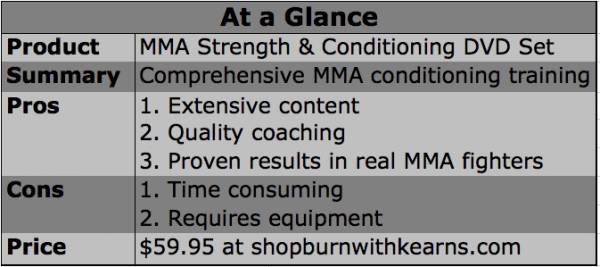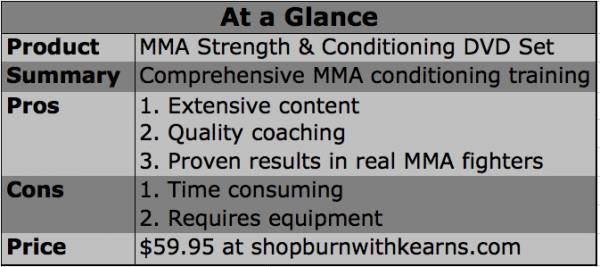 Is there a more natural training modality that fighting? I'd argue that running and fighting are the closest modern training methods to what's truly engrained in our DNA. With that comes an incredible neurological connection. Fighting, by nature, demands the limits of one's abilities because the opponent is also fighting for survival.
With that in mind, there is a ton of crossover to other sports from the fitness that comes with preparing like a fighter. Coach Kevin Kearns, the creator of the Burn with Kearns: MMA Strength & Conditioning DVD training set, seeks to prepare his students for any sport with workouts that are used to train fighters. And he should know what that takes as he's trained over a dozen fighters for the UFC. One glance at the DVD set, and you'll feel overwhelmed by wealth of his knowledge. The DVD case surprisingly fits six separate training DVDs.
Each DVD has its own unique photo collage of athletes amid high intensity training with sandbags, medicine balls, weight vests, and barbells. Some even feature an athlete squaring off with a worthy adversary. The DVDs are also named specifically with powerful descriptions like, "Gas in the Tank" or "Strength and Hypertrophy – Laying the Foundation."
Following the DVDs in order I popped in the Strength and Hypertrophy disc first. Kevin explains that these DVDs will build through three phases: Strength and Hypertrophy: Laying the Foundation, Explosive Power, and Gas in the Tank: Outlast Them All. Immediately the DVDs feel less like a standard "jump around in front of the TV" aerobics. Coach Kearns tells the viewer that they will not only get fit, but they will learn.
This learning starts (as it should) with a quality warm up. The warm up includes mobilizations and activations. And, just like I described above, your perspective as a viewer of the DVD make you feel like you are in the room with the coach as opposed to watching an exercise leader from the outside. As an athlete, this felt genuine, authentic, and quite refreshing.
With an aim to build the requisite strength and fitness level to train like a true fighter, this DVD gets things going with a bang. Even thought this foundational DVD is a stepping stone to more graduated training, it isn't for the faint of heart. You'll perform one legged deadlift kettlebells, press dumbbells, and even swing hammers. I'm not a fighter, but I can claim a pretty high level of fitness. This high intensity session left me with nowhere to hide. It was tough, but what struck me was that doing everything in the video amounts to quite a bit of volume. I think we all know that being an athlete is a time consuming endeavor, however.
More specific DVDs in the set like "Partner Drills" have the same aim, which is to build true fitness, but with a more narrowed approach. I personally think partner training is more important than having a good coach, even. Beyond understanding basic, safe training principles, training with a good training partner is a game changer. Luckily for us, Coach Kearns has an entire DVD that helps facilitate partner training. Whether you're working while your partner is resting or utilizing each other for resistance and/or intervals, I think "Partner Drills" makes the entire set worthwhile.
The entire DVD package has over 8 hours of content. There is no shortage of quality training here, there's no doubt about that. There's also no doubt in my mind that this combo pack has the ability to improve general fitness and performance across a multitude of areas. What seals the deal for me, however, is that Burn with Kearns, doesn't stop there. You get the benefit of what I like to call "Training 202." DVDs like "Gas in the Tank," for example, get past skin deep and begin to develop specifics that often get generalized in the world of DVD fitness videos. "Gas in the Tank" will help you master the 5-6 minute time domain, for that edge against an opponent in the ring. I've personally only seen Burn with Kearns facilitate that kind of attention to detail.
As for who Burn with Kearns: MMA Strength & Conditioning is appropriate for, part of me wants to say anyone who is motivated should/could utilize this package. My only concern is with those who wouldn't consider themselves athletes. These progressions are long and comprehensive, which is good if you're a motivated athlete. Unfortunately, some less trained men and women likely won't stay around long enough to reap the benefits of Coach Kearns' coaching.
On the flip side, I began viewing these DVDs not just as an athlete, but a coach as well. As I mentioned earlier, Coach Kearns takes the role of coach in these videos, so the viewer feels drawn into technique and instruction as opposed to just a tough workout. I wouldn't shy away from encouraging trainers and coaches to purchase this set as a reference for quality functional training with their own athletes.
The entire Burn with Kearns: MMA Strength & Conditioning set is available at shopburnwithkearns.com for $59.95.