Photos provided by Danette "Dizzle" Rivera and Food Forward.
I pulled up to a neat, one story house tucked away in a bedroom community of the San Fernando Valley. A rectangle of grass lay before the front door like an area carpet, and a woman with exploding white hair and a housecoat stepped onto the porch waving a frail hand toward the backyard. Paula, a pick leader from Food Forward, was unloading long poles attached to oblong cages from her car. She waved back and smiled.
We were there as volunteers representing the non-profit Food Forward to harvest a pink grapefruit tree that stood fifteen feet tall in the older woman's backyard. The tree was too big for the woman to handle herself. In past seasons, most of the fruit had fallen to the ground to rot. Sure enough the tree was dotted with a good amount of yellow-pinkish fruit. There were many green spheres, too, that would be ready next spring. Paula and I ran the caged poles up the branches and twisted off the ready ones, plopping them into a cardboard box until it was stuffed with beautiful ripe fruit. The bright tang of their scent now swirled through the yard.
The significance of the pick was not just that we had helped the woman glean her tree – which was certainly helpful in itself – but the two full boxes we had gathered from the one tree would be delivered to a food bank or food pantry for immediate use by families or individuals in need – recipients who are often short on sources of fresh food.
This is the simple, brilliant premise behind Food Forward: locally grown food from private homes and public spaces is harvested for the hungry. Fresh food sustainability, urban hunger issues, and food waste are all addressed with one thoughtful connection.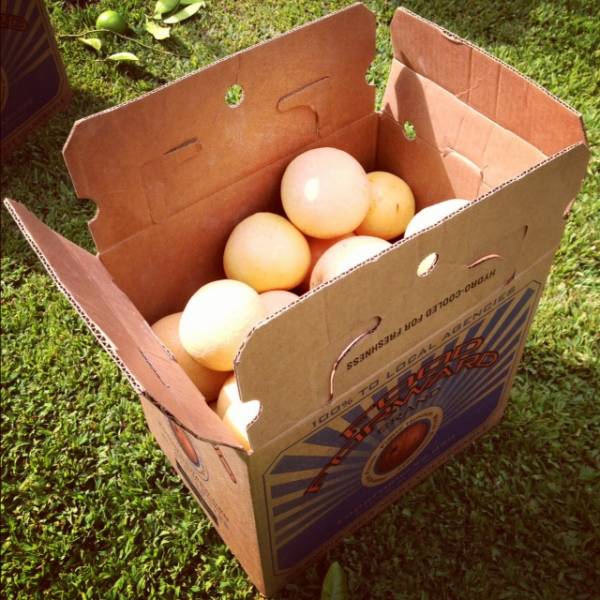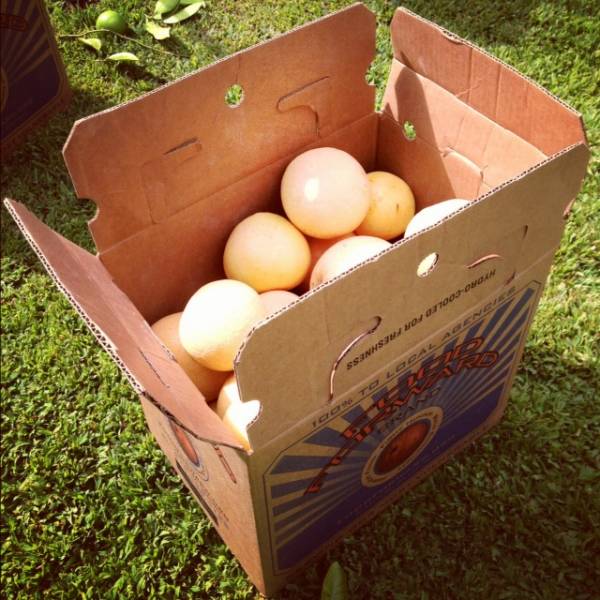 Before Rick Nahmias officially founded Food Forward in 2009, he often walked his dog in his own neighborhood in the valley and noticed the details. He is a photographer and art is often discovered in the details. The most needling observation he made however was the rotting tangerines that had fallen from a neighbor's tree and littered the sidewalk. He had the idea to rescue the fruit. Rick asked the neighbor if he could pick the tree to donate the tangerines to a food bank. With that first pick, he harvested eighty-five pounds of fruit and immediately delivered it to SOVA, the nearest food pantry.
Food Forward now distributes fresh food to thirty agencies, large and small, across Los Angeles County, from SOVA and MEND to smaller soup kitchens. Food Forward is almost all volunteer-powered and has two thousand active volunteers. There is an integral partnership between those giving their time to harvest and those who have registered their trees to be gleaned. Hundreds of properties are registered in the San Fernando Valley and now Ventura County from single-tree properties to orchards. Their largest location is the orange grove of California State University at Northridge where once a year, with the help of CSUN students, they yield over two thousand pounds of Valencia oranges.
Interestingly, not many properties are registered on the west side of Los Angeles. "Private properties in the valley are typically bigger and have a long history of trees on properties," said Meg Glasser the managing director of Food Forward. "We are always looking for more places on the west side."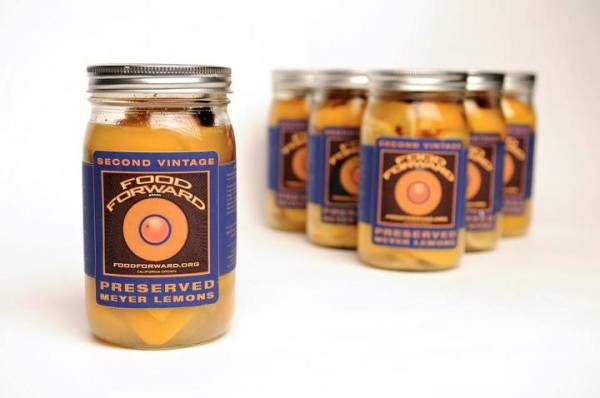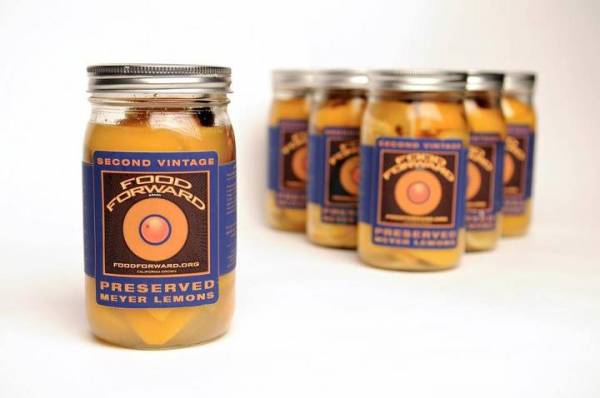 Meg also manages Food Forward's CAN IT! program, which is a series of food preserving workshops meant to address sustainability and food waste. The four half-day workshops focus on gourmet jamming, goat cheese-making, backyard orchard care, and raising chickens. The workshops are a fundraising effort as are the preserved Meyer lemons sold on the website.
Food Forward's latest program is the Farmer's Market Recovery Program, which launched just this last week. The program works to collect unsold produce from local farmers markets and distribute it to hunger relief agencies around Los Angeles. Already involved are farmers who sell at the Wednesday Santa Monica market, the Sunday Studio City Farmers Market and the Sunday Atwater Village Farmers Market.
This past Saturday, Food Forward harvested its one millionth pound of food; one million pounds from the community for the community. Those one million pounds translate to four million servings of fresh food that would have otherwise gone to waste but instead nourished those in need. Food Forward has taken a simple idea and turned it into an efficient and impactful program. They have mainly harvested the idea that our most basic untapped resources are often right under our noses, and they can make a huge difference in the health of our communities.
For those of you in Southern California, find out more about volunteering or registering a property by visiting the Food Forward website. Similar programs exist in cities across the country.