For two hours between 7:00pm and 9:00pm on Tuesday August 19, 2014, the stars aligned to cause an event that itself caused ripple effects across time and space: the new fitness league, GRID, premiered at Madison Square Garden. For those two hours, idiots and ice buckets ceased to fill my Facebook newsfeed, and Williamsburg ceased to be the world's capital of absurd tattoos.
Let's Get Politics Out of the Way
I'd been following the politics associated with the new fitness league for the months leading up to the premier, and was aware that CrossFit HQ had issued an edict forcing their staff to choose between employment with them and competing in GRID. I had also become aware that the major supplement sponsor to CrossFit had began a campaign of persuading their sponsored athletes to stay away from GRID – and when that failed, they outright threatened athletes with loss of sponsorship or worse. I've no stomach for the latter, and it should suffice to say that this company ought to be more concerned with RICO than GRID.
GRID at the Garden
Madison Square Garden is sacred ground in the world of sports. The National Basketball Association and National Hockey League have both held their championships here. It's where Joe Lewis was TKOd by Rocky Marciano and where Muhammad Ali had his first fight after refusing to enter the draft, followed by his victory over Joe Frazier. In the world of sports, there is no arena that can claim equal footing with Madison Square Garden.
Unfortunately, with a match starting at 7:00pm, rush hour traffic would have to be braved by anyone not already in the city. Here in New York City, rush hour can start as early as 4:00pm, and can end…well, it can end whenever it wants. Sir Ernest Shackleton once turned down a lucrative consulting job in the financial district purportedly because the commute was more than he could endure.
Nonetheless, after a two-hour ride that found us traversing approximately ten miles, I and the owner of CrossFit The Rack (henceforth referred to as Sully) found ourselves at the Garden. With a capacity of just under 20,000 people, it was far from packed. But in the middle of a humid summer, sitting in air conditioning for two hours is indescribably preferable to baking in the sun at the StubHub for half a week (which I did earlier this summer, as well as last).
Most of the crowd was easily identified as belonging to CrossFit boxes from the area, as they sat together in their various tribes. Honestly, this is a good night out for a local box, and while I recognized many of the gyms in attendance and a good deal of the people (I've ref'ed at many a local throwdown), I was actually surprised that more boxes didn't make this a full night out. Perhaps five to ten of the staff and membership of a given box can feasibly make it out to Carson for the CrossFit Games each year (if that), but with GRID, everyone could spare a night to hang out and watch the races with their box-mates.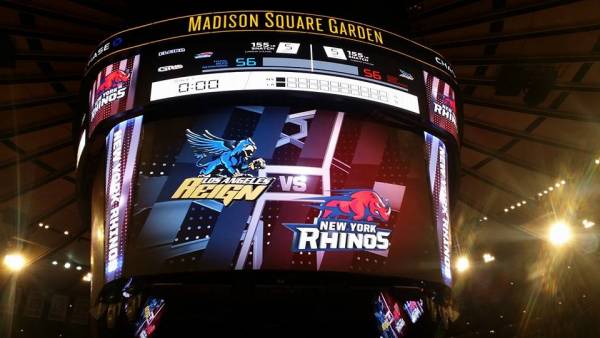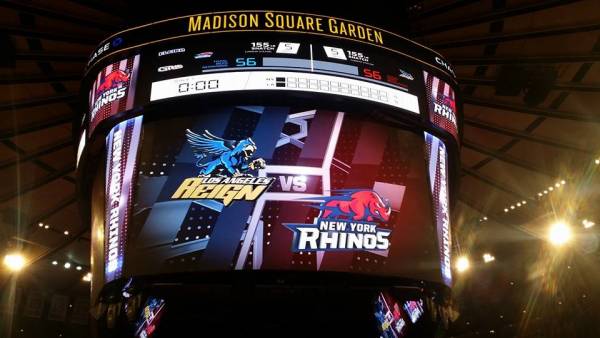 Having an indoor venue allows for a far better experience to the spectators, in my estimation. Besides climate, there was a four-way Jumbotron suspended from the center of the roof, which provided fans* the ability to see the action in greater detail. Additionally, the data provided by the screens (rep count, current points, placings, etc.) was essential to following the action. In this respect, the digital media on display was as slick and well produced as you'd see at any professional sporting event.
Conspicuously missing were player profiles, which is a staple in most other sports, and while I recognized certain people from past events (CrossFit Games Athletes like Bryan Diaz, former champions like Iceland Annie and Kristan Clever), I'd have liked to see their names, stats, and past accomplishments (think NFL style, where they give you height, weight, and professional accomplishments). I suspect that the relative youth of the league and the desire to not mention the C-word factors heavily into this decision.
(*Just to be clear, I'm not counted in this group, I'm not a fan of competitive exercise under any brand.)
The GRID Competition
The format of the event itself was fast paced. There were a set number of races with different elements to each race, with the first team crossing the finish line winning. Winning a race is worth two points, finishing second is worth one, and not finishing under the time cap is worth zero points. Hence, even after one team wins, the other team is incentivized to keep working. Most events were a photo finish, and I can only remember one where several seconds elapsed between the first and second place.


Some of the events were recognizable like the clean ladder, while others like Echo (which involved repeating the event twice) were exactly what I'd expected based on the name. Others…well, let's just say that the Women's Trio got my hopes up, but was totally not what I was expecting. However, Kristan Clever is another great field marshal on the Reign, and you could see a real esprit de corps when she was a third of their trio in the aforementioned event.
The dynamic of team sports is generally far more interesting to me than individual sports, and while the format of team play at the CrossFit Games involves an entire team, the format of GRID brings the team together in its entirety at certain points, trios at others, and co-ed pairs at still others. There is a strategy aspect found in GRID that I believe is lacking in the team competition at the CrossFit Games. In other words, I believe GRID to be far superior to the team competition seen in Carson.
Part of that assessment is the interplay seen on the field. I can't remember what events Chris Dozios of the LA Reign actually participated in, nor do I know if GRID teams have a captain, but he was the de facto leader. Likewise, you could see the Reign's intensity go up a notch when Becky Conzelman was in action.
Part of the allure of team sports, besides the cooperative aspect of teamwork being infused with the competitive aspect of sports, is the ability for individuals to express themselves, and make standout plays. Irving Hernandez of the Rhinos managed exactly that, when he finished forty unbroken pull ups, in an event where the Reign was forced to substitute players to hit the same number of repetitions.
Obviously this is where strategy comes into play, as does the draft – because the LA Reign had failed to draft a bodyweight specialist who could compete with Hernandez. He pulled the unbroken pull up trick more than once, and made the bodyweight portions of the races a virtual non-contest. His teammate Elijah Muhammad managed a similar feat with his rope climbs, jumping to a point on the rope that put him four pulls from the top, and even going back to do one for a teammate to insure a fault wasn't called.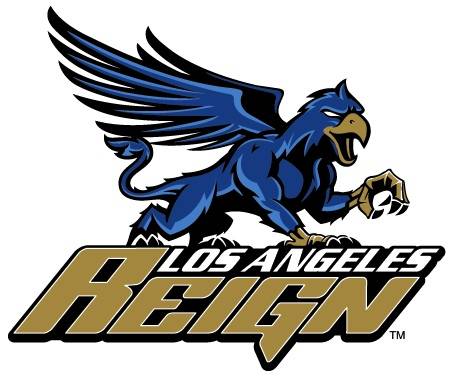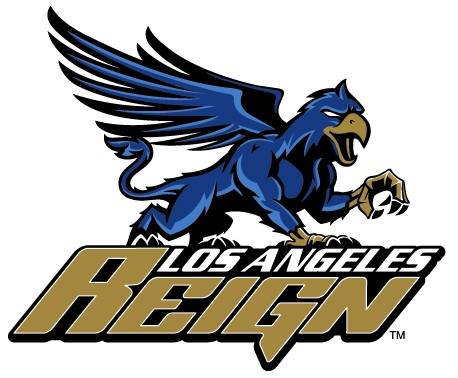 The Drama of the Challenge Flag
Rules were explained (sometimes well, other times not) by our hosts for the evening, Christmas Abbott and some guy with a black hipster fedora. General banter was reminiscent of the movie Dodgeball. Christmas handled most of the on-field interviews, which were conducted primarily during the setup between races, and with a two-hour format, really made the downtime unnoticeable and the transition between events seamless. Some rules, like faults or technicalities, warranted a bit more explanation, while once would have been enough (but apparently wasn't) to explain that indeed, a chest-to-bar required that the participant's chest had touched the bar.
Depending on the fault (like a no rep) and where it occurred, a team can finish second without even knowing it. Of course, this may lead to a challenge flag being thrown, and this was one of the brilliant aspects of the night, as Ian Berger approached the GRID with a red flag and a collective cheer rose from the partisan New york crowd. Everyone knew what was going down, as we've been conditioned from watching the NFL. It was a brilliant move to rely on known aspects of other sports to make GRID rules instantly accessible to the viewer. Execution of the challenge and instant replay, plus the ensuing do-over/mulligan? Needs work.
Berger, in his artfully askew open collar and devil-may-care five o'clock shadow, strikes me as the guy who would have had an oversized tie knot a few years back, and perhaps a faux hawk. His effort to (vaguely) answer Abbott's question on his use of the challenge flag elicited a polite smile from her, as he issued a rambling explanation that included the words basketball, bad call, and a warning to the refs to properly count the double unders on the next event, prompting a look from my friend Sully and a "Did you hear that?" His team looked entirely leaderless, especially with Dozier's Reign standing next to them.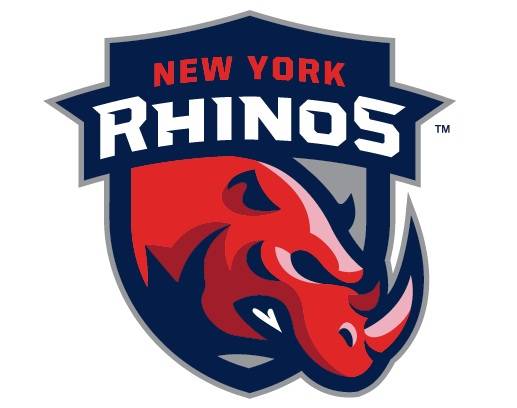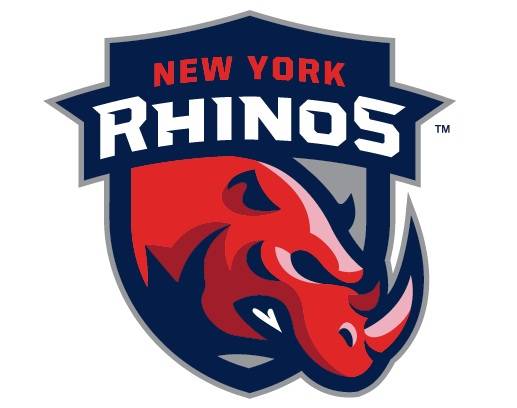 My Conclusion on GRID
I've been to most types of New York City/New Jersey professional sporting events (Yankees, Devils, etc.), and the GRID production value was on par with any event I'd care to revisit. The pace is fast and it doesn't leave you waiting for the next heat or the next gender, or whatever (in my case, waiting to go home). In contrast, sitting through the 2013 rope-climb event at StubHub was a long, drawn-out affair, with multiple heats and genders, and just an awful experience (even though the evening temperature was bearable).
If you dig competitive exercise or fitness competitions, are into local throwdowns, watch or go to the CrossFit Games annually, or even just have a membership at the local box, this is more than worth your time. The season is short, matches are quick and fast paced, and the production value is where it needs to be. I'm guessing the inaugural season is going to be a huge success and the second season will be even better.
Photos 1 courtesy of Anthony Roberts.
All other photos courtesy of the NPGL.