It's almost like a bad word, cancer. You never want to hear that word after a visit to the doctor. But I did, shortly after moving across the country as a newlywed army wife. The radiologist called me up that day and said those three little words. "You have cancer." I was 32 and fighting breast cancer.
I thought, "This really can't be happening to me!" I'm young, healthy, and active. I don't drink or smoke. I exercise regularly, eat healthy, and have no history of cancer in my family that I'm aware of. The truth is that if this can happen to me, this can happen to anyone. I was the last person to get diagnosed.
My world quickly turned upside down. That was the longest year of my life. I lost my breasts, hair, feminity, health, career, lifestyle, and later husband. I spent a lot of time alone and very ill. It was a gift just being able to feel well.
Some days it took everything I had just to eat (and by "eat" I mean consume a cracker). I couldn't relax and spent countless hours trying to just manage my pain and symptoms. You can imagine that sometimes the highlight of my day was walking my dog around the lake. I would watch my husband play countless hours of Call of Duty and it didn't even phase me.
To get through something so traumatic and life altering, you need something to rely on. There are many people and things that helped me along the way. It was the small gestures and moments that helped me keep my spirits up when I felt I couldn't continue.
During my treatment, I turned to yoga classes and other cancer survivors. I didn't feel normal enough to go to yoga at the gym and was vulnerable to infection, so I joined the survivors class. It was the best thing I ever did for myself during that time. It was like a mini support group, and the love that I felt there helped me immensely. I was able to make only small movements, focusing on my breathing and relaxing on my yoga mat, but it meant the world to me.
I decided that after breast cancer I was going to become a yoga teacher. After all, I had nothing to lose after I had lost everything. Shortly after my husband deployed to Afghanistan, I moved to Brooklyn and got my yoga certification. I'm now teaching seven yoga classes per week at four different locations, including a free yoga for cancer survivors class in Quincy, Illinois. This is what I envisioned!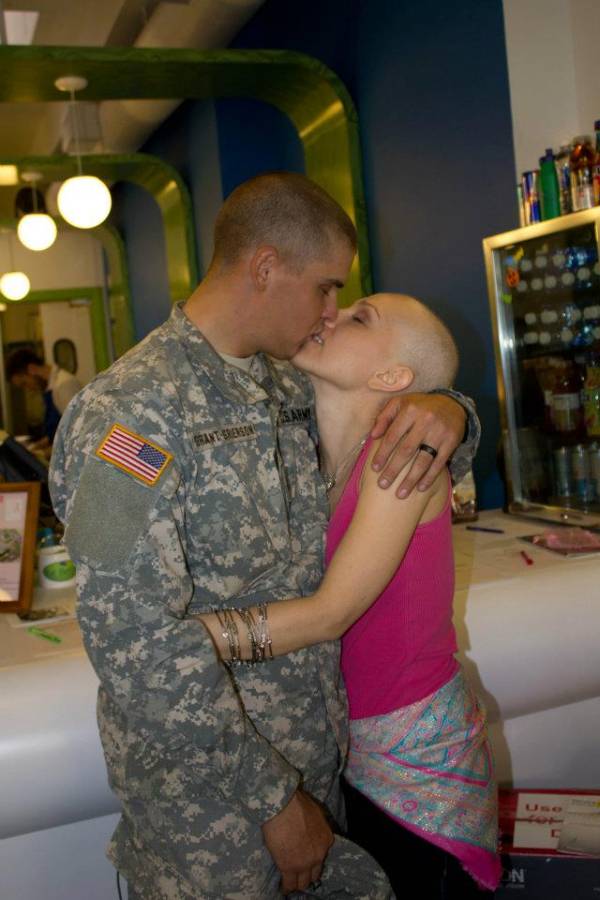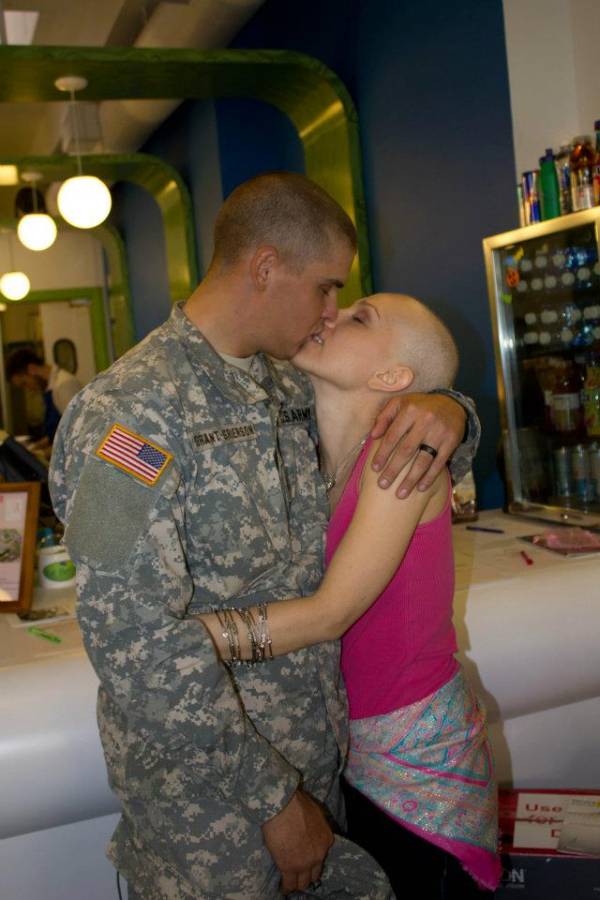 I became a yoga teacher first off because I love it, but ultimately to give back. Yoga carried me through my illness and literally saved me. I don't know what I would have done without it. At the time, I could only imagine what it was like to be able to teach others yoga. Now I'm standing on the other side of the mat, changing lives and helping others.
Yoga isn't just a physical practice. Once you begin the practice, you start noticing how your life changes for the better. After yoga school, I just quit eating meat altogether. I couldn't eat it anymore. Not to say that if you practice yoga you will go vegetarian, but your life just changes.
I had one of my students tell me that he started feeling more in tune with things and had a keener awareness. He really couldn't describe it very well, but he wanted to know if that was normal. He was fairly new to yoga and never had this experience before. Yoga introduces people to not only the physical practice, but the spiritual and meditative side.
Shavasana, the meditation, is probably one of the most important aspects of the practice and yet we generally only set aside five minutes at the end of a session. One of my student's jokes about coming "only for the shavasana," but there's definitely some truth in that. My meditation includes a lavender massage, but there's a lot more to it. It may be the only quiet you have all day, or it may be your first quiet time ever.
How yoga helped me through cancer:
Yoga met me at my level: It didn't matter that I couldn't move much or that I was bald and sick. I could practice yoga at the level I was at and nobody cared if I didn't have any hair. The other students would hug and encourage me, and I would walk away feeling better than I did before.
Yoga found me: I found my passion and career through yoga. I never thought that I would have the opportunity or be able to be a yoga teacher. The drive to help others through yoga helped me see that as a possibility.
Yoga gave me breath: With cancer comes a lot of moments of holding your breath. You can be so full of fear and negativity that you find yourself not breathing or relaxing at all. Yoga reminded me that nothing else mattered except breath.
Yoga moved me: Not only did I physically move my body, but my mind and soul moved to different levels. It's an individual and spiritual experience that's difficult to describe. Yoga makes my heart sing. It changes my life from the inside out and I do things I never thought possible.
Yoga carried me: When I wasn't able to walk, function, or live, yoga was my rock. I could rely on yoga every week to help me through. When my husband or family wasn't there, yoga was, and I could take it with me.
Yoga has become one of the most important aspects of my life. When people comment on my Facebook page, it's all yoga-related. I eat, drink, and breathe yoga. Yoga is my life and I've got to say it's pretty good. I wouldn't have it any other way. I'm a true yogi to the core.
If you're a cancer survivor or know someone who is, try yoga. It could mean the world to you, too.