We receive free products and receive commissions through our links. See
disclosures page
.
I always have tightness in my shoulder blades, always. Sometimes it's worse than at other times, but it's never good. This past weekend I was looking for some real, immediate relief from my usual tightness and the CFF Physio Ball from CFF Fit was my go-to.
The CFF Physio Ball is a dual massage and mobility ball that can be heated or cooled for best results. The ball itself looks more like a dumbbell, with two round ends and a small piece connecting the two. It is made of a rubber-like material and the ends are covered in nubs to help stimulate your muscles. The ball can be used against the wall or on the floor.
The CFF Physio Ball is designed to stimulate muscle knots and activate pressure points to provide relief from tension and to assist in relaxation and circulation. The ball can be used on the neck, shoulders, arms, feet, all portions of the legs, and the back. I found it particularly useful up and down my spine to release tension in my trouble spots.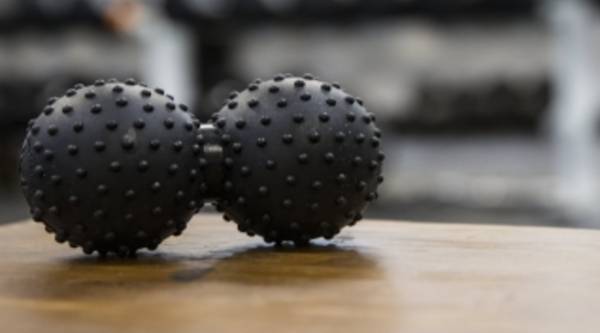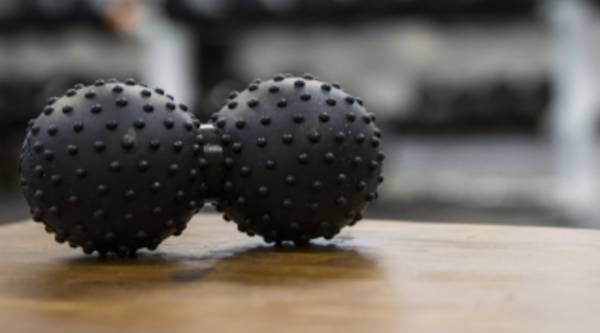 Thumbs Up for the Physio Ball
I really like this mobility tool and it might be my favorite mobility tool yet. As compared to other balls I've tried, this one fits my spine and back the best and provides the most overall relief over a large area. The texture and comfort of this mobility ball is surprising because it looks like it would be uncomfortable, but it has just the right amount of firmness and give. The outer texture grips skin or clothing to roll well while staying in place, yet it isn't too hard or uncomfortable if you apply a lot of pressure to dig in deep to certain areas.
CFF Fit's website suggests taking the Physio Ball in the car to provide lumbar or back support while driving. I actually tried this and it was wonderful. Some car seats tend to sink in, causing rounding in the back and neck, but by placing the Physio Ball in multiple locations up and down my back my ride home from a long trip in the car was much more comfortable, even with my cranky shoulder blades.
Honestly, I would give this mobility tool a try. CFF Fit offers a 30-day 100% refund return policy that ensures customer satisfaction, so there really isn't a risk to try this ball. The only downside to this mobility ball I could find was that the material does collect hair and dirt, so if you use it on the floor, be prepared to clean it off afterwards. I will be using this ball daily and will travel with it in the future whenever possible.
CFF Physio Ball At a Glance
Features
Comfortable surface with nubs to increase circulation

Multiple sizes for user preference

Can be heated or frozen, if desired

Improve mobility and releases lactic acid build up

Price
$18.99 – $32.99, depending on size chosen