Jesse Bellevance, owner of Killer Bee Kimonos, understands first-hand the value of knowing self-defense. Recently I had the chance to speak to Jesse about how he got his start in martial arts. Turns out, an unprovoked attack inspired his first steps into the martial arts world:
I fell into BJJ by accident back in grad school back in 1996. It all began when I was driving to a supermarket of all things to pick up some yogurt for my Mom. Pulling into the supermarket I almost hit these two drunken guys stumbling across the road from the neighboring bar. I blew my horn and weaved around them but they decided to follow me back to my truck which was now parked in the supermarket's parking lot.
As I was walking to the store from the truck, they surrounded me and starting hemming and hawing about why I honked my horn at them. I was trying to talk the one guy down when his friend punched me in the side of my head. Funny thing is, instead of hitting him back I punched the guy I was trying to talk down instead. After that I have a hard time remembering what happened until I was holding the guy in a modified head lock. I mentioned to them the police might help us resolve our situation and they got spooked and ran. They were later picked up down by the 7-11″ and arrested for assault.
After that I went through the whole phase of wanting to defend myself. So I signed up for a martial arts class in town that taught kung fu. The class was great, but I noticed there was another group that would come in and put mats down on the floor and wrestle. My kung fu instructor was very open-minded and suggested I try it. I did and was hooked into BJJ for the next sixteen years.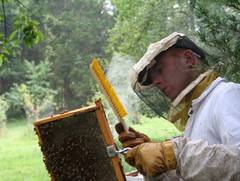 In January 2010, Jesse founded Killer Bee Kimonos. I asked Jesse (pictured to the right) what behavior specifically makes the killer bee similar to a Brazilian jiu jitsu fighter. He replied, "Honey bees are defensive by nature and will only attack if threatened or disturbed. Killer bees are actually regular honey bees but hyper defensive to an excessive level of intensity. They are also very persistent in following you when you have been marked with their targeting pheromone. Normal honey bees may only chase you for about fifty to a hundred yards, stinging you merrily along the way. Killer bees will follow you up to a mile and in far greater numbers. It is almost like an off/on switch with them. The aspect of their nature of not attacking unless provoked, and when they do attack using such overwhelming intensity appeals to me."
I read a lot of Brazilian jiu jitsu gi reviews and one comment that I always see about gis priced under $140 or so is, "great value for the money." Although most of us don't know how much it actually costs to make a gi, we are usually in agreement. Jesse, however, is not, as he noted:
I know how much a gi really costs after import duties, taxes, etc. I sell them for a comfortable level of profit for myself and will not go lower than that except on a special occasion such as a holiday sale. It is one reason why I have a hard time selling wholesale. Other companies may charge $180 for a gi and offer a wholesale price of $120. I am not able to do that because my prices are already as low as I need them to be for the level of profit I want to make. Basically, people can buy from me at an almost wholesale price compared to what other companies are charging.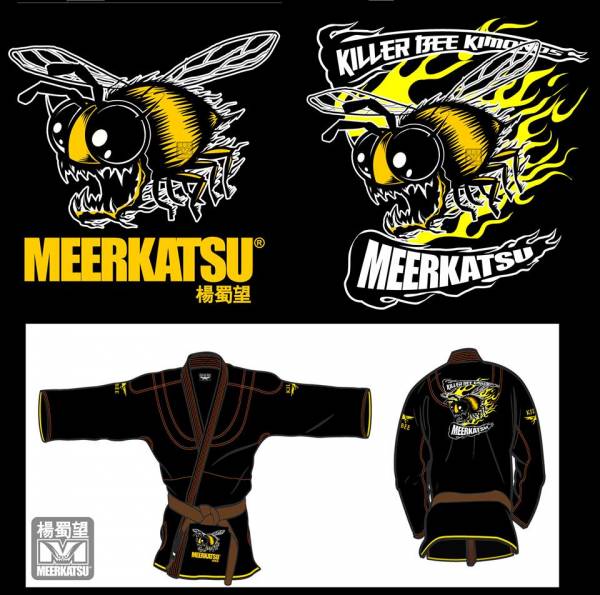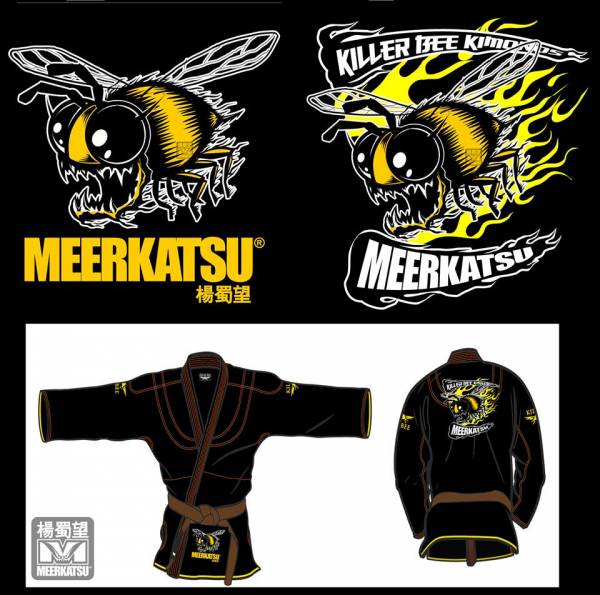 Killer Bee Kimonos range in price from $80-$130. Jackets and pants are sold separately in different weights and sizes. The jacket weaves are named for honey bee subspecies, the lightweight Ligustica killer bee weave, (comparable to a pearl weave), the Meliponini single weave and Scutellata gold weave.
According to Wikipedia, the Italian apis mellifera ligustica is such a badass it may have survived the last Ice Age. The apis mellifera scutella are the African "Killer Bees" are easily agitated, quick to attack and have been known to sting humans to death. The Meliponini, on the other hand, is a tribe of stingless honey bee. I'm sure they would be just as deadly as the other bees if they trained BJJ.
For those of us who have a hard time finding gis that fit or who enjoy being creative, we can build our own gi at the Killer Bee Custom Gi Builder with the following choices for only $160:
Jacket, sleeve and pant length measurements
Male or female cut
Three gi colors
Three weave types
Two pant types
Thirteen contrast stitching colors
Custom embroidery with six standard options as well as any font on dafont.com
Custom logo embroidery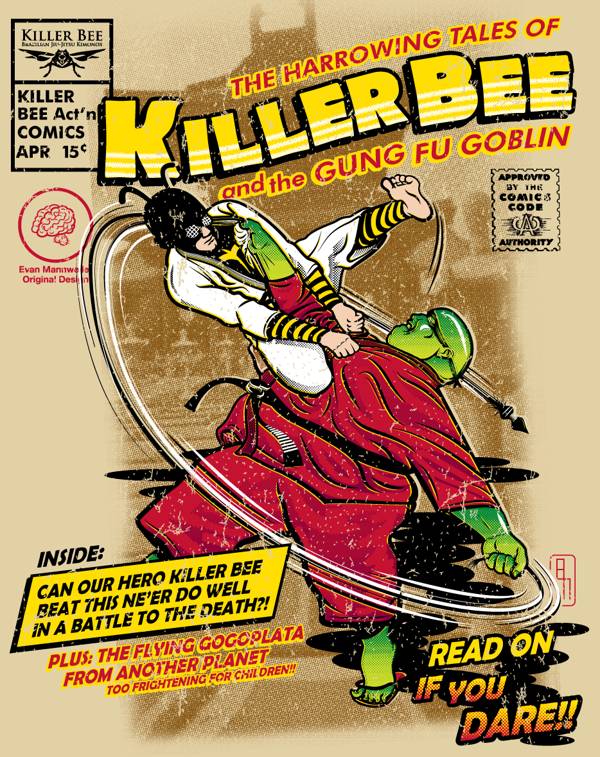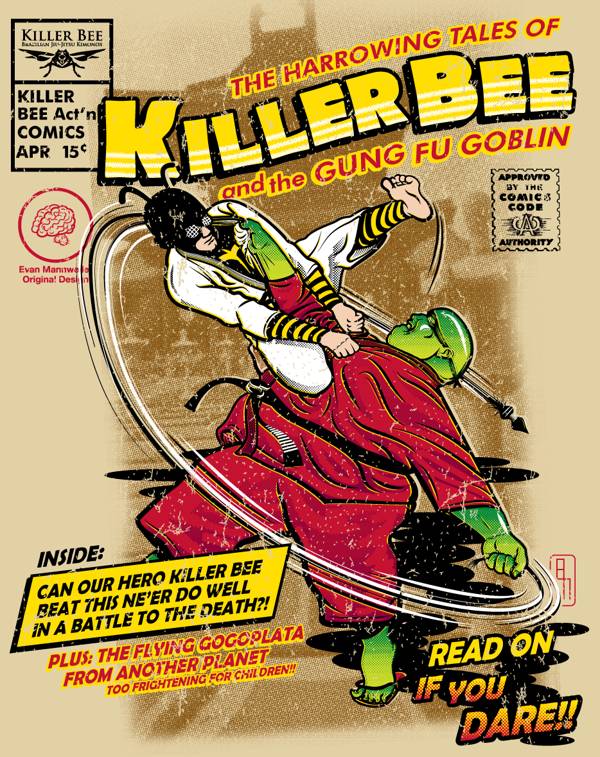 Gear designer and reviewer Seymour Yang has recently discovered the custom gi option at Killer Bee and has documented his design and ordering process. The mock-up he created looks amazing – see the above picture! Where a no gi line is in development at Killer Bee, don't you think a Killer Bee rashguard designed by Meerkatsu would be the best thing ever? Or a rashguard with the same design as the Killer Bee t-shirt on the right designed by Evan Mannweiler? Why is this t-shirt only $10?
I've owned three Killer Bee gis so far: the kid's gi, the women's gi and a custom gi. All of them are top quality, but the custom gi has all but eliminated my sizing issues. If you're interested in Killer Bee custom gis, be sure to visit the gi building site and use code CUSTOM15 to save 15% on your order.
Here's a quick calculation of the cost for a custom gi. With the discount code, you can get a custom jacket, two pairs of pants and a custom belt for about $190. For off-the-rack gis, like Killer Bee Gis on Facebook and save 10% with code FACEBOOK10. The Facebook code makes the women's gi approximately $85.