We receive free products and receive commissions through our links. See
disclosures page
.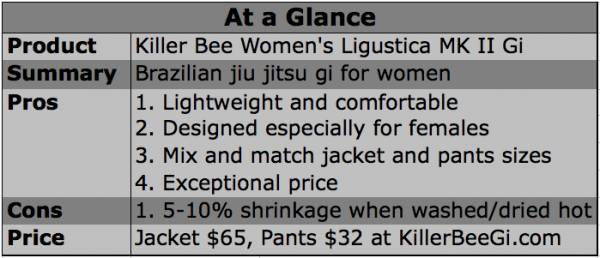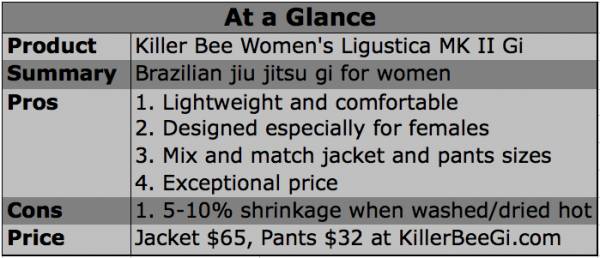 I've always been a big fan of Killer Bee Gis Ligustica MK II. Because adult gis are often too big for me, I bought one of their children's gis a few years ago and it quickly became one of my favorites. Unfortunately, I shrunk it too much with hot washes and dries, and I ended up donating it to the children's BJJ program at Marmac Athletics. At that time, Killer Bee did not offer women's gis, but since then, due to feedback from their customers, they developed a gi for women based on the Ligustica MK II.
Jacket Features
Killer Bee weave light weight jacket.
Ripstop lapel, jacket edge and inside sleeve cuff taping.
Deep purple custom-embroidered Killer Bee logos at each shoulder.
Small patch on lower left lapel.
Slightly longer skirt slit to allow for easier movement with the hips.
Less fabric at the shoulder to better match a woman's physique.
In addition to triple row stitching, Killer Bee Gis also uses a surging technique to reinforce the primary seam running through the gi. This helps prevent fraying and separation of the seams.
Heat safe lapel includes a rubber foam insert to prevent mat stink.
Pants Features
10-oz ripstop cotton fabric.
Gi pants have 4 belt loops, each end sewn with three runs of sewing for added durability.
Gi pants cuffs are sewn with extra runs of sewing along the horizontal axis for added durability. Additionally a band of ripstop material is used to reinforce cuff.
Rope drawstring
Reinforcement at the seam split at the waist
Double-layer knee reinforcements from thigh to shin
Small patch on the right hip
I am a sponsored athlete of Killer Bee Gis and was sent the Womens Ligustica Mk II White Gi to wear in the Abu Dhabi Pro Trials tournament in Montreal, Quebec. I received the gi the day before I left for the tournament and in my rush to shrink it before I left, I forgot to do pre-wash measurements; the post-wash measurements are below. (If you watch my tournament videos, you can see how the gi fit while in action.)
My Measurements
Gi Model
Post-Hot Wash / Dry Killer Bee Women's Gi
Height
5'0
Gi Size
F-0
Arms Front: Wrist to Wrist
57
Sleeve Length
53
Arms Side: Wrist to Wrist
49
Jacket Height
26
Chest
33
Jacket Width
18
Bicep Circumference
10
Jacket Overlap
12.5
Forearm Circumference
8.5
Wrist Cuff
5
Shoulder to Wrist
19
Armpit
9
Waist
28
Pant Waist
17.5
Inseam
26
Pant Length
33
Thigh Circumference
17.5
Ankle Cuff
8
Calf Circumference
12.5
Crotch Depth
7
Hip to Ankle
31
Crotch Width
10
Weight
112
Gusset width
13.5
Sizing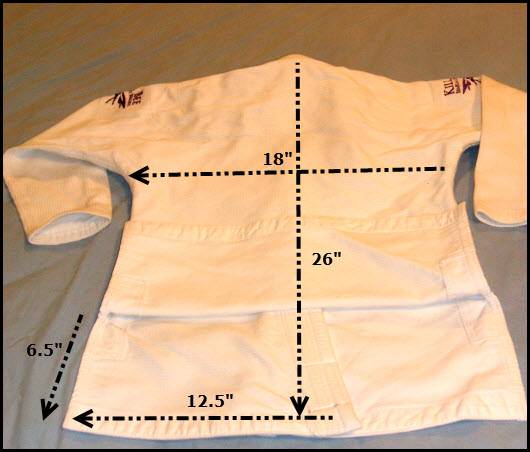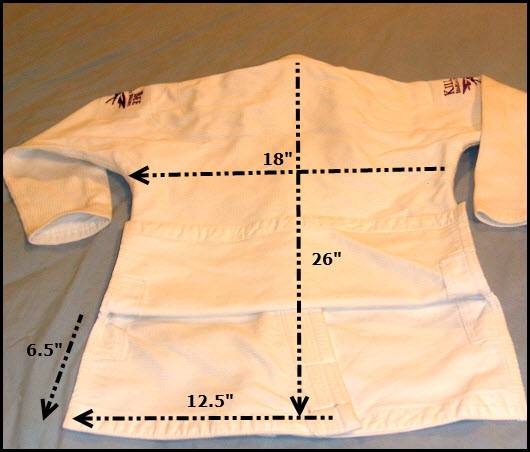 The Killer Bee Women's Ligustica MK II was designed especially for females, with slimmer shoulders and a longer jacket length. The slits at the bottom of the jacket are longer to allow freedom of movement for women with wider hips. Being 5'0 and having very narrow hips, I found the jacket to be about 2 inches too long and the lengthy jacket slits to be unnecessary. That being said, every other aspect of the gi jacket is perfect for my body type. After shrinkage, the sleeves were at the ideal length for my arms and the slim fit of the jacket is a nice change from the baggier men's cuts.
The pants fit comfortably with additional room for movement. I noticed the crotch depth is an inch less than other gi pants on average. Women don't need as much room in that area as men so whether it was intentional or not, I like the feature.
Style and Quality
When the owner of Killer Bee Gis, Jesse Bellevance, was developing the women's gi, he posted several options for the logo on Facebook for women's feedback. Most of us were not fans of the flowery, traditionally-feminine colored options, so Jesse kept the original logo and chose a deep purple for the embroidery color. I'm not a fan of blinged-out gis so the simple design of the women's gi suits me well.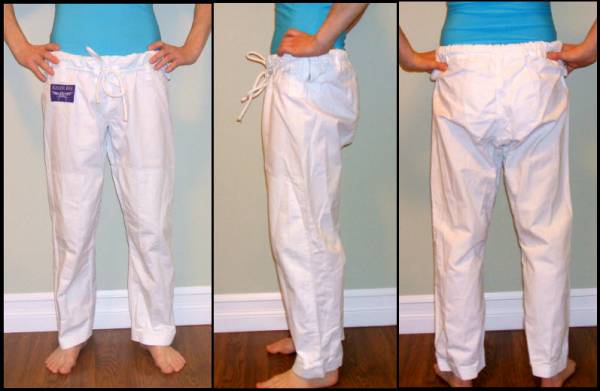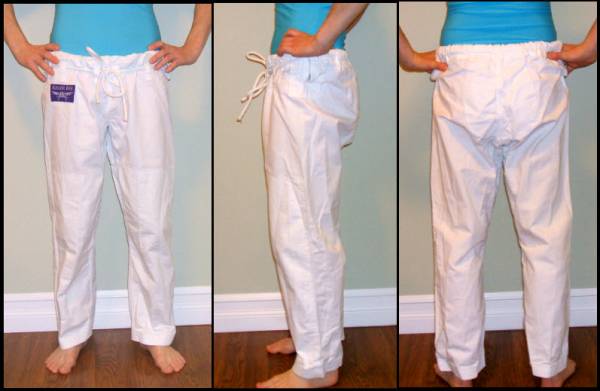 In spite of their light weight, Killer Bee gis are built like tanks. As mentioned in the features, in addition to triple row stitching, Killer Bee Gis also uses a serging technique to reinforce the primary seam running through the gi to help prevent fraying and separation of the seams. Even the belt loops have three rows of reinforced stitching. I've rolled in this gi for about a month and there isn't a thread out of place. The fabric also stays tight and strong when it gets wet during rolling.
Comfort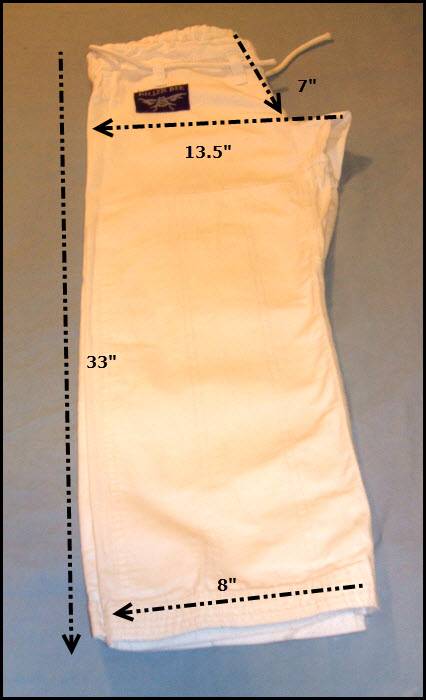 The Killer Bee women's gi is one of my most comfortable gis. The jacket is feather-light and the slim fit is a huge bonus. The sleeves are ideal in length and width, and the inner taping at the cuffs does not scratch at all. As I said, I'm not a fan of the extra length in the jacket. I find that during rolling I do get annoyed at the length, but I didn't notice it at all when I wore it at a tournament. My preference would be to keep the men's-style length and seam splits at the bottom of the jacket.
The ripstop pants are by far my favorite gi pants of all time. I've always been a huge fan of the Killer Bee ripstop and have suggested them to anyone looking for replacement pants when theirs rip. They stay soft and flexible when they are wet and have none of that waxy feel I've noticed in the ripstop used by other companies.
Price
At the sale price of $97, this gi is a steal. The pants and jacket are sold separately, so if you need separate sizes, the order process is very simple. It's also a great option for those who want to buy two pairs of pants with the jacket. The jacket sells for $65 and the pants are $32.
Customer Service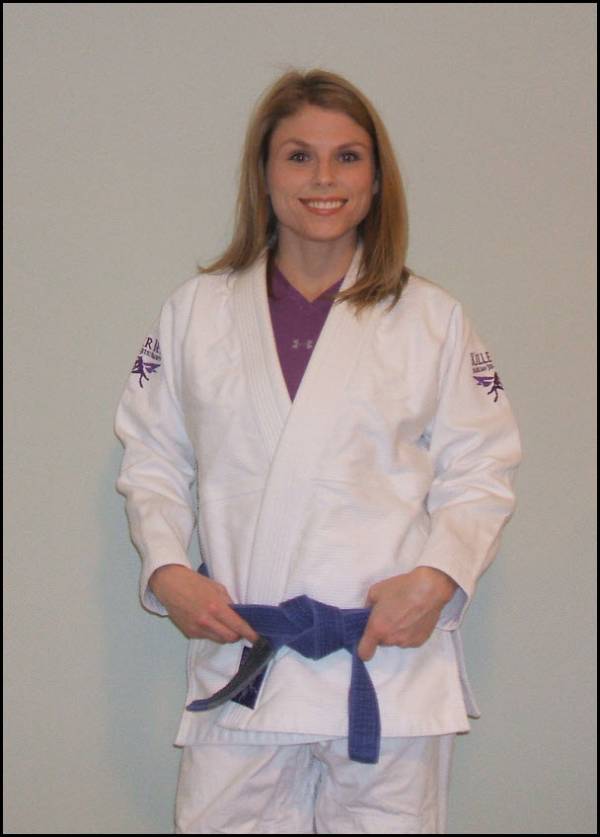 Jesse offers amazing customer service and cares about helping people find the right gi. When I ordered the kid's gi, he helped me with sizing and explored shipping options because of the expense in shipping to Canada. Recently he has even contacted me to help find the right size for other women based on my experience with the women's gi.
Killer Bee Gis is a company to watch out for. Jesse Bellevance is frequently expanding his product line, now offering hats, belts, and other accessories, in addition to the Brazilian jiu jitsu kimonos. Every season he offers a custom gi service for individuals based on their measurements and design ideas, and I am anxiously watching the mailbox for mine to arrive. Keep an eye out for my review of Killer Bee Gis custom gi coming soon.