We receive free products and receive commissions through our links. See
disclosures page
.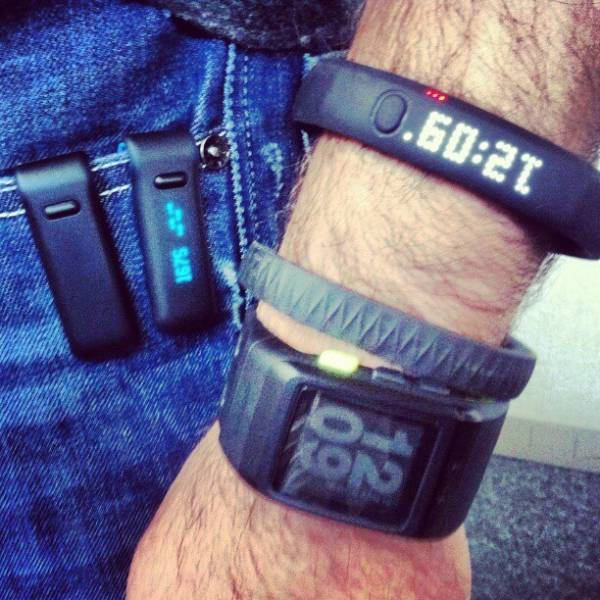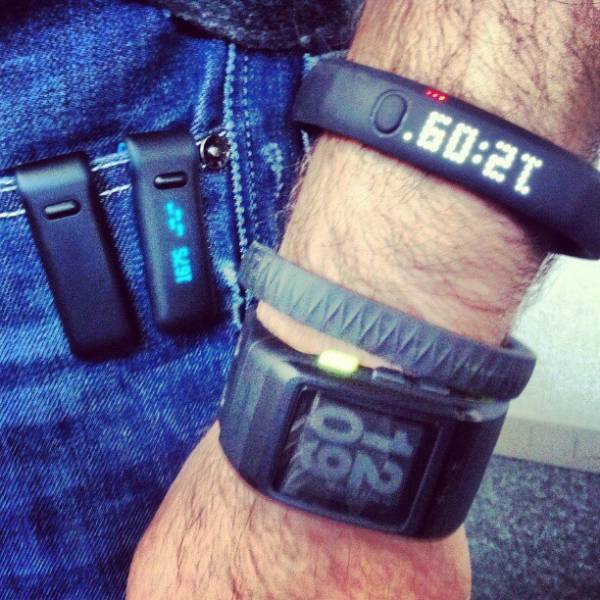 I thought I had learned my lesson when Jawbone's highly anticipated Up activity bracelet crashed and burned a horrible death last year. My affair with the plastic bling lasted all of one week until I, and all early adopters, discovered that the dang thing wouldn't hold a charge turning the $100 wrist computer from the future, into what felt like a useless friendship bracelet given to us by a company that broke our heart after a summer fling. I swore off "smart pedometers" and picked up a dumb pedometer. Yep, the Sportline 340, for about $17. I sound like I'm walking around with one last tick tack in it's case, but gosh darn it, it gets the job done.
Which is why I was more than happy to put my dumb pedometer up against the new kids on the block: The Nike+ Fuelband and Fitbit Ultra. I argued, why would you buy an expensive smart pedometer if you were never interested in the data a cheaper mechanical pedometer provided? I smelled tech, in vogue consumerism. I imagined users in front of a mirror, practicing their perfectly posed device check while monologuing, "Who me? I just hit 3000 Nike fuel points" ala Robert Di Nero in Taxi Driver. They are the urban datasexuals I have tried to avoid becoming.
And yet, here I am now, surprised by the "winner" of my research, and even more surprised as to how I choose the winner.
The Devices
The Fitbit Ultra is October '11's upgrade to the original Fitbit device. It uses a three-dimensional accelerometer and altimeter to sense and record movement. It then uses that data to automatically give you a full report on the number of steps you've taken throughout the day, how far you've walked, number of calories burned (based on height and weight), how many flights of stairs you've climbed, and even how efficiently you slept.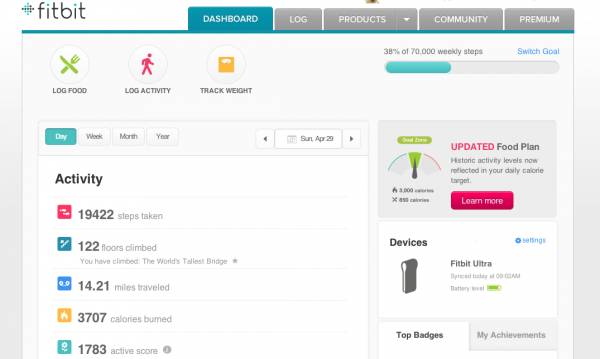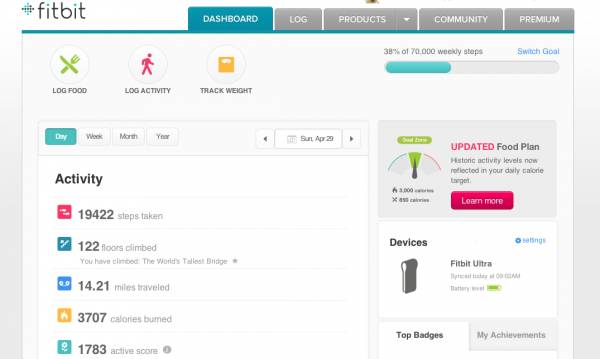 A slick, barely there screen displays a simplified set of info, but the website is where the data really shines. Your Fitbit syncs wireless and automatically to your Mac or PC when you're within fifteen feet of the base station, making for instant access to activity dashboard, accomplishment badges, and leaderboards in all their beautiful data visualization glory.
"Leaderboards?" you ask, "To motivate you like you wrote about in your last gamified apps article? Yes, leaderboards that turn out to be more important than you think. More on that in a sec.
The device clips onto your pocket or waist making for a much more subtle approach to data collection in comparison to the wrist worn Nike+ FuelBand, but beware of bumping the tiny clip out of your pocket as you reach for your pocket's contents. I've already picked the Fitbit off the floor twice in the two weeks I've been using it. Die hard Fitbitters have found this to be a common way to lose their device.
The Nike+ FuelBand is the latest fashion accessory of choice amongst the San Francisco techies. I recommend sporting it with a spring time, light weight denim and a pastel colored, organic cotton t-shirt, but I've seen it pulled off successfully in a well fitted suit, as long as the cocktail in hand is whiskey based. No seriously, the band is really that cool. Just the LED presentation on the device itself makes the Fitbit feel like you're wearing mom jeans.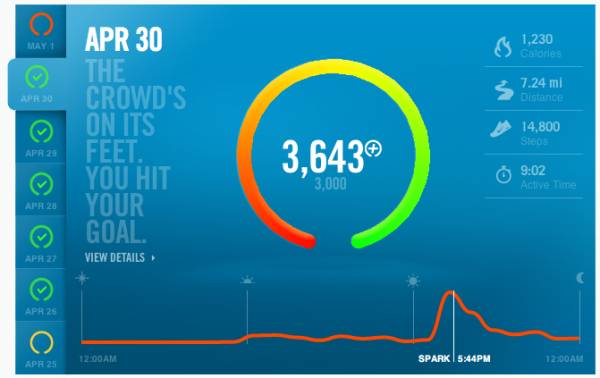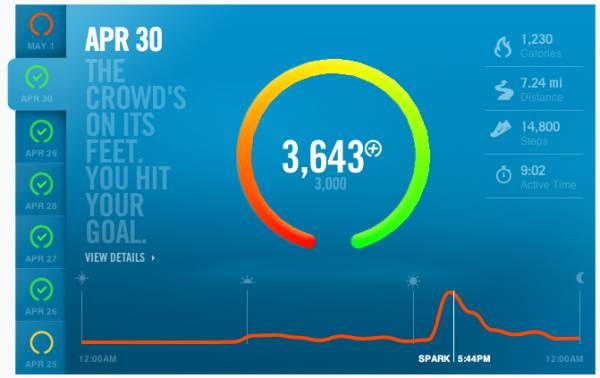 If you want to check the data on your mobile device or desktop, you can use bluetooth or usb to sync. Ironically, the first FuelBand I ordered from Nike, was dead on arrival, plagued with USB firmware update issues, resurrecting Jawbone night terrors. That is, until Nike overnighted me a new one.
FuelBand does everything the Fitbit does, except analyze your sleep patterns. I'm completely fine with that as the Fitbit requires you to attach the device to a wrist band and start the "sleep timer." My go-to-bed ceremonies don't typically have space for lucid procedural steps like that, so sleep tracking has fallen to the wayside anyway.
The unique thing about the FuelBand however is that it relies heavily on an abstracted unit of activity measure it calls NikeFuel, as opposed to your step or calorie count. Fitbit also uses an abstracted system but their leaderboards are all about steps. These Fuel points are Nike's algorithmic way of leveling the playing field and allowing people to compete against each other regardless of their activity of choice.
You laughed at my $17 mechanical pedometer, the Sportline 340. I laughed when you lost your $100 Fitbit. Oh snap. Need your steps counted? You're covered. Need sleep tracking? You're not looking for a pedometer, you're looking an INACTIVITY monitor, you dirty hipster.
This was cynical, defensive me before clipping two additional smart devices onto myself. Here's the only defense I can muster up now: Nobody I know with a Fitbit or Nike+ FuelBand would ever use a pedometer before the advent of personal smart accelerometers. This is a testament to marketing and the power of well designed data visualization.
Here's the truth of the matter. The Sportline 340 is extremely inaccurate. A well known 5k (3.1 miles) course I run was accurately clocked by both the FuelBand and Fitbit (to within a 1/10 of a mile). My trusty Sportline was over a mile off (clocking the run as 1.94 miles or 4147 steps). A device that does one thing and one thing only, needs to be pretty damn good at it, and the Sportline 340, unfortunately, fails the only task it sets to accomplish.
If you want your dumb pedometer to truly work for you, you'll have to step up to pricier models and at that point, you might as well toss in a few more dollars for the real "killer feature" of the FuelBand and Fitbit.


These aren't smart pedometers. They're social network powered motivators first, and pedometers second. The same way your smartphone is a mobile computer first and phone second. The smartest thing Nike did to promote the FuelBand, was setting up a pop up store in Austin, Texas at the South By Southwest Interactive conference this year. SXSW is where Twitter made it's mark on early adopters back in 2007. All the SXSW attendees I know came home flashing their Nike LED scores at me. This gave the Nike+ FuelBand the social critical mass needed to edge over the Fitbit, because what I, and every single FuelBand user talks about, is who they beat that day on the leader boards.
And So The Winner Is…
Well that depends. Worst. Journalism. Ever. Right?
I'm the reviewer, the decider, three pedometers enter the arena, one emerges victor. The problem is the device is only as good as the social network on it.
The Fitbit Ultra is the superior device on it's own. The battery lasts longer, the sleep data is fascinating, the mobile app is snappier, the website plays nice(r) with other fitness services, and the hidden from view hip clip design is much classier.
However, since most of my social network is using the Nike+ FuelBand, it has emerged as the de facto winner by being the device that motivated me the most to one up the competition, and therefore make me more active. Your friends, however, might lean toward the Fitbit Ultra and if that's the case by all means, use that device.
If your friends lean toward the Sportline 340, awesome. Your data is inaccurate but you have successfully avoided becoming a datasexual.
Nike+ FuelBand is available for $149.00 at Nike.com/fuelband.
Fitbit is available for $99.95 at Fitbit.com.