Twitter Chat with Erwan LeCorre – Tuesday, July 30 at 11:00am PST (2:00pm EST)
Can you deadlift a lot of weight but have trouble getting out of bed without wincing in pain? Are your biceps too big for the rest of your body? Do you find yourself constantly battling aches and pains, despite the fact that you work out three times a day? If so, it sounds like you need a little natural movement in your life.
Why move naturally? There may be no better person to ask than Erwan LeCorre, founder of MovNat, an innovative fitness program that promotes healthy, natural movement as the foundation of fitness. Curious about what that looks like? Here's an advanced MovNat training video from Erwan's Featured Coach programming:
Combo Workout - Advanced Level Vol 5. | By MovNat
If you want to learn more about Erwan's approach to fitness, join us on Tuesday, July 30 at 11:00am PST/2pm EST for a live Twitter chat where you can ask Erwan all your questions. Not only that, but you'll also be eligible to win a spot at a one- or two-day MovNat workshop! Here are the giveaway terms:
The giveaway winner receives one free space to a MovNat Power & Agility workshop. The MovNat Power & Agility workshops teach you all the fundamentals of the MovNat program. You'll work on basic movements like crawling, running, jumping, balancing, crawling, climbing, lifting, carrying, throwing, and catching. The workshops are open to all fitness levels and held all over the world. Learn the MovNat Fundamentals and empower your true nature!
The winner chooses what date and location they wish to attend. For a list of MovNat Power and Agility workshops, click here.
The space cannot be exchanged for money, given or sold to someone else, or exchanged for another type of MovNat workshop. The workshop value cannot be deducted from any other MovNat workshop.
To enter the giveaway, leave a comment at the bottom of this page telling us why you want to attend a MovNat workshop. The winner will be announced at the end of the chat on July 30th, so be sure to tune in to see if you've won!
We asked Erwan a few questions about the MovNat approach. Here's what he had to say:
1. Tell us a bit about how MovNat came to be.
We're all the product of a long line of people, and so is fitness. Most people tend to believe fitness was invented twenty or thirty years ago, or 100 years ago, but the necessity to keep in shape is as old as the human species, as old as life itself. Fitness is life and life is fitness, literally.
So what's the point of it? Well, the point is that today we've got a plethora of fitness concepts and programs, and they're all optional. You choose what you like or want – it's your call. But in the past – whether we're talking about 100 years ago or 100,000 ago and before that – it was all about physical competency, i.e., is your body capable? Can it move and perform well in the real world, in practical ways that adapt to contextual demands?
This is key to understanding MovNat. MovNat was designed with this mentality in mind, but it is not the first system of this kind, it is the most recent and evolved. I draw my inspiration from many influences, but mostly from the history of physical education in Europe, especially the old French and German physical education systems, but of course with a modern approach to training, coaching, and programming.
Or I can explain it this way. When I was a young boy my dad would take me with him in the woods and push my limits, climbing, jumping, crawling. He basically encouraged me to do what most kids normally do naturally. Growing up, I never encountered any sport like this, or did anything like this at school, where all we were doing was learning rules and trying to score points with a ball. I've done many different specialized sports and enjoyed most of them and have learned in the process, but I've always wanted to make this general, natural movement approach to exercise and fitness become the new trend, as I know how big the potential is for people in term of physical and mental health. I mean, you go to a park and somebody is doing yoga or some form of fitness conditioning drills, and it's okay. But you see a guy or a girl crawling, jumping, running, climbing, balancing, or carrying stuff and you're baffled, wondering what it is.
Isn't moving naturally a birthright, the most natural thing to do, and the most natural way to get fit? I've always felt I wanted to reawaken people to this simple truth and inspire them to explore their natural potential again, but also to enjoy exercise again, and learn techniques so they can move efficiently and safely. I've put lots of work in this vision and now the movement is born and spreading like wildfire.
2. It seems that unlike a lot of other forms of fitness, where you just go into the gym and lift weights for thirty minutes, MovNat is more of a lifestyle. Would you agree, and do you have any further comments?
I agree. Conventional fitness draws a limit between the body and the mind, between exercising and life. Such separation is not only false, it is also detrimental. You can't put everything in a box, walled in a seperate compartment. Muscle-isolation workouts reflect this fragmented approach to what we are. We're not body on the one hand and mind on the other. We're whole.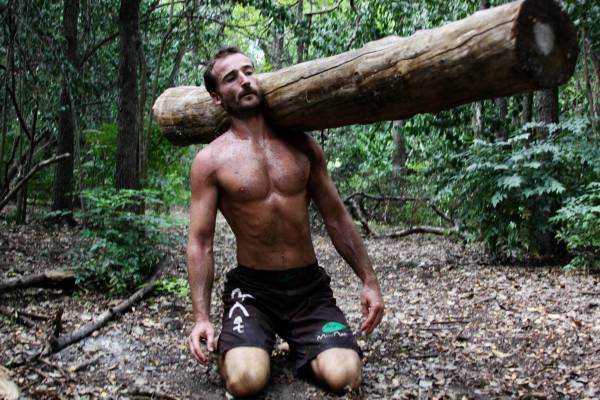 When I MovNat, I exercise my whole being, both physically and mentally. When I do it in nature (because MovNat is also trained indoors) it can even reach a spiritual dimension where you feel connected to everything, where the perception of separation with the world is gone, where you're fully immersed in the "here and now." This special state of mind has been described as a state of "flow," and when you reach it it's truly priceless, especially in a world where most people tend to be stressed all the time.
MovNat is also a lifestyle in the sense that when you understand that fitness is not just about the maintenance of your body through exercise, but being healthy overall and having great energy at every level, then you also want to pay attention to how you eat and sleep and other lifestyle behaviors than can help you heal and thrive.
This being said, people are mistaken if they think that it's "just" a philosophy. There's a reason why we've worked with special forces or exercise scientists and why many physical therapists praise MovNat. It is because MovNat approaches the body both from the lens of movement efficiency and motor-control and conditioning. You don't just get a workout for conditioning. You learn to operate your body with the most efficient techniques and movement patterns. You train to move your body and perform physically through real-world movement.
On top of that, we're big on movement adaptability. For instance, you may condition through plyometrics, jumping on a box. Okay, you're conditioned for the box, which is only one particular obstacle, but could you jump over a completely different obstacle? Will you have both the specific motor-control and specific conditioning required to be effective (doing it successfully) and efficient (doing it with minimal energy expenditure and loss of time, and greatest safety possible)? Chances are, if you've never trained specifically in adaptable ways, then it is highly likely you are not prepared – or, if you will, not fit.
Conventional fitness asks, "how fit do you look"? It tries to make simplistic, mechanistic, segmental movements look more complex than they really are. MovNat asks, "how fit are you? How effectively and efficiently can you perform real-world tasks?" MovNat makes complex, sophisticated movements look simple, but they're not! It is an illusion generated by efficiency.
And the good news is, the more and the better you practice and perform, the better you look.
3. What is your vision for MovNat and how do you hope to see that vision come to fruition in the future?
The ultimate goal is that people are stronger, healthier, happier, and more free, and in that sense MovNat is a mere tool designed to provide principles and techniques for physical training and programming, and beyond that, inspiration, motivation, and perception to embrace an overall healthy, more natural lifestyle. This has been my vision since inception, and in that sense it has already come to fruition, which is one of my greatest satisfactions in life (apart from my family). Today we have almost a thousand of certified trainers worldwide and it's still growing. Obviously my vision is that it can reach millions. That vision has nothing to do with ego; it is genuinely about people.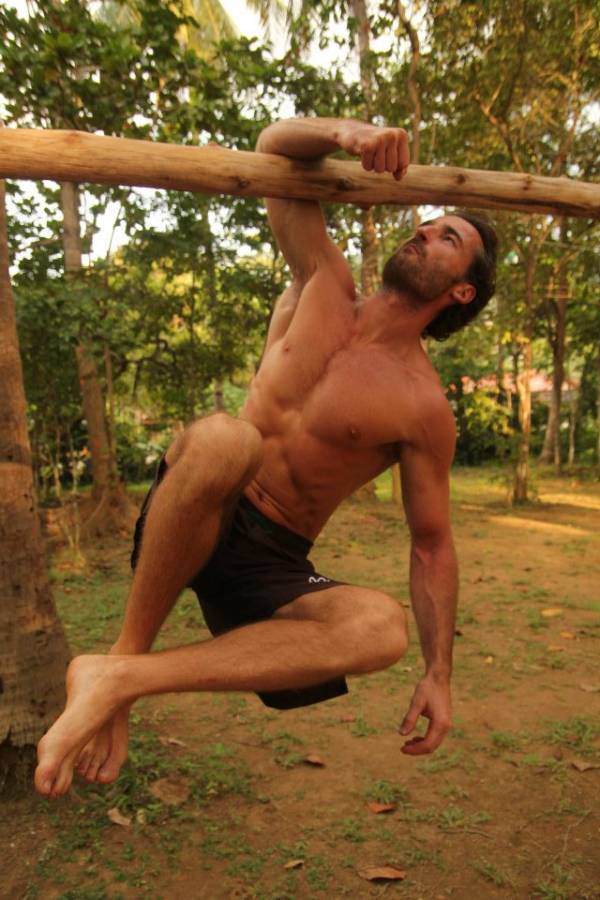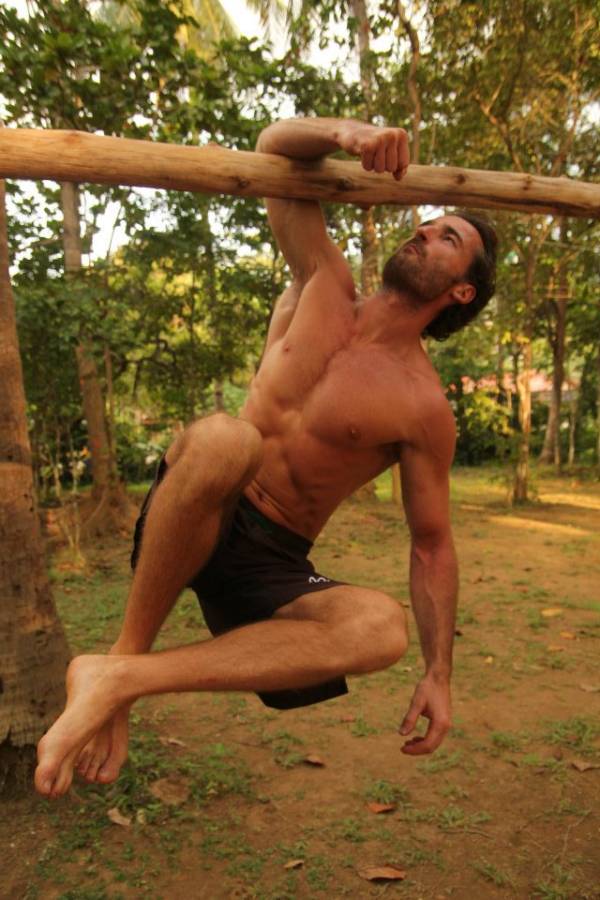 You see, despite advanced medical technology, we live in a world with alarming health statistics (we should talk about sickness and disease statistics actually) and there's no real sign of wide scale improvement. The answer doesn't lie in more or better pills and health technology, but in a better lifestyle A return to more natural behaviors – what we eat, how we stand and move, contact with nature – is necessary. This is not a romantic view. We are made of nature, we are nature, and the further away from it we go, the more we suffer. We can reinvent ourselves in many ways but not from a biological standpoint.
I would like the fitness industry to understand this and start pushing for a paradigm shift, as we have a responsibility for the way people perceive fitness and exercising. To me, machines, muscle-isolation, the globo-gym, all this is old school, passé, and destined to disappear sooner or later. Smart fitness business owners will get it and evolve. The future of fitness is lifestyle and life enhancement, and I envision that this return to nature will take place sooner than we think. There's a calling, there's an urgency, and the emergence of MovNat and its rapid growth is just the tipping point.
Thanks Erwan! Got questions of your own? Join us for a live Twitter chat!
Here's how to get in on the conversation:
Log into Twitter on Tuesday, July 30 at 11am PST/2pm EST.
Follow the hashtag #RealKnowledge
Ask away! The floor will be open for questions until Noon PST/3pm EST. Be sure to end your question with the hashtag #RealKnowledge to lock into the chat.
Stay tuned after the chat to find out if you won a spot at a MovNat workshop!
Be sure to stay tuned for future Twitter chats with coaches from every discipline!