We receive free products and receive commissions through our links. See
disclosures page
.


I'm no slouch when it comes to personal safety. I tend to not wear headphones when walking, I avoid unlit streets if it's late and I'm alone, and I've even been PDR (Personal Defense Readiness) certified. But unfortunately I know that no matter how prepared I think I am, bad things still can happen.
We've had two people walking alone attacked in my fairly nice suburb of Boston in the last month. The city has made statements recommending that people be aware of their surroundings and not go running alone. It was right around that time I heard of Kitestring, a web-based application that you control via their website and text messages. Kitestring lets the right people know via text if you haven't checked in after a run, walk, trip, or perhaps a blind date.
The Basics
Register for Kitestring by going to their website and entering your name and cell phone number. A confirmation code that you enter at the next screen will be sent to your phone , along with your password. Then you'll enter your first emergency contact. Don't worry, you can have more than one. At that point, you can set your emergency message to describe what you're doing, where you're going, or who you are with.


Contact Screen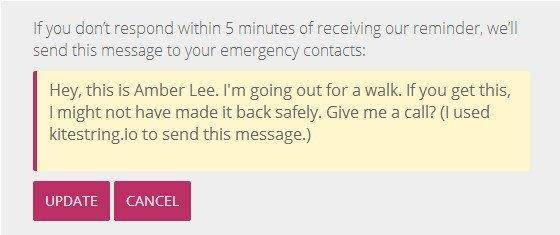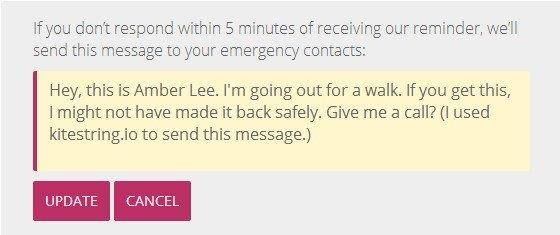 Message Screen
Then you can also set a Check-in Word to use if you want to disable the service, as well as a Duress Code to use if something goes wrong before your check-in time. Simply text those words to the Kitestring phone number to either end your monitored trip or set off the emergency contact notifications early. Ready to go on a run, walk, or other activity alone? Just select a time duration and be on your way!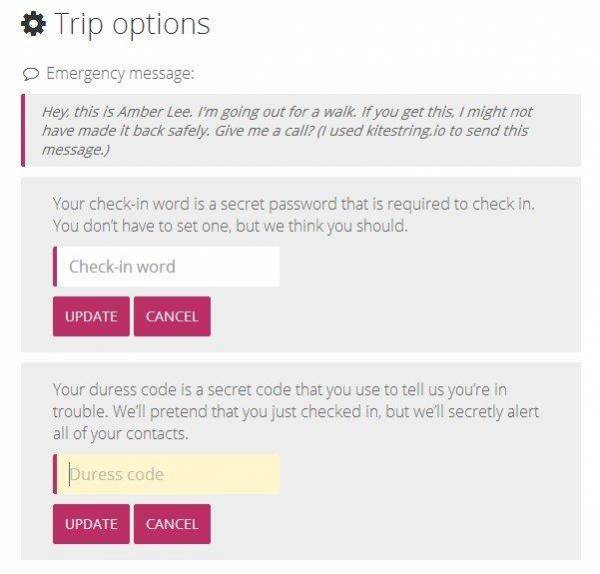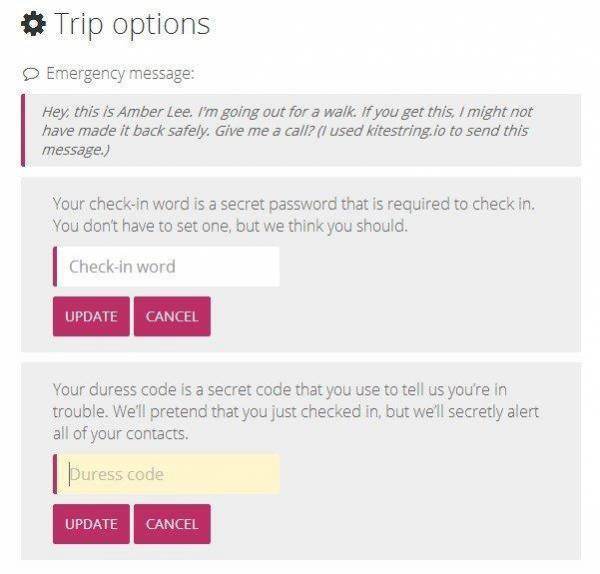 Check-in Word/Duress Code Screen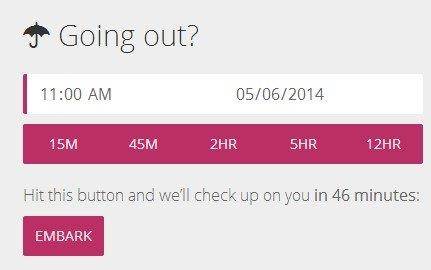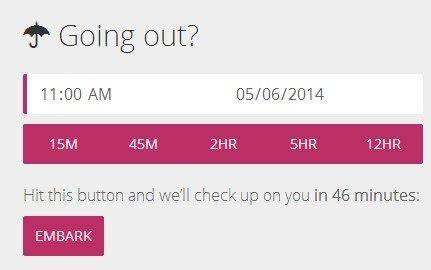 Timer Screen
Additional Features
Kitestring also has additional ways you can control your check-in settings, messages, and contacts. You can select what individual emergency contacts should be notified when you set your message, and customize the alert message from the web interface and your phone. You can also extend your check-in time from your phone, just by texting the Kitestring contact number. A number of additional settings and controls can be found in the FAQ on the web site.
Any Issues?
The only real problems I see with Kitestring involve either losing track of time and alerting your contacts unnecessarily, or having your phone battery die and the same thing occurring. SMS charges do apply. This service can be used in over 217 countries, and it would be well worth the international charges if you actually need to send that emergency text while away.
I'm thrilled that someone put together a simple way to notify people if something goes wrong, so more people can focus on getting out and living their lives while also being responsible. I think both men and women should use this app, due to the fact that men do get attacked. I know a number for men who love to go running on their own, especially on trails. This is a great way to have a safety net in place for hikes, runs, meetups, blind dates, study groups, or a long trip where something could go badly.
I also appreciated that the web site doesn't prey on a sense of paranoia. It simply provides another way to let people know if you do need help, all with a simple interface and a straightforward message. "Safety, with strings attached."
The Kitestring app is available for free at Kitestring.io.