Click on a week to go directly to any of the four weeks of programming:
Quick test: what do a successfully built house of cards and a handstand have in common? More than you think!
To succeed in both, a stable base is essential. Each layer then has to successfully stack directly upon the other. The stronger the base, the more stacked you are, and the more stable the handstand and, for that matter, the house of cards.
True Confession: I Am a Handstand Junkie
Achieving a stable base for the handstand requires progressive steps in order to learn what works and what will allow a handstand to feel as natural to you as standing on your feet. Over the next four weeks I will be working with you on these steps. If you follow my workouts, then at the end of month you will have the ability to achieve better handstands, freestanding handstand push ups, press hand stands, and handstand walking.
Why have I chosen handstands for my session? Well, I am a handstand junkie. From the time I began my gymnastic training at the age of six, what I loved most was to view the world topsy-turvy. Growing up, I was constantly told by my parents to stop doing handstands in the kitchen or against the furniture in the family room. I love handstands. This all began at the age of six and continued to when I competed in gymnastics at a Division I university.
Then, I fell in love with the CrossFit methodology in 2010 and most recently I finished eighth in the CrossFit Games in the Masters (40-44) division. This past year, I have also been lucky enough to be part of the CrossFit Gymnastics certification staff with Jeff Tucker, spreading our gymnasty love all over the world.
So, enough about me – let's get back to handstands.
Learn the Progressions to Learn the Skills
Just as in a house of cards, when executing a handstand, you cannot haphazardly place your body upside down or get inverted. There are steps, progressions, and specific skills and drills designed to build your confidence, strength, balance, and coordination. Watch a gymnast kick to a handstand. It's done with purpose. A gymnast's legs aren't thrown wildly in the air. Instead, he or she demonstrates body awareness, control, and aptitude.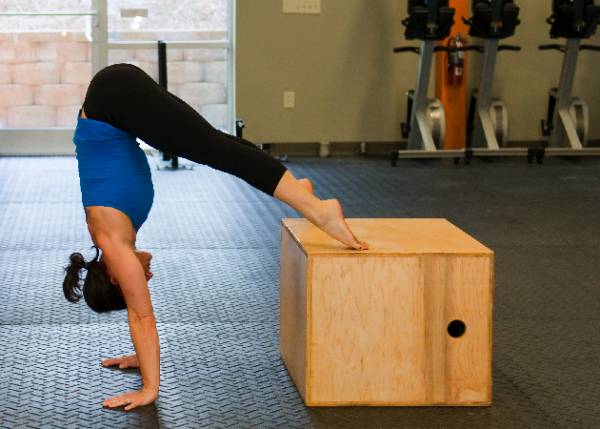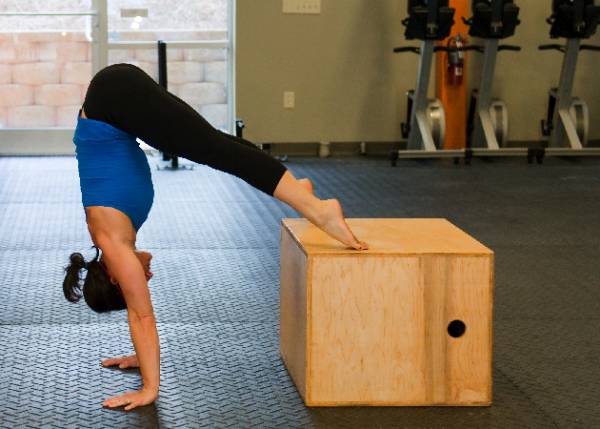 Throughout the next four weeks, I will be programming essential movements to help with your balance, shoulder and core strength, and coordination – all essential components of handstands, freestanding handstand push ups, press handstands, and handstand walking. You will work mostly strict movement, focusing on fundamental core stability. Scaling is important. If you go into a gymnastics club, you see everyone conditioning or learning skills but there are various levels and scaling to learn these skills. This will be essential to your success as well. Learning to be comfortable inverted, especially as an adult, takes time and effort.
I get it. It's hard to love something that isn't easy. But isn't it easy to love something that you've worked hard to accomplish? I think, yes!
So, let's get to work and build some beautiful handstands worthy of selfies and Facebook posts!
Click on a week to go directly to any of the four weeks of programming:
Or, click here to download a PDF with a link to the YouTube playlist.