Attending parties and social gatherings can be overwhelming when you're trying to stick to an athlete-friendly diet. Tables are filled with fried, sugary, and buttery snacks waiting to set your training back or ruin the next day's workout.
You will be the star of any party with these athlete- and budget-friendly snack creations. Each recipe has a good balance of proteins, fats, and carbohydrates for any athlete looking for pre- or post-workout party snacks, and the ingredients won't sabotage your performance.
7-Layer Salsa and Homemade Tortilla Chips
Prep Time: 10 minutes
Ingredients:
10 corn tortillas
Olive oil spray or melted ghee (or your preference)
½ cup corn, fresh or thawed if frozen
½ cup jicama, diced
¼ cup red onion, chopped
½ jalapeño, seeds removed and chopped. Control the spice level by adding more or less jalapeño or seeds.
½ cup canned black beans, rinsed
½ avocado, diced
½ cup cherry or grape tomatoes, diced
½ Tablespoon lemon juice
Sea salt and pepper to taste
Method:
For the Tortilla Chips:
Preheat oven to 350 degrees Fahrenheit.
Cut tortillas into 8 equal wedges (4 cross cuts) or into strips.
Place the tortilla wedges or strips in a single layer on a baking sheet­. They can be touching in order to fit as many as possible on one sheet.
Lightly spray or brush the tortillas evenly with oil or ghee.
Sprinkle each wedge with a pinch of sea salt.
Bake for 8-10 minutes or until the tortillas are hard and have turned slightly golden brown on the edges.
Remove from oven and let cool.
For the Salsa:
Place corn, jicama, onion, jalapeño, black beans, avocado, and tomatoes in a large bowl. Mix ingredients evenly.
Add lemon juice, salt, and pepper.
Serve immediately.
Notes:
If serving later, squeeze the juice from half a lemon over the top, then cover tightly with plastic wrap and store in the refrigerator.
Serve with tortilla chips or on mini tacos.
Mini Steak Tacos With Avocado Spread and Caramelized Onions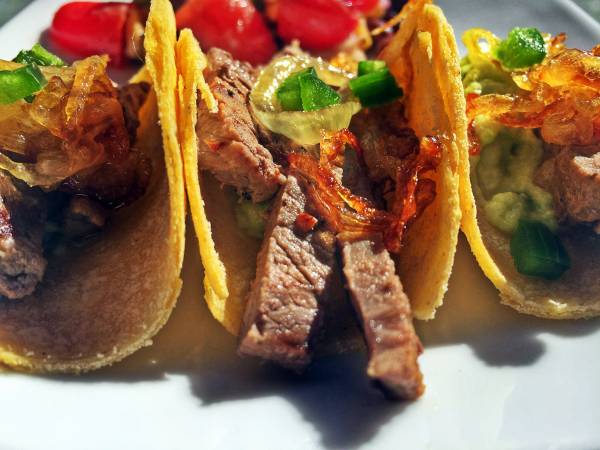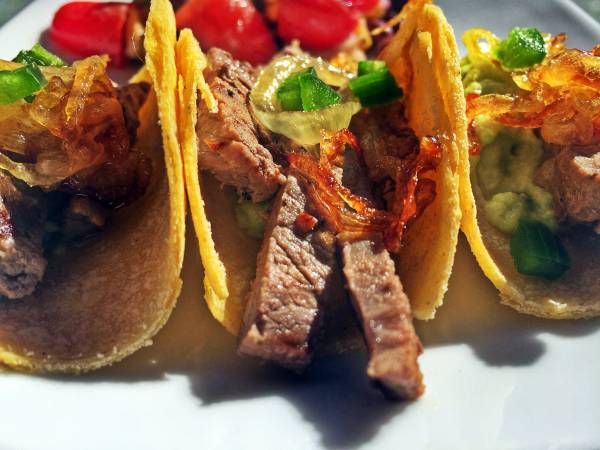 Prep time: 40-45 minutes
Yields: 10
Ingredients:
10 corn tortillas cut into 4-inch rounds (Tip: use a cookie cutter for even cuts)
¼ Tablespoon unsalted butter
¼ Tablespoon olive oil (or preferred cooking oil)
¼ teaspoon coconut sugar
1 sweet onion, thinly chopped lengthwise to create rings
1lb ribeye steak (or your favorite steak to grill), sliced into ½ inch strips
1 avocado
½ jalapeño, minced
2 Tablespoons fresh lemon juice
Method:
For the Caramelized Onions:
Heat a sauté pan to medium-high heat and melt oil and butter together.
Add onion rings to the pan, separating the rings.
Lightly sauté the onions to cover with oil/butter mixture.
Add sugar and stir to coat the onions.
Reduce heat to low and let the onions cook down, stirring occasionally, for about 20-30 minutes.
Remove from heat and let cool.
For the Avocado Spread:
Combine avocado, minced jalapeño, and fresh lemon juice in a bowl.
With a fork, mash ingredients together until evenly mixed.
Cover with plastic wrap and store in refrigerator.
For the Steak Tacos:
Heat a cast iron grill pan or BBQ to medium-high heat.
Season both sides of the steak with salt and pepper or other rubs or marinades you like.
Grill each piece 2-3 minutes on both sides or until the meat is cooked to your preferred temperature.
Remove from heat and place on a cutting board to cool slightly.
Once cooled, slice into thin strips or cubes.
To assemble tacos, layer avocado spread, steak, and caramelized onion on mini tortillas and top with salsa or your favorite hot sauce.
Sweet Potato Sausage Stuffed Mushrooms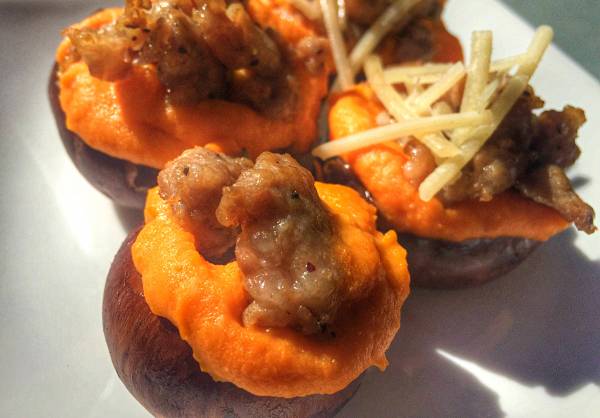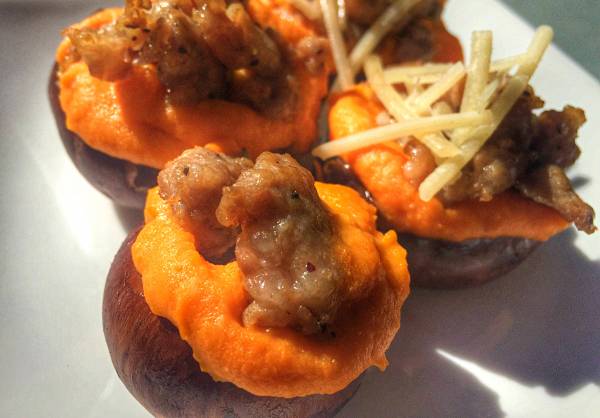 Prep time: 50-60 minutes
Yield: Serves 10-12
Ingredients:
1 large sweet potato
10-12 baby bella or mini crimini mushrooms (1 potato will fill about 10 mushrooms)
1lb cooked pork sausage (I used sweet Italian but substitute your favorite flavor)
For Each Potato:
½ Tablespoon + 1 teaspoon ghee
¼ cup cottage cheese
¼ teaspoon sea salt
¼ teaspoon garlic powder
Parmesan cheese for garnish
Method:
Preheat oven to 350 degrees Fahrenheit.
Clean and de-stem mushrooms. Let mushrooms dry and store in refrigerator.
Using a sharp knife, pierce sweet potatoes several times before baking.
Bake sweet potatoes for 35-45 minutes or until soft.
Remove from oven, cut in half, and scrap contents of sweet potatoes into a large bowl, removing skins.
Add cottage cheese, sea salt, garlic powder, and ½ tablespoon ghee to bowl.
Using an immersion blender or hand mixer, blend ingredients until smooth.
Line a small baking sheet with foil.
Melt 1 teaspoon of ghee in a small bowl. Brush each mushroom cap with melted butter and sprinkle with salt and pepper.
With a small spoon, fill each mushroom with the sweet potato mixture until just above the opening.
Top the mixture with a few crumbles of sausage.
Bake mushrooms for about 12-15 minutes or until heated through.
Serve immediately. Garnish with grated parmesan cheese if desired.
You'll Also Enjoy
New on Breaking Muscle Today
Photos courtesy of Kristina Goldman.