We receive free products and receive commissions through our links. See
disclosures page
.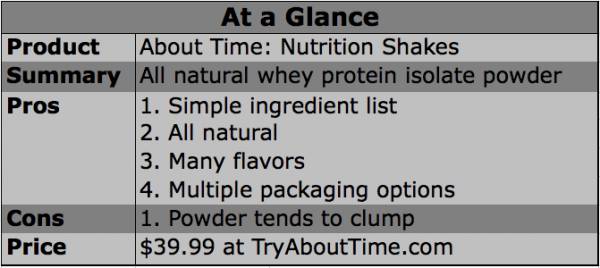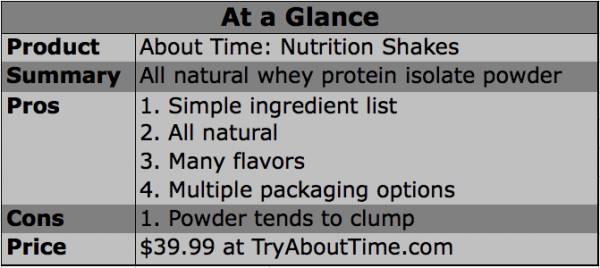 The About Time brand is the flagship brand of SDC Nutrition. About Time specializes in whey protein isolate products. Fitness professional, Sean Marszalek, and food science expert Devenee Schumacher combined forces to address common complaints of the supplement industry: artificial ingredients, artificial sweeteners, inferior protein concentrates, and unfriendly products for folks with food allergies.
About Time offers its whey protein by the tub, the packet, and even a pre-measured "Fill, Shake, and Go" bottle. Consumers can find comfort in its relatively simple ingredient list – whey protein isolate, natural flavors, xanthan gum, and stevia. That is, after all, a huge mission for the thought leaders at SDC Nutrition: simple, quality products.
Flavors available:
Strawberry
Chocolate
Birthday Cake
Peaches and Cream
Mocha Mint
Vanilla
Peanut Butter
Banana
Chocolate Peanut Butter
Unflavored
Though supplements aren't really apart of my routine, I was up to see what About Time had to offer. I tried a few different flavors. Mocha mint happened to be my favorite flavor, but none of the flavors were upsetting. I did experience some clumping in my shaker, however, but I assume that's the nature of the protein powder experience.
I choose to mix my powders with water, but About Time does indicate milk as another option. In past experience, I've found mixing with water almost always less tasty than when mixing a protein with milk. Yet, About Time protein tasted impressively good while being mixed with just water. 
About Time proteins are relevant not only for athletes and fitness enthusiasts, but anyone who wishes to supplement with a quality product. I hold the belief that nothing beats real food, but if there is a need to supplement, one should utilize products with the most straightforward list of ingredients. As someone who is extremely cautious about additives, non-food ingredients, and chemicals, About Time seems like a feasible option.
If a consumer is looking for a protein supplement that tastes good and doesn't require a Ph.D. to understand the label, About Time's whey protein isolate might be a good fit. The hardest part might be deciding which flavor tastes best.
About Time whey protein is available in their online store for $39.99.