We receive free products and receive commissions through our links. See
disclosures page
.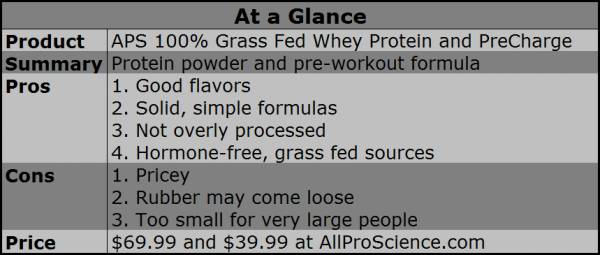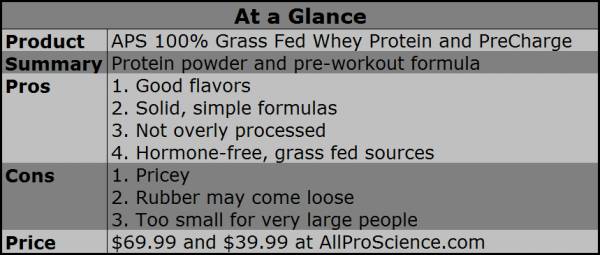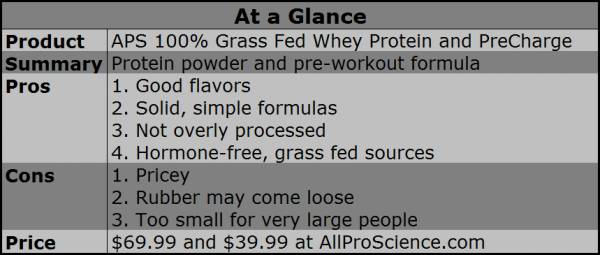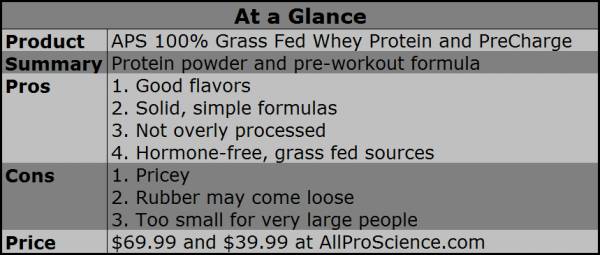 Whey protein and pre-workout beverages are staples in the athletic community. Whey protein is one of the best – if not the best – sources of protein around, and the powdered form makes it very convenient. Combine a good protein powder with a solid pre-workout supplement and you have the recipe for athletic success.
I recently tried out some All Pro Science (APS) products for the first time. APS has been dedicated to natural supplements for four years now. In fact, all APS products are free of high-fructose corn syrup, soy, gluten, and hormones. That alone may draw many athletes to their offerings. APS also offers a line specific to vegetarian and vegan athletes.
The products I'm reviewing also happen to be their two offerings that I was the most excited about. Recently I had the chance to try out the Complete 100% Grass Fed Whey Protein and their PreCharge pre-workout formula.
Complete 100% Grass Fed Whey Protein
When looking for a good protein powder, non-vegans typically start with whey. Deciding what separates a good whey protein powder from lower quality products is a simple matter. The first step is to find one that isn't choked with processed ingredients, and APS Grass Fed Whey Protein is a great place to start.
The protein powder has just six ingredients, each of them passing the pronunciation test (you know – if you can't pronounce it, you probably shouldn't eat it). Now, as a nutritionist, I can probably pronounce more ingredients than the average person, but I also know what they are. All the ingredients in this product are simple and natural.
And if you don't know what the ingredients are, the label on APS's website is interactive and explains each ingredient when you hover over it, which is an awesome feature.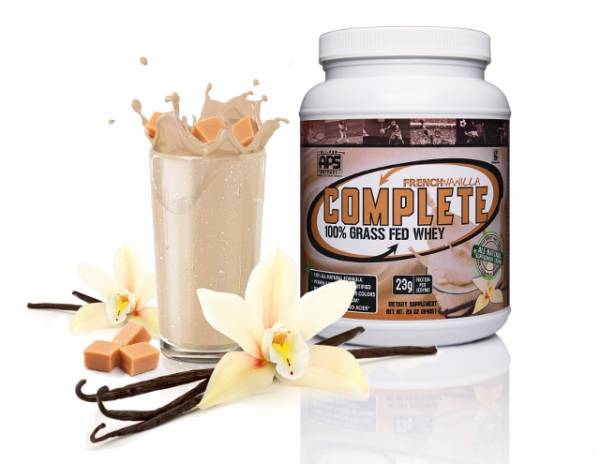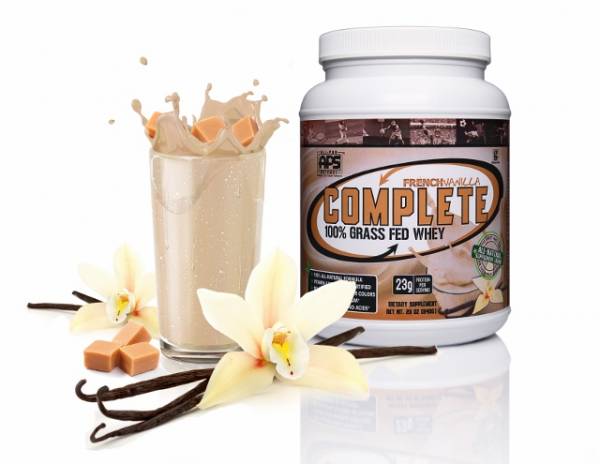 The protein itself is the next item to look at when judging the quality of a protein powder. The key feature that stands out with this product is that the protein is from 100% grass fed cows that are also hormone- and antibiotic-free.
This means no contaminants will spill over into your protein powder. The whey is also concentrate, rather than isolate. I suspect this is because of the cold-processing APS uses in their efforts to remain as natural as possible. Isolate powders require more processing, and more processing also involves heat, which can denature the proteins.
The final quality to look for is flavor. If you can't stomach the protein, its quality is irrelevant. I tried the APS Bavarian chocolate, French vanilla, and banana crème flavors with both milk and water. Each flavor mixed well, with just a few shakes of the bottle.
The first time I tried it, I made the mistake of not following the mixing guidelines and used too little milk. Without enough milk or water, the whey powders take on a pretty unpleasant flavor. However, when mixed according to the recommended guidelines or with more liquid, the flavors are each good and I enjoyed them all. So as long as you don't skimp on the fluids, you will be pleased with the taste.
Overall, this is a solid product. And to make it even better, the powders only contain three grams of sugar per serving and are sweetened with stevia.
PreCharge
Next is APS PreCharge, which is a pre-workout formula to boost energy. When choosing pre-workout formulas, the key tends to be a well-rounded vitamin blend to support energy demands. It should contain a variety of minerals, the most important of which are the electrolytes, as well as energy and strength promoting aminos like glutamine.
Perhaps the most important ingredient of all for those who get most of the other nutrients through diet or other means is caffeine. PreCharge has a modest thirty grams of caffeine per serving, which is less than a cup of coffee, but enough to give you a needed ergogenic effect to your workout, especially cardio workouts. Additionally, PreCharge has a bonus ingredient, with three grams of creatine per serving.
Flavor-wise, I tried the Blueberry Ice and Natural Lemonade. Both flavors were good and mixed easily in any amount of water. PreCharge does have some cane sugar in it, giving it seven grams of sugar per serving. All in all, for pre-workout formulas, PreCharge has it all, although some people may want more caffeine or electrolytes.
Ultimately, the APS offerings that I received to sample were high-quality products. My only misgiving was the price. However, as is the general motto for products like these, you get what you pay for. High quality tends to come with a high price tag, and these APS products are no exception. If you can afford these products, you will be getting some awesome supplements.