We receive free products and receive commissions through our links. See
disclosures page
.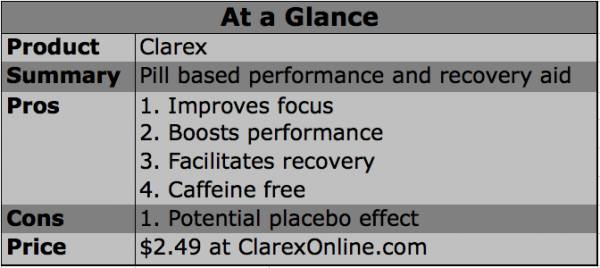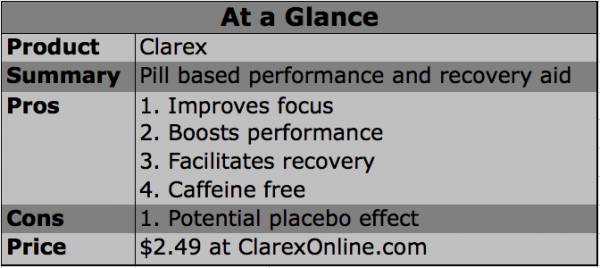 The kind folks at Clarex asked me to review their mental clarity and recovery product. Right away I wondered what the supplement facts were, I wondered if it was safe, and to be honest I was curious if it would do what it said it would. The Clarex name feels like that of a product from some massive drug company. I was relieved to learn quite the opposite; Clarex isn't a drug at all.
Dr. Eugene Chan developed this dietary supplement while he was enrolled in the Harvard School of Medicine as a study aid. Since it's inception, the formulation and Dr. Chan have garnered quite a bit of notoriety, including mention in Esquire Magazine's list of The Best and Brightest.
Clarex comes in capsule form as a tasteless, odorless pill. The packaging recommends taking one capsule daily. The timing of usage can be modified depending on the intended result. For mental clarity daily usage is the only timing requirement. If recovery is the focus, it is advised the user take one capsule in the morning with 8-10 ounces of fluid. For those seeking a boost in performance, it is recommended to take Clarex 30 minutes prior to working out.
If you're at all like me, you may be wondering how one pill could serve so many different purposes. Personally, my red flags of skepticism were waving proudly in the wind. Upon further investigation, however, I learned more about how Clarex actually works.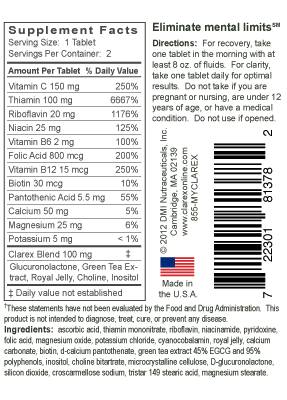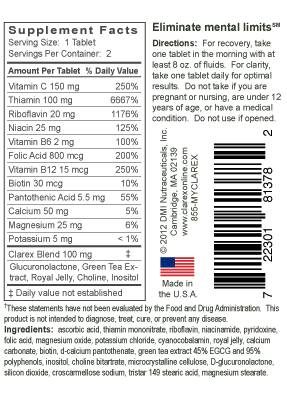 Clarex optimizes the function of our body's Krebs cycle, which is home for nearly all cell function. Improving this process, then, facilitates improvement of nearly all physical and cognitive function. Some of the Clarex ingredients that bolster the Krebs cycle include ascorbic acid (which is fancy for Vitamin C), magnesium, calcium, and green tea extract.
A notable feature of Clarex is actually an omission. Clarex is proudly free of any caffeine. The intention in being caffeine free is that Clarex will be able to optimize performance without the negative consequences associated with caffeine, including upset stomach and adrenal fatigue. In addition, Clarex is free of aspirin, acetaminophen, and ibuprofen, which may cause liver problems.
In my personal experience, I grew a newfound comfort in Clarex once I read more about it. My research of both the label claim and the function it provides left me feeling safe, and actually excited to try Clarex. I believe your experience with Clarex will change relative to your deficiency in the nutrients it provides. Coming in to experimenting with Clarex my nutrition was solid and I was getting adequate sleep. So, my experience was mildly positive. In addition, I experienced no negative side effects, "crash," or otherwise.
Regular supplementation with Clarex should yield a positive experience regardless of your current level of health. Clarex truly is a multi-use tool. Whether you are in need of an aid for cognitive function, a boost in performance, or something to dial in your focus at work, Clarex can do that.
Two tablet pouches are available for $2.49 online at www.ClarexOnline.com.