We receive free products and receive commissions through our links. See
disclosures page
.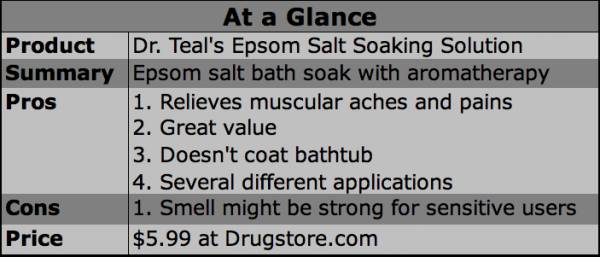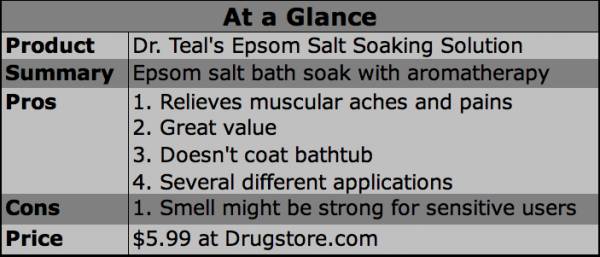 I've been eyeing the Epsom salts from Dr. Teal's Therapeutic Solutions at the store for a while now, so I was excited to recently have the chance to give them a try and write a review. Tough job, right? By combining benefits of pure Epsom salt (magnesium sulfate) with essential oils, Dr. Teal's products offer an advantage over just soaking in Epsom salts after a hard workout. I got to try the "Comfort and Calm" and "Relax and Relief" soaking solutions. Here's a bit about each.
"Comfort and Calm:" This is a blend of Epsom salts and chamomile oil. Chamomile oil is an anti-inflammatory and anti-bacterial agent with soothing qualities to relieve tension, which makes it ideal for fighting muscle fatigue or soreness. I like to use this soak before bed after a hectic or particularly stressful day or a strenuous workout.
"Relax and Relief:" This soak combines Epsom salts with eucalyptus oil and spearmint oil. These are two of my favorite oils to use around the house for cleaning, since they have a fresh scent as well as anti-fungal and anti-bacterial qualities. Whereas I would describe the chamomile bath as relaxing, I think this one is better coined as 'invigorating.' Both eucalyptus and spearmint also offer relief from colds, nausea, and other ailments. This soak was helpful for me when I was dealing with morning sickness.
Dr. Teal's also offers two other varietes of Epsom salts – lavender and amber vanilla – in addition to foaming baths, milk baths, and foot care products. If you are dealing with an injury, the First Aid line of products might be ideal for you. Dr. Teal's has a fragrance-free U.S.P. Epsom salt for muscle tension, as well as an aromatherapy soak that contains rosemary and mint.
The soaking solutions have a variety of other applications besides soaking in the bath for twenty minutes, luxurious as that may be. You can also use the bath salts to exfoliate your skin by mixing it with body wash and massaging it into your skin. My daughter has dry skin and I found that just adding it to her bath water went a long way in easing her symptoms.
There were a few factors about these products that were less than perfect. First, when I initially opened the bags I thought the scent was a bit overwhelming. However, although the fragrance is strong in the bag, it mellows out quite a bit when you add it to your bath water. If you want a fragrance-free version, the First Aid U.S.P. salts might be a better option. My only other complaint about the product was that the bag didn't seal very well on the "Relax and Relief" bath soak.
Other than that, this is a high-quality product at an affordable price. Not only did it relieve muscular aches and pains for both myself and my husband, but it also made my skin soft and helped me get some much needed relaxation. I also appreciated that it didn't leave any residue in my bathtub to clean up. Now I just need to get some more.
Dr. Teal's Epsom Salt Soaking Solution is available for $6.99 at Drugstore.com.