We receive free products and receive commissions through our links. See
disclosures page
.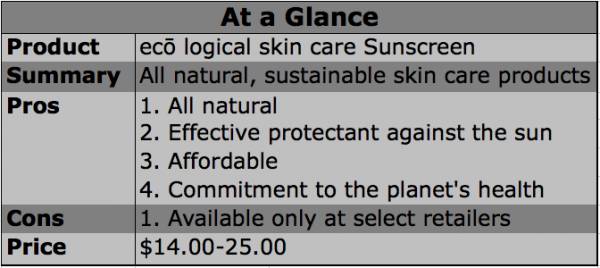 The makers of ec? logical skin care products are on a mission to change the game for skin products. Based on a commitment to research and innovate new products, utilize sustainable ingredients, and educate consumers, ec? is a brand that has the pieces in place to accomplish just that.
In my experience there's a bit of a disconnect between the obvious natural connection of being outdoors and the products we actually use to venture out into the sun. Shouldn't the brands we use to appreciate nature support nature as well?
With origins in San Clemente, California, ec? skin care's core competency is all-natural sunscreen. The name ec? is actually short for "environmentally conscious origins." Their value in the market stems from their products being free of the foreign substances and chemicals, which other larger sunscreen companies all too often include. In an age where marketing is king, it's easy to market an "all natural" image. With artwork that includes palm trees and beaches, nearly every sunscreen brand appears to be "all natural." The difference ec? skin care provides is both in the ingredients and in their company's commitment to sustainability.
There are multiple ways to soak up the quality ec? skin care provides, including: SPF 30+ Baby, SPF 30+ Body, SPF 30+ Face, and Daily Skin Repair. So regardless of the specific need, any consumer can connect with ec?'s all natural lifestyle. This is a lifestyle brand rooted in such an authentic foundation that it's easy for me to appreciate using this product in the face of countless products developed by Proctor and Gamble or some other corporate behemoth. ec? feels different. It feels genuine.
Getting out in the sun and being able to keep your skin safe is vital. There are a great deal of products that can do that. Keeping your skin safe in the sun with a product that has you and the planet in mind, however, is a different story. ec?'s products are biodegradable, free of chemicals, and always all natural. Even the packing peanuts they are shipped in are natural and dissolve in water.
ec? also works closely with the Surfrider Foundation to honor their commitment to the world's oceans. Ec? uses the Surfrider Foundation's standards for what can and can't go in the water, and contributes 3% of their proceeds to Surfrider projects.
Surely, many folks don't think twice when it comes to sunscreen brands and their potential impact on their bodies and/or the environment. With ec?'s sunscreen, however, now there is an affordable, all natural option.
You can find a retailer of ec?'s SPF 30+ Body ($25) and ec?'s SPF 30+ Face ($14) through their online store finder.