We receive free products and receive commissions through our links. See
disclosures page
.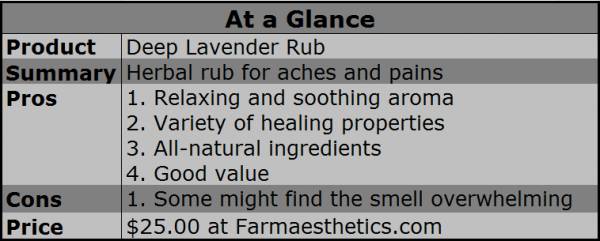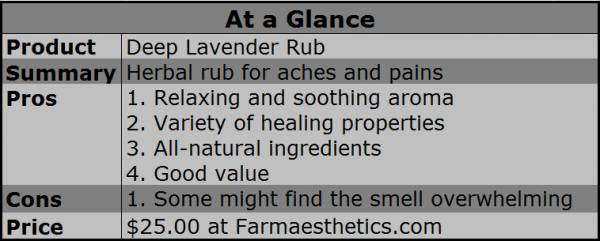 Every night, right around 8:00pm, I hear the predictable call from my four-year-old daughter's bedroom. "Mama, I'm ready for the magic sleepy lotion!" What this means is she has read every book on her bookshelf and is now ready to be put to sleep in about thirty seconds flat with the magical Deep Lavender Rub from Farmaesthetics. The two-year-old's massage is next, and within about two minutes they're both down for the night.
So what does this have to do with athletes? Well, any product that can put my crazy daughters to sleep in less than a few minutes really must have magical muscle-soothing powers. Deep Lavender Rub has an added benefit as well: its ingredients are all-natural and most of them are certified organic. Here are some of the potent ingredients that make this product so effective:
Lavender: Lavender is commonly used to relieve everyday aches and pains, as well as more serious issues like arthritis. A warm bath with about five drops of lavender essential oil is one of my favorite ways to recover from a hard workout. I love the scent of the lavender mixed with the menthol in the Deep Lavender Rub. The lavender also helps clear chest congestion and open the nasal passages.
Eucalyptus: Not only does eucalyptus also relieve muscular aches and pains, but it also decreases inflammation, which makes it another ideal pre- or post-workout treatment. It is also known to prevent athlete's foot and other fungal foot infections. To reap the benefits of eucalyptus and prevent such problems, Farmaesthetics recommends applying Deep Lavender Rub to your hands and feet, then wrapping a towel around the area of application to seal in the healing properties of the oils.
Peppermint/Menthol: Peppermint has been shown not only to ease muscles after strenuous workouts, but also to enhance exercise performance by improving blood pressure, respiratory function, and heart rate. And of course, the characteristic smell is exhilarating and cleansing.
If the small bottle size and $25 price tag seem a bit high, keep in mind that a little bit of this stuff goes a long way. To give you an idea of its potency, the smell is similar to that of Vicks VapoRub, which also contains menthol and eucalyptus due to their ability to suppress coughing. However, the lavender in Deep Lavender Rub adds a fragrance that makes this product less harsh and more relaxing, though still quite potent.
Deep Lavender Rub has several applications aside from muscle pain relief. I also found it soothing during a recent bout with a chest cold and allergies, and have also recommended it to many of my pregnant friends for use during labor and delivery. Of course, its uncanny ability to put my children to sleep is perhaps my favorite use of all. Overall, despite the fact that I use essential oils and make a lot of similar products, Deep Lavender Rub is one thing I always plan to have in my medicine cabinet.
Deep Lavender Rub is available for $25.00 at Farmaesthetics.com.