We receive free products and receive commissions through our links. See
disclosures page
.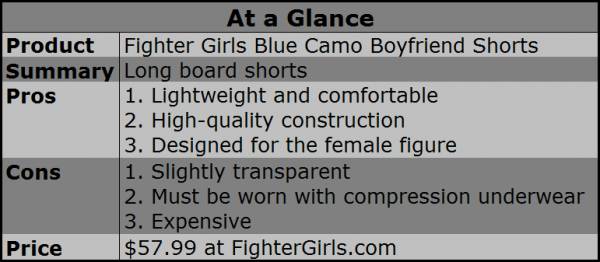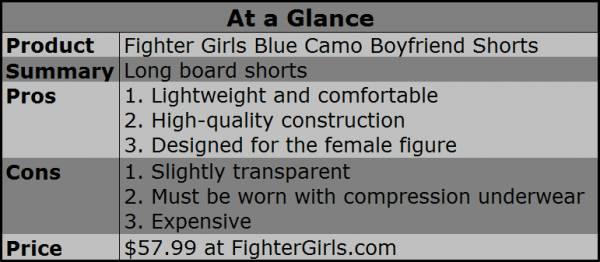 I've never liked the way men's board shorts looked on women. I thought they looked butchy and shapeless, so I always wore Lululemon capris instead. Not only were the capris more flattering, but they also didn't need to be adjusted while rolling and didn't catch people's fingers and toes because they fit so snugly to the skin. Additionally, I didn't have to worry about wearing compression underwear beneath them to hide my upper bum area or risk whale tail if I wore normal underwear.
Still, I've always wondered about the Fighter Girls board shorts. Since they're somewhat expensive, I was hesitant to buy them in case they didn't fit or made me look butch. Fighter Girls was kind enough to provide a pair to Breaking Muscle to review, and when they arrived I was beyond impressed.
Features: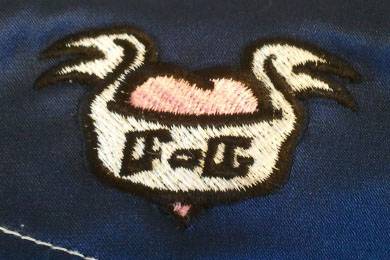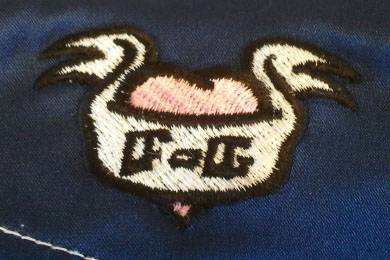 Baby pink Fighter Girls heart on the center back waistband
White stitching
2-way stretch microfiber in blue camouflage
Stretch-mesh gusset fly construction
1″ waistband has encased draw cord with clear-tipped ends
3.5″ slit at knee
Fighter Girls rubber logo patch on center-front for closure
8″ low rise
Made in the U.S.A.
Quality and Style
I recently wrote an article about the Top 5 MMA Shorts for Men with my teammate Scott Nauss. When we worked on that article, I was able to get a closer look at men's MMA shorts than I had during training. I was pleased to see that my Fighter Girls shorts were at the same level, and in some cases above the quality level than some of the popular men's brands. Each of the Fighter Girls shorts has a unique pattern or style, ranging from leopard print to plain black, and I really like the blue camouflage motif of these shorts. They're combat-style, but with a feminine twist.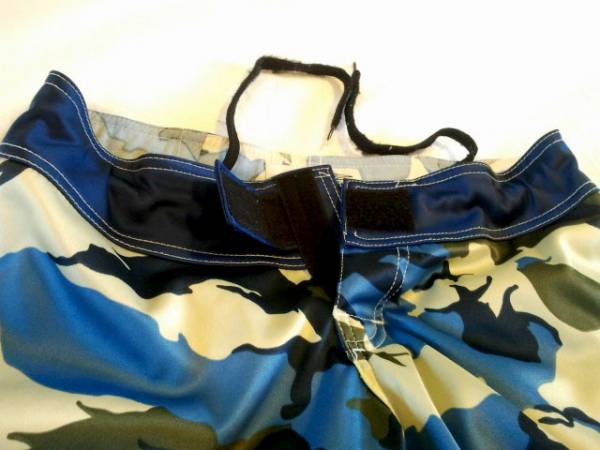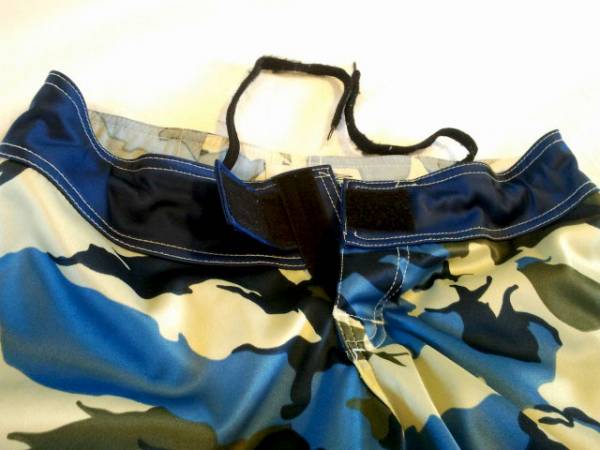 The fabric is strong and hasn't pilled or pulled and the seams have remained secure. Initially I thought the fabric was transparent but we did a test and weren't able to see a black patterned bikini bottom through them.
The only feature I wasn't a fan of was the shoelace style drawstring, mostly because I'd never seen them on clothing before. Shoelaces are used on shoes for a reason though: they stay tied. The shoelace does get caught on the Velcro on the front closure area and as a result is quite fuzzy and worn looking now.
Fit and Comfort
The Boyfriend Shorts are as comfortable as a pair of your boyfriend's shorts, but they're snug on the bum and slim over the thighs. I'm unsure of the correct sewing term, but the back of the shorts has what I would call "darts" and a shallow crotch depth, which tailors the fit to the female shape. I usually take size 0 or 00 in jeans at American Eagle and Garage, but size 3 in Fighter Girls Board shorts fits me perfectly.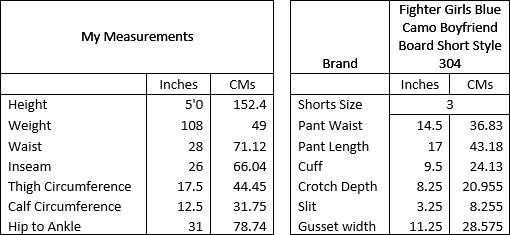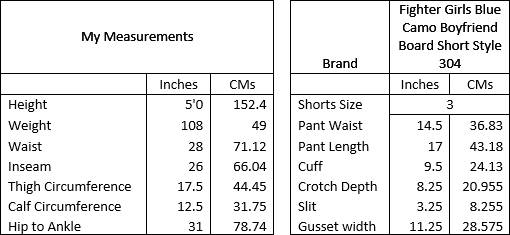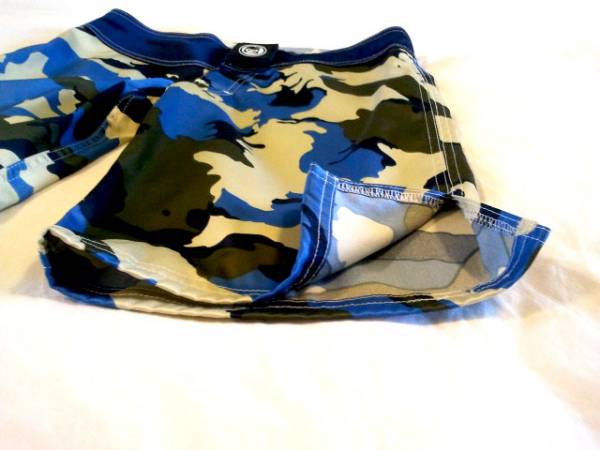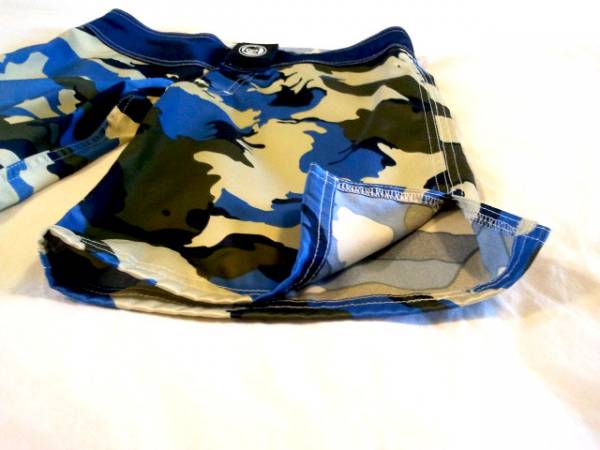 Men's shorts have baggy legs with long slits on the side. This design allows for unrestricted movement for grappling and kicking. My Blue Camo shorts have a leaner cut and short slits, but I was able to grapple and even do head kicks comfortably. However, they are shorter and tighter on the bum, so I found I wasn't able to wear much beneath them. I do have to wear bigger underwear to cover my skin in the back, so I purchased some of the La Senza seamless boy shorts. They're inexpensive and comfortable for rolling. I'm pretty lean right now, but when I get a little out of control with my candy consumption I'm afraid the low cut of these shorts will accentuate my muffin top, even if it is minimal.
What I was afraid of the most when I thought about ordering these shorts was having them slip down over my hips during rolling. Fortunately, although there was some movement at my hips, the drawstring held tight and I never had an issue.
Customer Service
After I received the Blue Camo shorts, I ordered two other pairs from the Fighter Girls web store. I didn't communicate with a representative, but the check-out process was easy and my shorts were delivered to Canada in approximately one week. They even sent me a couple of Fighter Girls stickers, which was a nice touch. Shipping was approximately $16 plus $4 for each additional pair of shorts. You can follow Fighter Girls on Facebook and Twitter.
The Blue Camo Boyfriend Board Shorts are available for $57.99 at FighterGirls.com.