We receive free products and receive commissions through our links. See
disclosures page
.


Gawakoto Clothing is a fightwear brand owned by artist Bong Abad. Many of his designs are inspired by his Filipino heritage, such as the Kalabaw rashguard (which I loved but was too big for me), but he is also a huge comic book fan and has collaborated with Art Junkie Tokyo to create his Save the Earth line. Gawakoto always got lots of "likes" from me when new product photos were posted on Facebook because I loved the artwork, but I was always bummed out because I knew they'd never fit me. The blues are behind me now, though, because Bong sent me the amazing new Kabuki women's rashguard to review!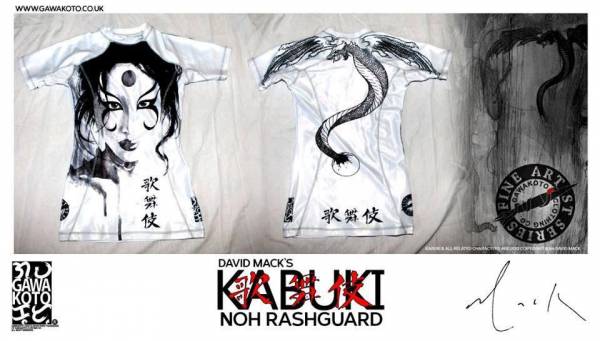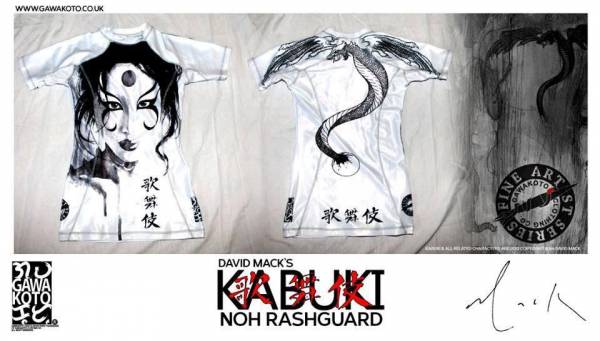 When I posted photos of this rashguard on Facebook I was bombarded with questions about where to get it. People who don't even train BJJ lined up on release day and both small and medium sizes sold out very quickly. This BJJ rashguard for women features artwork depicting one of a body of elite female assassins in The Noh. I don't read comic books so I had no idea what that even was, but after doing a little research, I think he made the perfect decision in collaborating with comic book artist David Mack for this project.
I learned that The Noh is a clandestine government body – a group of female assassins who brutally execute criminals and public figures to maintain a certain balance in society. Kabuki is a young female assassin in The Noh, but the woman on the front of the rashguard is actually a secondary character named Scarab. According to Wikipedia: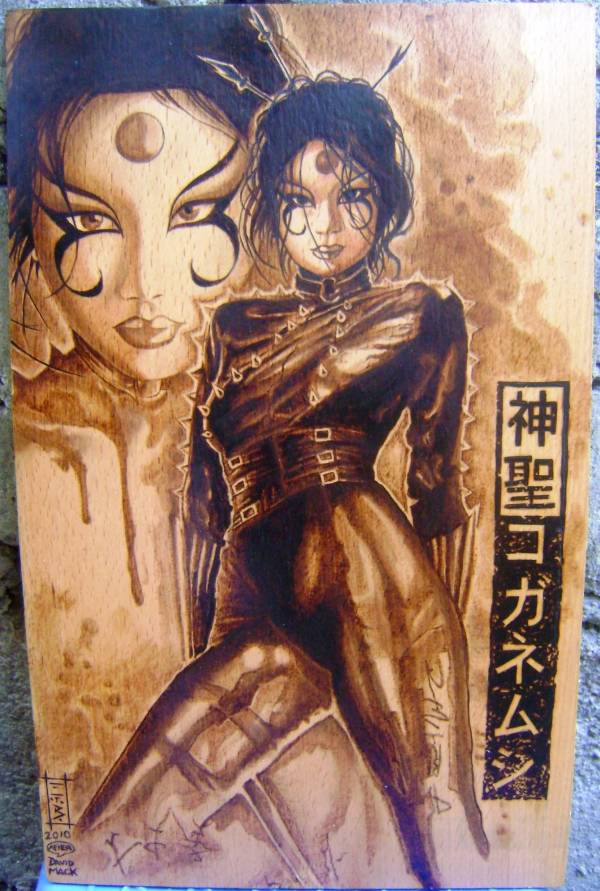 …the codename "Scarab" was given to her because it is her duty to clean up the scenes left by the other Noh assassins, very much like the scarab beetle. Initially a street orphan alongside close friend Seiko, she encountered a young motorcycle hooligan named Yukio and quickly fell for him. However Yukio's involvement with the Yakuza results in him and her friend Seiko being killed. Keiko was granted amnesty for her part by a government agent named Kenji in exchange for the infiltration of various underworld social groups. Alongside this she was also given combat and weaponry training, ultimately leading to her placement as a Noh assassin. Following Kabuki's betrayal, she and fellow agent Tigerlilly inadvertently form a deep friendship whilst in pursuit. Her Noh costume is a spiked, dominatrix-like bodysuit based on one of Yukio's drawings, and her mask bears a swirling insect-like pattern.
The back of the rashguard features the birth of the dragon. As Wikipedia further explains, "All Noh assassins bear a dragon tattoo on the back. The dragon wings spread to cover both shoulders, while the tail reaches to the lower back area. A bulletproof kabuki mask covers the face, to conceal the identity. The mask is made of the ceramic lightweight material that used for Japanese bullet trains, and is stronger than metal." I kind of feel like my rashguard is bulletproof, just like their masks. (Disclaimer: it's not, really.)
Features
Beautiful artwork depicting an elite female assassin by David Mack
Sublimated graphics do not crack, peel, or fade over time
Multi-panel construction for an athletic, feminine shape
Flat-lock stitching for long-lasting durability
Comfort and Fit
I don't like to wear short-sleeved rashguards to no-gi jiu jitsu for hygienic reasons. I feel it's best to cover as much skin as possible to prevent ringworm and staph infections. The good thing about short-sleeved rashguards made specifically for BJJ, though, is that the sleeves are a little longer than Nike or Under Armour. With those I find that when I'm rolling in a gi that is new or hang-dried, my under arms get chafed because the rashguard material stops right at my armpit. The Gawakoto rashguard's sleeves are long enough to prevent that problem, yet not long enough to cause overheating.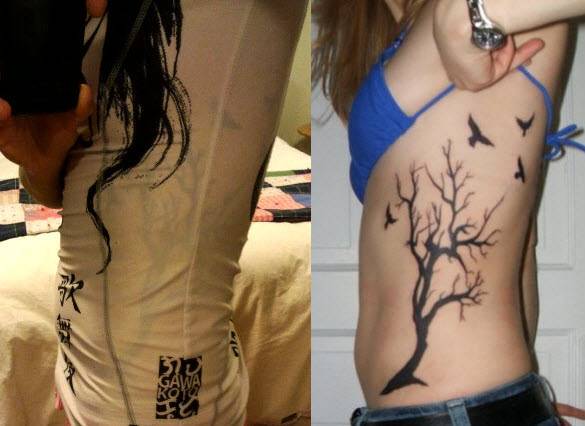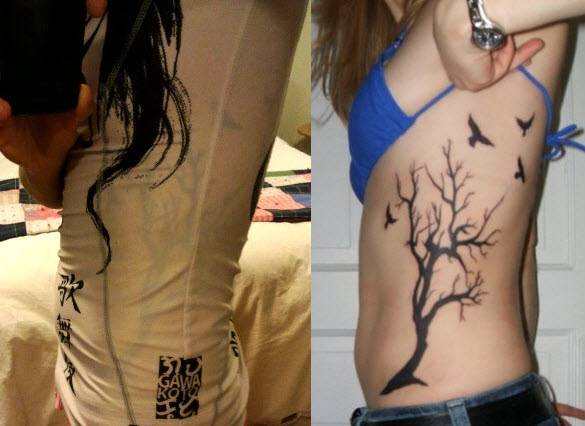 The material is lightweight and flexible and I didn't notice any restriction throughout the sleeves and body, but I did find the neck to be a little tight when I first put on the rashguard. I found that it loosened very quickly, though, and haven't noticed it during training. Although the rashguard is visually striking, I am not a fan of white rashguards or white training gear in general, especially for martial arts and specifically for women. The t-shirts in wet t-shirt contests are white for a reason, and I would hate for anyone to think I wore it to purposely draw attention to myself in that way. The great thing about the design on the front is that the graphics cover areas that generally draw unwanted attention.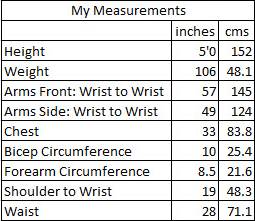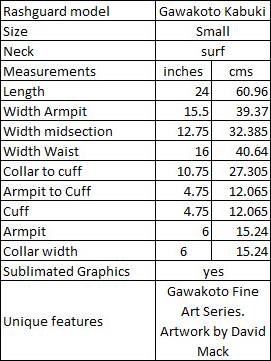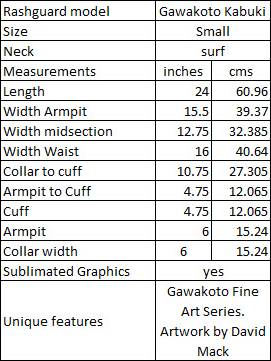 Performance and Durability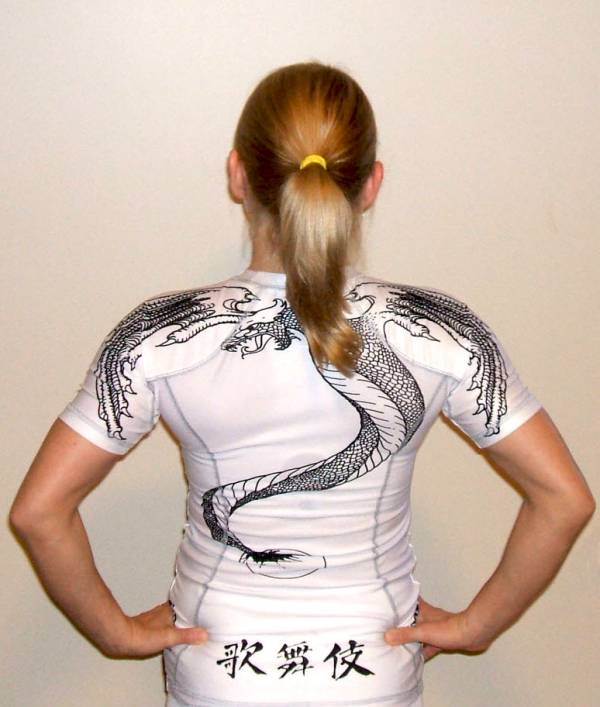 I found the Kabuki rashguard to be very comfortable while training muay Thai, weightlifting, and BJJ. However, because the white fabric becomes transparent when wet, I only wore it under my gi at BJJ and on its own during private muay Thai training with my boyfriend. I don't generally sweat a lot when I lift weights, so I often wore it to the local commercial gym, as well. When it did become saturated with sweat, I didn't notice any heaviness or sagging of the material.
After months of training, there are still no signs of wear and tear, although it is not as vibrantly white as it was initially because I wash it with the rest of my gear after class. At one point, dye from another article of clothing stained the rashguard, but the stain faded significantly after soaking it in bleach. I spot tested the material before immersing it completely and the artwork was not affected. Bleach breaks down fabric over time, though, so I wouldn't suggest using it regularly.
Most of the rashguards designed for combat sports feature male warriors with jacked-up muscles or battle armour. I often thought about what I'd like to see on a women's rashguard, but I could never come up anything really cool. Bong created exactly what I would have wanted if I had been aware that Kabuki even existed. I'm so happy companies like Gawakoto are recognizing female athletes in BJJ and expanding their product lines to accommodate us. I've even heard that a new rashguard is coming down the pipe, so follow Gawakoto on Facebook, Twitter, and Instagram to get one before they're all gone. (And guess what? There's a Kabuki Kimo-Noh, too.)
The Gawakoto x David Mack "Kabuki" Women's Rashguard is available for $57.50 at Gawakoto Clothing Co.