We receive free products and receive commissions through our links. See
disclosures page
.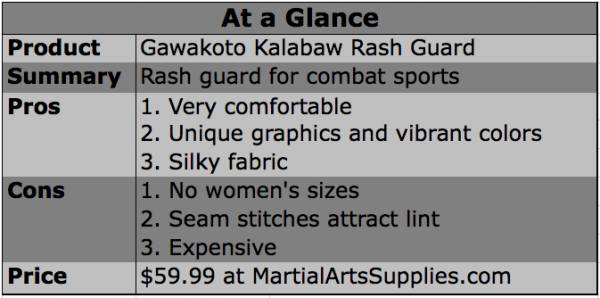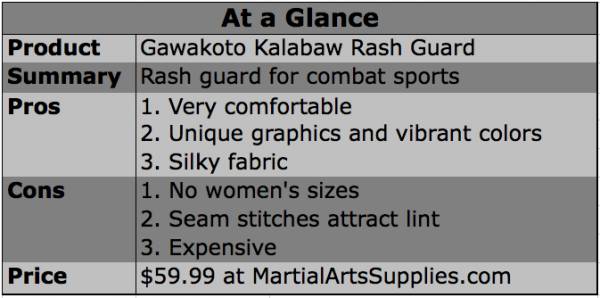 Bong Abad is a self-described comic book geek and Brazilian jiu jitsu practitioner from the Phillipines who now trains out of London, England. He is the designer behind the Gawakoto brand of jiu jitsu gear and street wear, and his unique and eye-catching art work has been commissioned by brands like Scramble and Bull Terrier.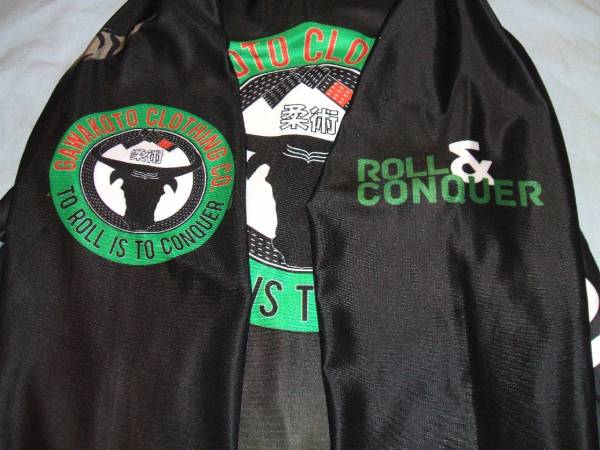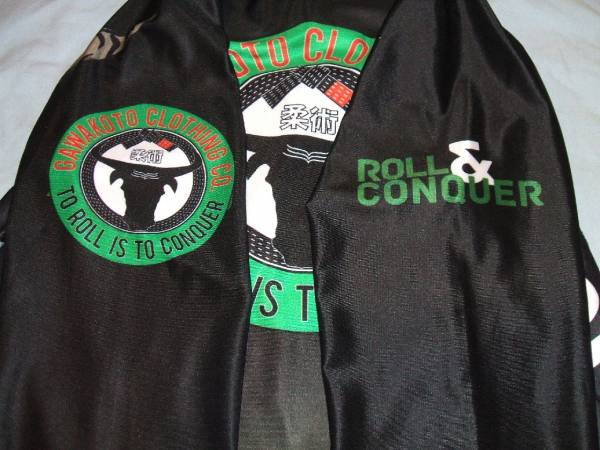 I had been eyeing the Kalabaw long sleeve rashguard since Bong posted a photo of it on Facebook in May 2012. I even included the rashguard on my Breaking Muscle BJJ Holiday Wish List this past holiday season. The water buffalo, or Kalabaw, as it is known in the Phillipines, is known for its tenacity and work ethic. The product description explains, "This tireless creature plows the rice field all day, in scorching heat or torrential rain. An attitude every jiu jitsu practitioner should have." Although there weren't women's sizes available, I ordered the long-sleeved rashguard a couple of months ago, hoping that a men's small wouldn't be too big for me.
Quality and Design
The long-horned Kalabaw is featured in its gi on the front of the rashguard. Its silhouette is repeated in the Gawakoto logo on the left sleeve and the larger logo on the back. "Roll and Conquer" is printed along the sides of the torso and on the right sleeve. I love the color fade on the back of the rashguard from back to green.
At 37, I generally feel that I should dress my age in everyday life, but when it comes to jiu jitsu gear, designs including pandas, ponies, or water buffalo are definitely acceptable.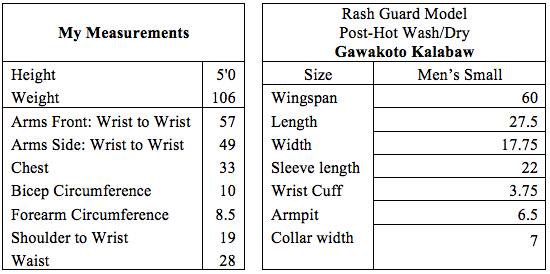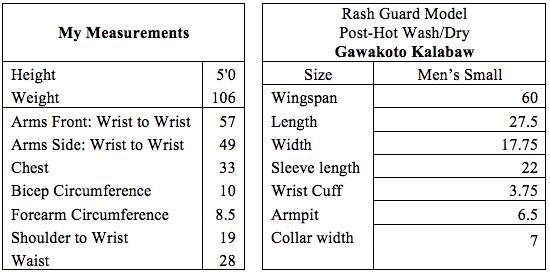 Comfort and Fit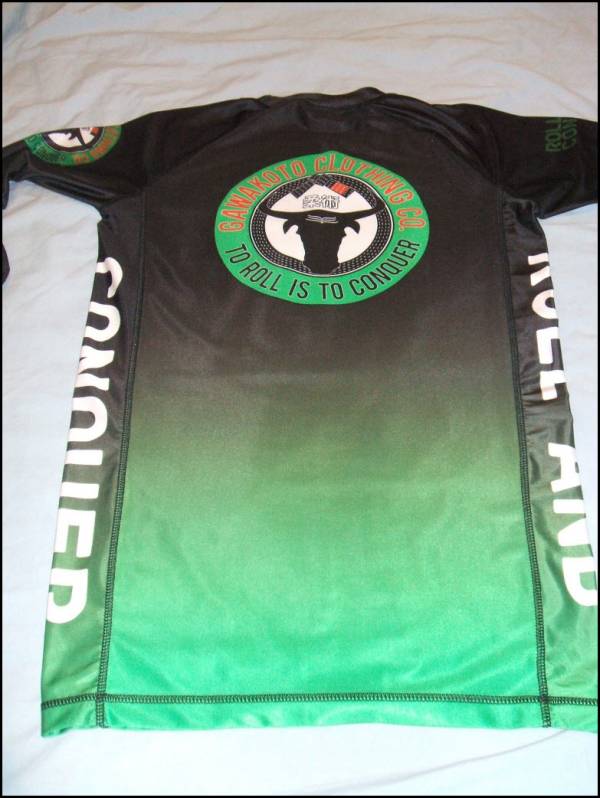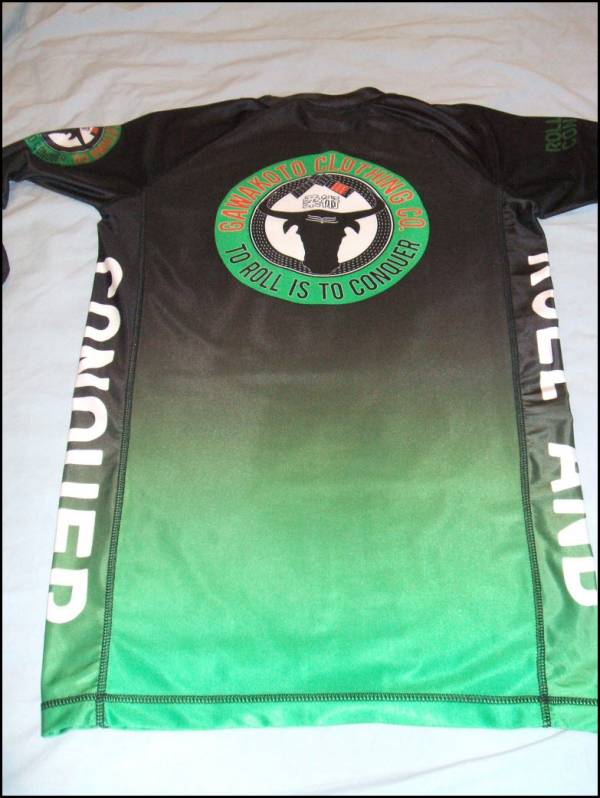 When I spoke to Bong about this rashguard he mentioned that other customers told him the Kalabaw was the most comfortable one they'd ever rolled in. I agree with them. I usually wear Under Armour compression rashguards because I don't like how t-shirts or other fabrics stretch out and get caught in fingers or toes while rolling. Although the Kalabaw is too long for me, its design is tapered and I haven't had issues with it hanging down and catching my partner's body parts or even coming down over my hips. The good thing about the length is that it never rides up high enough to show my belly during rolling so I'm not constantly pulling it down like with other rashguards. The additional room is also ideal for those days where I've spent too much time eating chocolate bars.
Although the sleeves on this rashguard are also too long for me, their tapered fit prevents the cuffs from slipping down over my hands and hindering movement.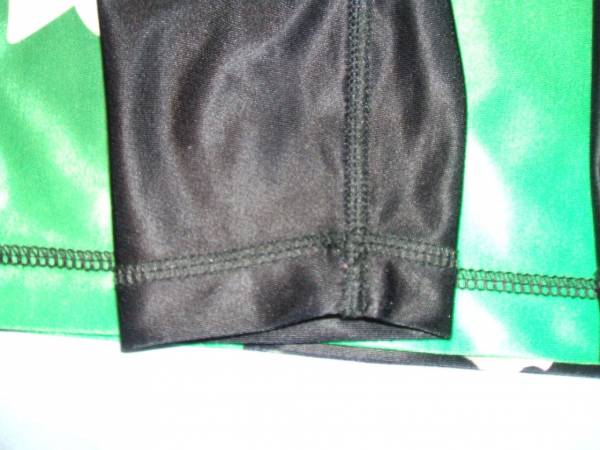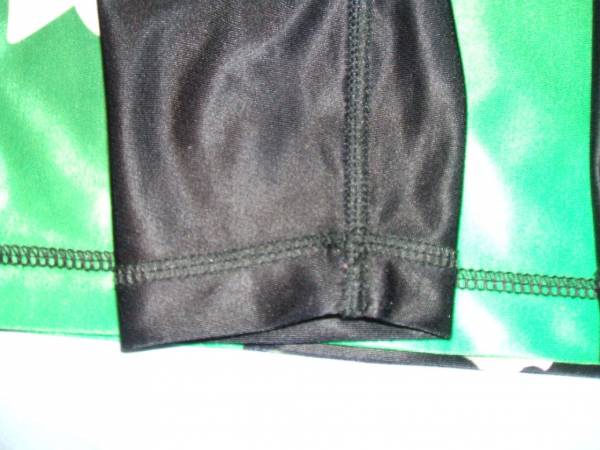 The material is smooth and silky but I haven't had the static cling issues I usually have with this type of fabric. There also hasn't been any pilling so far, although I have found the stitching attracts a small amount of lint. The construction is solid and has stood up to lots of rolls on the mats without any threads coming loose. The moisture wicking is very efficient and doesn't feel heavy after intense training.
Customer Service
Any time I've had a question about Gawakoto products, Bong has replied quickly and has been very helpful. This is the second product I've ordered from the Gawakoto website and both have been delivered much faster than I expected, and with a very reasonable shipping cost. For U.S. customers, the Kalabaw can be ordered from Martial Arts Supplies but for Canadian customers it's cheaper to order from the Gawakoto site.
A few weeks ago Gawakoto posted designs for a rashguard designed especially for women and mentioned that tights or capris may follow. I'm very excited to see what comes next from this company. Follow Gawakoto on Facebook for news on their latest designs.
The Gawakoto Kalabaw rashguard is available for $59.99 at MartialArtsSupplies.com.