We receive free products and receive commissions through our links. See
disclosures page
.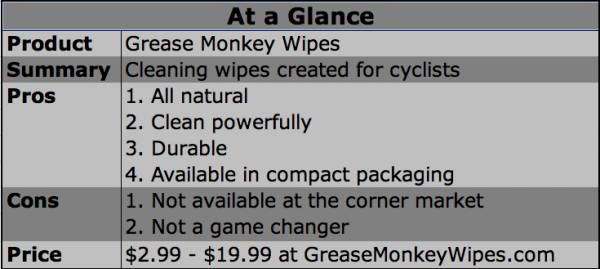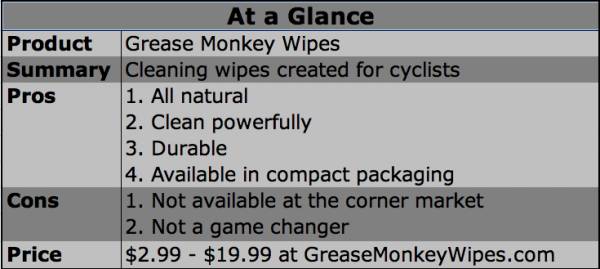 We all have a flat tire and half a century ride with greasy hands to thank for the inception of Grease Monkey Wipes. That's exactly what the founder of Grease Monkey Wipes went through before he pioneered the product. Grease Monkey Wipes are heavy duty cleaning wipes that are fit for active, dirty folks.
Grease Monkey Wipes is a brand rooted in the idea you shouldn't have to think twice about playing or training as hard as you'd like when dirt, grime, and grease are involved. They want you to feel rest assured that clean up won't get in your way. With a bias in cycling, Grease Monkey Wipes get the job done, from general clean up of fingers and hands to the nitty-gritty details of bike chain maintenance. For a relatable comparison, think: Lysol Wipes meets Sons of Anarchy.
To be honest, I never thought of cleaning wipes as a specialty product. I do, however, use a ton of various generic brands for similar wipes. None of which perform at a level worth mentioning. So, at first the concept of a high-performance cleaning wipe for folks with an active lifestyle seemed like too much of a stretch for me.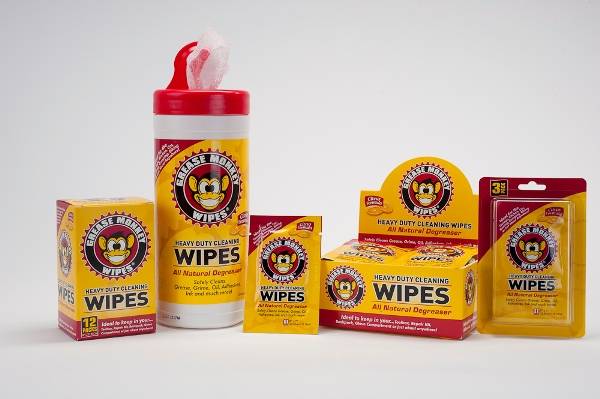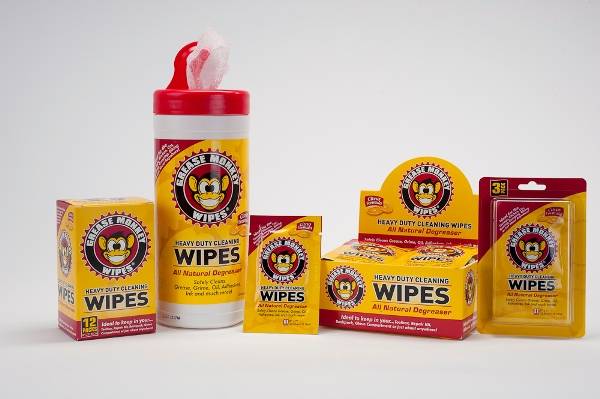 To my surprise Grease Monkey Wipes proved unique in both performance and utility. The wipes aren't like their quick-to-rip, over soaked, pulpy counterpart: the Lysol Wipe. Grease Monkey Wipes are all-natural and pack some serious cleaning power. A notable feature of the wipes is the sturdy material of which they are made. Using each sheet confirms the appearance of these wipes that screams durability. And, their ability to actually clean is unquestionable.
Another element of the utility of the product is the easy tear away single packs. The wipes are available in both the canister format and the single tear away packet format. In my opinion, having such a functional wipe that could be stored in a training kit, travel bag, or backpack increases the value of the product greatly.
As someone who bikes around town, but isn't a serious cyclist, I can't say I'd need to invest in Grease Monkey Wipes for my bike. For serious cyclists, though, I don't see why one wouldn't. A product like this is almost a must.
As a strength and conditioning person, I do like the idea of having Grease Monkey Wipes around the gym. Do they clean better than a Lysol Wipe? That's probably splitting hairs, but a Lysol Wipe is definitely no better. Grease Monkey Wipes will last longer, though, that's for sure. With the volume I used in my days as an intern at CrossFit LA, cleaning wipes could and should have been a staple weapon on a Batman-like tactical belt.
The question, then, becomes whether or not the benefits of Grease Monkey Wipes outweighs the ease of getting generic cleaning wipes. If you're the one cleaning the Concept 2 rowers, it might. If you're a cyclist, I imagine Grease Monkey Wipes are a must in your arsenal of equipment. Not to mention, if you're an active weekend warrior, gym owner, or just like getting dirty, why not support the folks that are in the muck with you?
Grease Monkey Wipes retail for $2.99-19.99 and are available on GreaseMonkeyWipes.com.